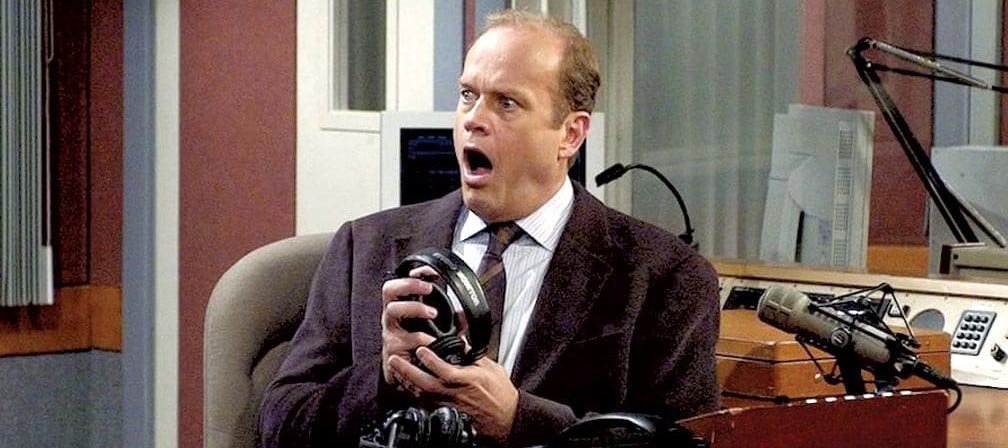 Dr Muiris Houston writes that Frasier is the perfect medical comedy, but adds that many representations of doctors on-screen are unsatisfactory 
Fifteen years ago Frasier finally left the building. After many years at the top of the sitcom ratings charts, this sharply written comedy came to an end. But just recently I have reconnected with the series; I was delighted to discover that it has aged well.
I am now tuned into a weekly rerun of the antics of the highly neurotic psychiatrist and his equally engaging brother, Niles.
The secret to its lasting appeal has to be its sophisticated and elegant writing. Originating as a spin-off from the comedy Cheers, it is centred around Dr Frasier Crane, a 40-something radio shrink. Separated from his wife and son, he now lives in Seattle with his elderly father, Martin. His brother Niles, a psychiatrist in private practice, is the other core cast member.
The Crane brothers are similar in many ways. Both are egotistical, vain, vintage-wine sipping anglophiles. Snobbish and self-obsessed, they are the diametric opposite of their down-to-earth, beer-drinking, sports-loving father. Usually found reclining in his shabby easy chair, Dad is a gritty ex-cop who has so little in common with his sons that he often wonders if a mistake was made at the maternity hospital.
Frasier and Niles are fiercely competitive in their personal and professional lives. As psychiatrists – Frasier favours the theories of Freud while Niles prefers Jung – they invariably end up counter analysing each other's subconscious motives before coming to a wildly inaccurate conclusion. And while Niles is fastidious, prone to panic attacks and just a tad on the obsessive-compulsive side, Frasier is gauche, self-opinionated and pompous. And then there is Eddie. Played by a number of different dogs over the years, Eddie is Martin's constant companion and bane of Frasier's life. He has no table manners and lies on the couch all day watching TV. In fact, Eddie is probably the nearest thing to the son Martin always thought he'd have.
The comic timing and theatrical acting skills of Kelsey Grammer (Frasier) and David Hyde Pierce (Niles) are second to none. Although not strictly speaking a medical soap, with a combination of pithy writing, brilliant acting and clever plots, this series is the best medical comedy ever made.
Fast forward to one of the latest medical soaps, The Resident. While I haven't personally had the pleasure, a graduating class of medical students were moved to write a critique for the online journal Medscape. The authors, from the New York University School of Medicine, were "appalled and horrified" after watching the pilot episode. Here are some specific criticisms: "The Resident is not only poor entertainment; it harms the public by grossly misrepresenting core concepts of medicine."
"The Resident gives a false account of medical education, skewers medical facts and glorifies unprofessional and frankly illegal behaviours by a physician."
And the coup de grace: "Although a show like this may seem innocuous, it actually has the potential to hobble public health literacy, harm doctor/patient relationships and erode trust in medicine as a profession." Ouch.
So it seems that of the dozens of medical dramas that Hollywood has produced, The Resident ranks among the worst. Which puts it up there with my least favourite, House, featuring Hugh Laurie as an unconventional hospital consultant. Gregory House is an infectious diseases expert with a flawed personality.
Refusing to wear a white coat, this designer-stubbled, unkempt doctor gets his jollies by being rude to his colleagues and avoiding face-to-face contact with his patients. People always lie and therefore he reckons that it's a waste of his time to interact with them.
Despite having the bedside manner of a half-starved rottweiller, his staff treat him with undue reverence. Tolerating his rudeness on the basis that he is "the best goddamned doctor in the world", any hint of humanity his character may have is well hidden beneath a thick layer of grouchiness.
His patients have way-out diagnoses, which he divines in an idiosyncratic way. A man who presents with bright orange skin was diagnosed as having a wife who was having an affair. A patient wondering if he was suffering from ME was treated with a course of "Smarties". On discovering a young teacher with recent onset epilepsy is Jewish, he gets his team to break into her home where the presence of ham in her fridge confirms House's suspicion that she has a tape worm in her brain.
When it comes to hospital-based medical soaps, Scrubs would be top of my list. It portrays the grief and growth inherent in medical residency with insight and humour.
But if subtlety, guile and a soupçon of medicine is your thing, then Frasier is medical comedy par excellence.