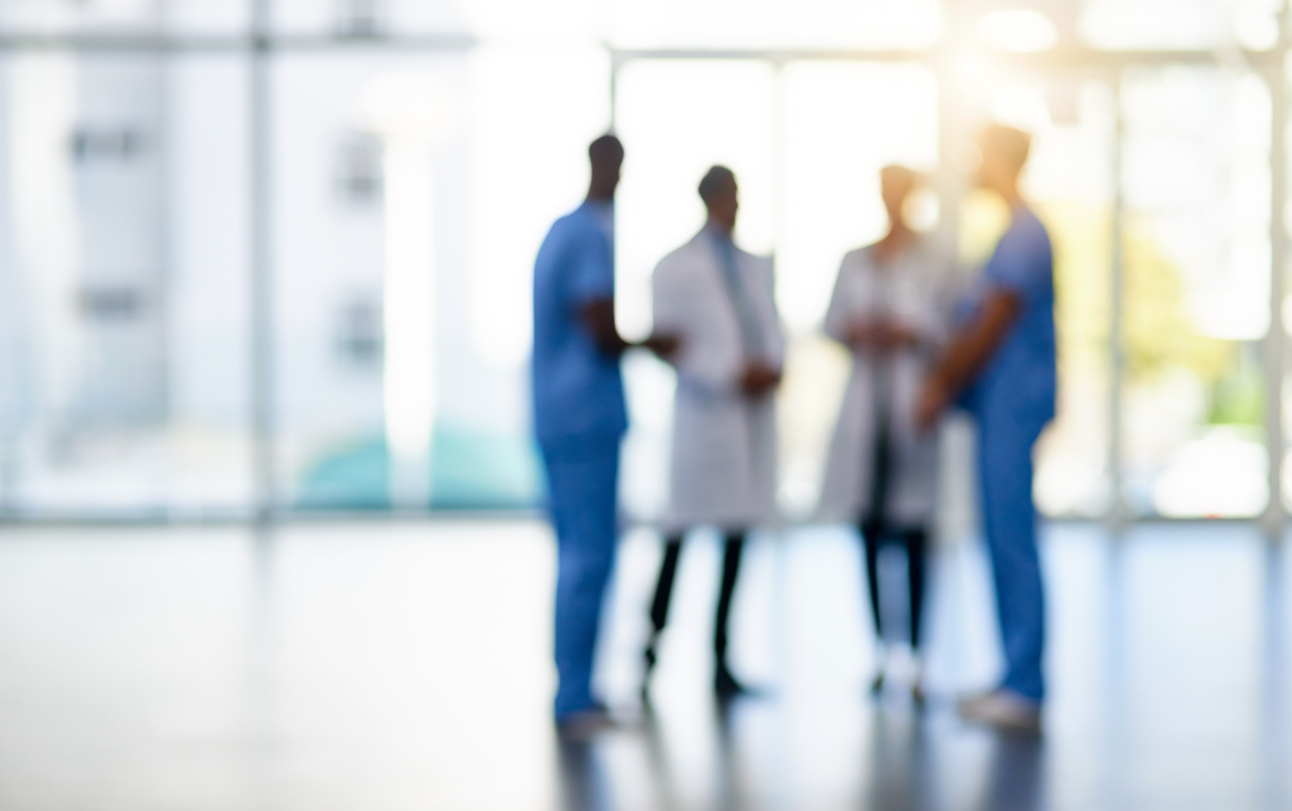 Blurred shot of a team of doctors standing together in a hospital
Recent research into the pattern of general practice consultations in the UK raises interesting questions
For most areas of clinical practice, there is a sharp difference between before Covid (BC) and after Covid (AC). As we enter the third year of pandemic life, it is easy to forget what practice was like prior to March 2020. But it's no harm to be reminded of the challenges we faced back then, as in many cases they haven't gone away.
General practice has been under significant pressure for at least a decade. BC, consultation rates were climbing steadily and paperwork and practice administration had taken up an increasing amount of your average practitioners time. A large, long-term study, recently published in BMJ Open, shows just how much pressure GPs were (and continue to be) under.
It shows that frequent attenders now make up about four-in-10 family doctor consultations in Britain and they visit their GP five times as often as other patients on practice lists. In addition, the proportion of these patients has risen over the past two decades. The analysis of nearly 1.7 billion consultations over 20 years, carried out by researchers from the University of Manchester, proves that GPs here and in the UK have not been crying wolf when they sounded the alarm on the rapid increases in their workload in recent years.
An ageing population, the complexity of care needs, and initiatives to shift care from hospitals into the community have all added to this pressure. To explore the issue more deeply, the researchers set out to analyse the type and distribution of consultations within general practices, with a particular focus on frequent attenders. They drew on anonymised information on 1.7 billion consultations with 12.3 million patients, submitted to the Clinical Practice Research Database by 845 GP practices across the UK between April 2000 and March 2019. Some 113 practices contributed data throughout the entire study period.
They looked at consulting patterns among the top 10 per cent of consulting patients, including interactions with administrative as well as clinical staff. All types of consultations with all staff in a practice more than doubled, rising from an annual average of 11 per person in 2000-01 to 25 in 2018-19; for GPs the equivalent figures were an annual average of five in 2000-01 to eight per person in 2015-18. Among frequent attenders, the results were striking: All types of consultations with GPs rose from an average of 13 to 21 a year, while those with other practice staff rose from an average of 27 a year to 60 between April 2000 and March 2019.
Of particular interest was that the proportion of consultations attributed to frequent attenders increased over time, particularly for face-to-face consultations. Significantly, rates of consultation fell among other patients. Frequent attenders consulted around five times more often than the rest of the practice list, on average. There was relatively little regional variation in any of the trends studied, the only exceptions being face-to-face consultations with GPs, which were highest in Scotland and faceto-face consultations with all staff, which were highest
in Northern Ireland.
And I was amazed to read that frequent attendance rates didn't seem to be influenced either by levels of deprivation or the practice area. This clashes with evidence from Europe that frequent attenders are more likely to be female, older, have more social and psychiatric problems, taking more drugs for mental illness, have more medically unexplained symptoms, and more long-term conditions.
This is an observational study, and as such, no firm conclusions can be drawn about cause and effect. But the findings echo those of Dutch studies, researchers say, and suggest "that a relatively small number of patients are accounting for a large proportion of GP workload including face-to-face consultations". They conclude: "Frequent attenders appear to be a major driver for the increase in consultations that have contributed to perceptions of increased workload in general practice."
"GPs should be looking at this group of patients more closely to understand who they are and why they are consulting more frequently." Well, it's not just family doctors that should be examining the problem. The Department of Health and the HSE cannot put forward meaningful workforce planning initiatives until some answers are forthcoming. It means that relying on demographic factors, such as an ageing population to calculate future staffing needs, simply won't cut the mustard.
It's a challenge also for the IMO and the ICGP. Both organisations need to focus on the many questions thrown up by this latest research. In an echo of the famous Australian rock band, it looks like AC/BC will both require careful analysis if a Highway to Hell is to be avoided.
In an echo of the famous Australian rock band, it looks like AC/BC will both require careful analysis if a Highway to Hell is to be avoided.