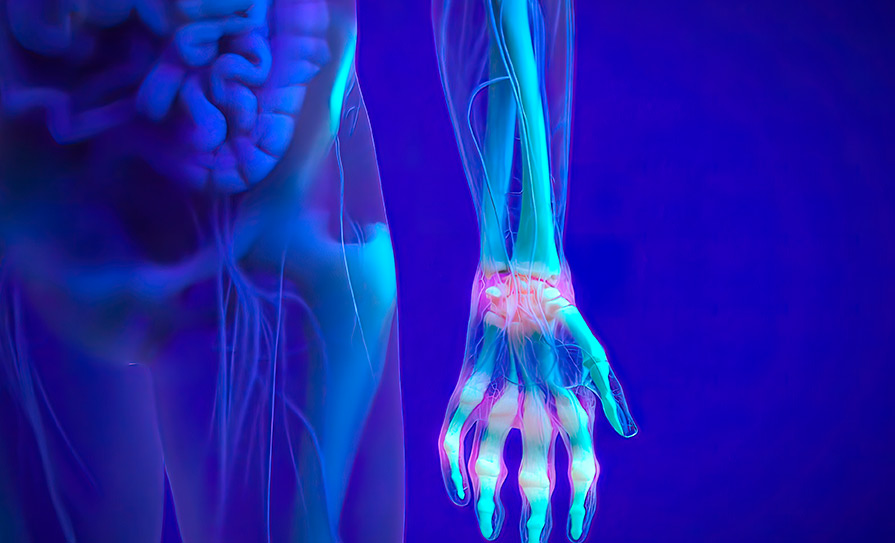 An Irish committee of rheumatology experts is coming together as part of a global initiative seeking solutions to the challenges and barriers encountered by clinicians when treating their rheumatoid arthritis (RA) patients to target.
The aim of project EVEREST (EleVatE care in RhEumatoid arthritiS with Treat-to-target (T2T)) is to improve the widespread implementation and attainment of pre-agreed target outcomes.
The Irish committee is chaired by Dr Donncha O'Gradaigh, Consultant Rheumatologist, University Hospital Waterford. Its membership also includes Consultant Rheumatologists Dr Richard Conway, St James's Hospital, Dublin; Prof Sinead Harney, Cork University Hospital; Dr Carmel Silke, Our Lady's Hospital, Manorhamilton; Dr Carl Orr, St Vincent's University Hospital, Dublin; and Rheumatology Advanced Nurse Practitioner Ms Noreen Harrington, Our Lady's Hospital, Manorhamilton.
Its work will feed into a wider international steering committee under the global leadership of Prof Maya Buch, Professor of Rheumatology and Director of Experimental Medicine at the Centre for Musculoskeletal Research, University of Manchester.
Pursuing a primary target of clinical remission based on shared decision-making between patients and rheumatologists is an established, evidence-based approach in RA and is integral to international treatment recommendations for this chronic debilitating condition.1,2
However, real-world attainment of remission in RA remains a challenge.3,4 In a multi-country study, a change in treatment was planned for only half of patients with poorly controlled RA.5
Data shown at the Irish Society for Rheumatology congress in 2022 suggests a similar picture in terms of rheumatology practice in Ireland. This study showed that just over one-quarter of RA patients were in remission and of those still in moderate-to-high disease activity, only approximately one-third had a documented plan to change or add disease modifying treatment.4 Furthermore, other international data points to substantial gaps existing between the agreement and application of T2T among healthcare professionals (HCPs).6
The initial phase of the global project, supported by AbbVie, took place in 2021 and involved assessing the landscape. Prof Buch and colleagues on the global steering committee including Prof Andrew Östör from Australia, Prof Laure Gossec from France, Dr Ennio Favalli from Italy, Prof Ricardo Xavier from Brazil, and Dr Louis Bessette from Canada, met to review the literature and local expert clinical experience to better understand barriers and potential solutions to treating-to-target. The global steering committee has been further expanded as part of phase 2 and 3 of the EVEREST project to welcome input from seven other rheumatology experts from across the globe.
Working independently of project supporters AbbVie, and supported by a research team, they conducted a clinical quality programme assessment that integrated insights from published literature with expert medical opinion to produce evidence-based recommendations on how treat-to-target implementation might be improved in RA. A report synthesising key insights was compiled and its content was also presented as a poster (POS0607) at the EULAR 2022 congress in Copenhagen.7
Next phases
Phase 2 of the project involved the global committee leveraging these insights to help create innovative, evidence-based, and practical tools for patients and HCPs with the potential to facilitate and improve treat-to-target implementation. These include a shared decision-making toolkit aligning patient understanding and decision-making with HCP expectations. The committee also supported the creation of a self-reflective learning tool for clinicians, in addition to other supports.
The final phase of the global project involves the local steering committees in individual countries assessing the tools and supporting local outcome improvement plans. Rheumatology stakeholders at national level, including the Irish group chaired by Dr O'Gradaigh, will discuss local evidence, and prioritise local unmet needs regarding treat-to-target implementation in RA. Each committee will evaluate interventions that could improve treat-to-target outcomes. They will also support defining key local treat-to-target objectives and the roll-out strategy with milestones and associated timelines. In addition, after these interventions are rolled out, the ambition is to evaluate their impact on treating RA to target in clinical practice.
Dr O'Gradaigh said "the project's ultimate ambition, at both an international and local level, is to better facilitate RA patients to reach their full potential for remission. Our Irish committee hopes to support this goal in Ireland by providing rheumatology teams with practical tools to deliver improved outcomes in a science-based manner."
References:
1. Smolen JS, et al. Ann Rheum Dis 2023;82(1): 3-18;
2. Smolen JS, et al. Ann Rheum Dis 2016;75:3–15;
3. Yu Z, et al. Arthritis Care Res 2018;70:801–6;
4. Murphy G, et al, Poster (22A156) ISR, Belfast, 2022;
5. Taylor PC, et al. Patient Prefer Adherence 2021;15:359–73;
6. Gvozdenović E, et al. RMD Open 2016;2:e000221;
7. Gossec L, et al. POS0607 Improving Treat-to-target implementation in rheumatoid arthritis: A systematic literature review of barriers, facilitators, and interventions. Annals of the Rheumatic Diseases 2022; 81: 572.