You are reading 1 of 2 free-access articles allowed for 30 days
When Hunt became the hunted by female scientists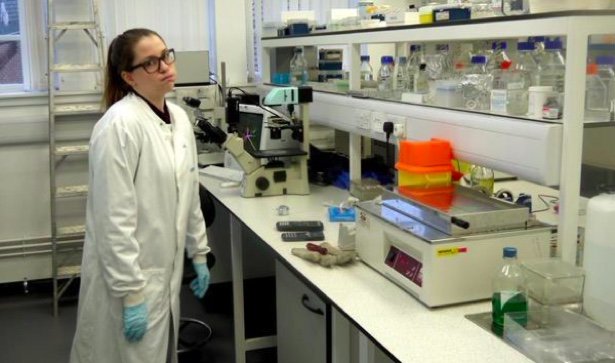 For those of you who missed that particular offering, Nobel Prize winner Prof Hunt shocked all and sundry by commenting on "the trouble with girls" and how "three things happen when they are in the lab — you fall in love with them, they fall in love with you, and when you criticise them, they cry".
Female scientists took to Twitter to offer a riposte and put the Prof in his place. A few of the more notable ones are reproduced here, such as this one of Dr Lucie de Beauchamp (extreme left), with the comment: "Still #distractinglysexy after a full day of cell culture. Didn't even cry this time, so proud! #HeyaTimHunt."
Or Dr Sonja Vernes (pictured with microscope) who wrote: "I made it through these brain dissections without falling in love or crying. Phew! #distractinglysexy #TimHunt."
And someone who simply describes herself as 'Geeky Girl Engineer' (yellow overalls) chimed in: "Yes I know I am #distractinglysexy in my Level A PPE. The suit totally flatters my curves."
Not to be outdone, Bailey-Ann (below) added: "Is that a magnetic wrench in your pocket or are you just happy to see my array? #DistractinglySexy #TimHunt."
Those of you familiar with Twitter can check out the rest of this wonderful and witty collection of responses. Enjoy.
Squatter's rights
Thanks to a colleague who drew my attention to some work by microbiologist Giulia Enders, who has dedicated significant research time to the art of using the toilet and says we're simply doing it all wrong.
Author of the book Charming Bowels, Enders says squatting is a far more efficient way to manage a bowel movement because the gut's closure system is not designed to "open the hatch completely" and squatting is a far more natural position than sitting.
"Some 1.2 billion people around the world who squat have almost no incidence of diverticulosis and fewer problems with piles. We in the West, on the other hand, squeeze our gut tissue until it comes out of our bottoms," Enders is quoted as saying in The Guardian.
If our inner sphincter, which operates unconsciously, is ignored often enough, for example, if we are reluctant to use the bathroom for some reason, it 'switches off' and constipation can result.
"Learning about those two sphincters really changed my perspective on life," says Enders.
"Those inner nerves don't care for other people; they have no eyes or ears. Finally, something that only thinks of me! So now I can go to the toilet anywhere — I worship that muscle!"
The wonderfully enthusiastic Enders is also fascinated by the emerging field of gut-brain interaction and describes this subject as the "hardest part of the book for me. A professor would have been scared of putting it in a book, but I feel people are being robbed if they don't know about this research".
Top Marx
Genius is timeless — I'm grateful to an eminent colleague who compiled these classic exchanges from the inimitable Groucho Marx, specially for the Dorsal View.
Groucho: "Marry me and I will never look at another horse!"
Ms Dumont: "If I married you, you would leave me and I would never hear from you again!"
Groucho: Yes you would, I'd write you twice a week!"
Waiter: "What is your pleasure?"
Groucho: "Women — what's yours?"
Ms Dumont: "I would like caviar and champagne."
Groucho: "Give this lady a cheese sandwich."
Ms Dreiner: "My name is Beatrice Dreiner and I stop at the hotel."
Groucho: "I'm Geoffrey Kornblow and I stop at nothing!"
Woman: "Can we be alone somewhere?"
Groucho: "If I didn't know my own voice, I'd swear it was me who said that."
Groucho: "Only one man in a thousand is a leader of men. All the others are followers of women."
Groucho: "I wouldn't want to be a member of any club that would have me in it."
Groucho: "These are my principles. If you don't like them, I have others."