You are reading 1 of 2 free-access articles allowed for 30 days
UCD Phd student wins 2015 Brian Maurer Young Investigator Award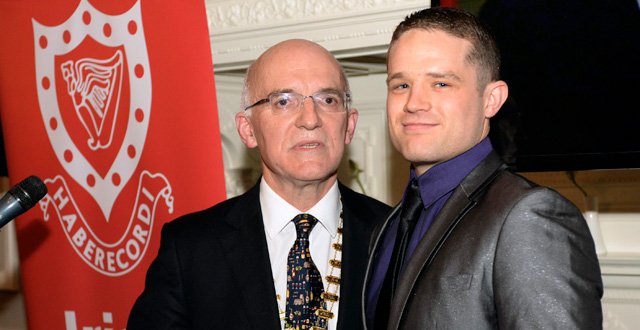 UCD Phd student and dietitian and nutrition scientist Mr Conor Kerley has won the 2015 Brian Maurer Young Investigator Award, sponsored by Servier, for his work examining novel roles for dietary nitrate in non-ischaemic dilated cardiomyopathy and resistant hypertension.
The results of Mr Kerley's research support existing data suggesting an antihypertensive effect of nitrate oxide among those with uncontrolled, resistant hypertension.
Speaking to the Medical Independent (MI) after winning the award, Mr Kerley said: "It is a privilege to win this award. My background is nutrition, I'm not a cardiologist, but I think that nutrition is really important for cardiology. For me personally, the award is certainly a building block for future projects, collaboration and funding opportunities from the cardiovascular groups in Ireland and overseas as well."

Prof Ken McDonald and Dr Kim, President of the American College of Cardiology
Mr Kerley said that the research results require confirmation in larger trials, but that considering the low cost and safety profile of dietary nitrate-containing foods and supplements, the concept appears promising as an adjunct therapeutic strategy for cardiovascular diseases.
"My presentation focused on our initial pilot study so we are nearing completion of longer randomised control trials looking at the effect of dietary nitrate in cardiovascular diseases, including resistant hypertension, sleep apnoea and respiratory diseases like COPD," he said.
"My long-term goal is to study the effect of overall dietary patterns on cardiovascular diseases."

Prof Ken McDonald and Dr Nicola Ryan, winner of Best Case Presentation at the Intervention Session
President of the Irish Cardiac Society Prof Ken McDonald told MI that the Award's judges — Professor of Cardiology at Imperial College London and 2015 Stokes Lecturer Prof John Cleland, and President of the American College of Cardiology Dr Kim Williams — were very impressed with Mr Kerley's presentation.
"The judges were impressed by the original thesis and the way he brought it to fruition; it was just a well-done project," according to Prof McDonald.
'My background is nutrition, I'm not a cardiologist, but I think that nutrition is really important for cardiology'
"I thought the three of them [finalists] were excellent; I think the judges thought they were excellent, I think they felt it was difficult to differentiate one from the other [in terms of quality] but the winner was the agreed winner by the two of them."
The two other finalists were Dr John McEvoy from the Department of Epidemiology and the Welch Centre for Prevention, Epidemiology and Clinical Research, Johns Hopkins Bloomberg School of Public Health, Baltimore, Maryland, US, who spoke about high sensitivity cardiac troponin T and the risk of hypertension; and Dr Stephanie James from the Heart Failure Unit in St Vincent's University Hospital, Dublin, whose presentation focused on the clinical and economic need for a national heart failure prevention strategy.
Brian McGovern Fellowship
The recipient of the 2015 Brian McGovern Fellowship, sponsored by Bayer, was Dr Darragh Moran. Dr Moran is undertaking a two-year Post-Graduate Fellowship Training Programme in Clinical Cardiac Electrophysiology and Pacing at UZ Brussels and Vrije Universiteit Brussels, Belgium, under the direction of Prof Pedro Brugada.

Prof Ken McDonald and Dr Andrew Maree, outgoing Treasurer, ICS Council
The recipients of last year's Fellowships, Dr Andy Roy, who was based in Insitut Cardiovasculaire, Paris Sud, France, and Dr Andy Hanley, who was based in Massachusetts General Hospital, US, gave the meeting an update of their experiences.
The winners of the 2015 ICS travel bursaries, sponsored by MSD, were: Dr Roisin Colleran, Dr Rosin Morgan, Dr Darragh Moran, Dr Andy Roy, Dr John McEvoy, Dr Nicola Ryan, Dr Alan Hanley, Dr Richard Collis, Dr Damien Collison, Dr Soon Wei Neoh, and Dr Antoinette Neylon.