You are reading 1 of 2 free-access articles allowed for 30 days
Tuning in to the rhythm of life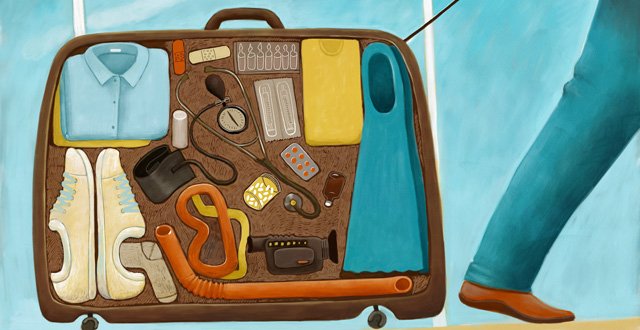 You hear the distinctive sound of wheels of suitcases dragging behind their owners like short dogs on long leads. They start early in the morning and continue until late into the summer evening. It is a sound like no other, the sound of travellers on the move, arriving or departing and because you are in a holiday spot you don't even consciously recognise the sound. If they are going over rough ground, or if they speed up the note changes; but like the cicadas in the trees, they are a sound of summer, of travel, of people moving.
Sometimes you spot the owners, as you sit outside in the sun. They may be families, dad and mum tired and relieved to have arrived, youngsters clutching teddies and pulling their little bags along. They might be a flock of teenagers, handle in one hand and phone in the other, or an older couple, seasoned travellers calmly pulling their carefully chosen holiday necessities.
You may smile at the newcomers – so pale and innocent – you who have had a few days to suss out the currency, the best spots to sit and a few words of the local language.
But as your stay comes towards the end, you notice the people departing more than you do the new arrivals. They are tanned, their clothes are scruffier and they are in less of a hurry.
You might feel a little resentful of the new arrivals as you check to see where you stowed your passport and return tickets.
The day eventually comes when your wheels rattle behind you and you pass lines of spectators sitting in the sun and watching you pass by, on your way out of there.
You might be glad to go. You have stayed long enough and could do with seeing some old faces again. You have become fed up with the place and you have no wish to get to know the new arrivals. Perhaps you didn't have a great time really and you might have stayed longer than you needed to.
Or it might have been wonderful, and you dread going. You have issues to face when you arrive home that you were glad to avoid. The stay might have been too short, a cruel glimpse of the way things could have been and then you had to leave all too soon.
Everything changes. Some finish school and never look back, glad to finally grow up. For others, it is the end of something precious, and the future is uncertain and scary.
Some finished college and felt that something of them died when they left that carefree life in a romantic university city. Others just wanted to get away from being broke and see the world, or buy a house, or just go home.
The long-awaited retirement might be a sentence to loneliness and poverty or a chance to throw off the chains of respectability and slavery. The rubbery sound of a wheelchair pushing off may signal an escape and a degree of independence, or the end of mobility.
The wheels come and go. They whizz out of the hospital ward, scarcely making a sound on the polished floor.
As some leave the hospital they go to an ill-suited home and they leave because no more can be done for them. Others cheerfully head out, cured and never to return. The wheels go out the prison gate, jauntily or uncertainly heading for freedom. Who knows?
Prison may be a home or a jail; home can be a long sentence with hard labour.
We all hear wheels passing by, not always consciously. They signal the dawns and departures of our lives. They are on prams, bikes, cars, removal vans, ambulances and hearses. They whizz along as merrily as the first day of the summer term, or ponderously as a funeral bier. We get used to them; like the scraping of the cicadas we don't notice them after a while, or, quixotically, only notice them when they stop. But they are always there, whether we notice them or not. Listen. They will soon start up again.