You are reading 1 of 2 free-access articles allowed for 30 days
Treating Duchenne muscular dystrophy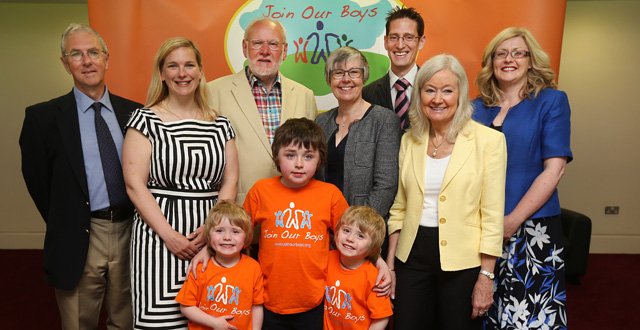 Duchenne muscular dystrophy (DMD) is a genetic disease that affects approximately one-in-5,000 males and can occur, in very rare circumstances, in females. It is usually asymptomatic in females but a small percentage of female carriers manifest milder forms of the disease.
DMD is essentially a muscle wasting disease caused by lack of the cytoskeletal protein dystrophin. There is currently no cure for DMD, although various promising approaches are progressing through human clinical trials. Children with the disease will require the use of a wheelchair before their teens and, without a cure, will not live beyond their 20s. Death occurs due to respiratory and cardiac difficulties.
The progression of DMD develops rapidly and early signs include difficulties in activities such as running, jumping and climbing stairs. Loss of independent ambulation generally occurs between the ages of six and 13 years.
The recent Irish DMD conference was hosted by the Join Our Boys Trust, which was established by Paula and Padraic Naughton to help raise awareness of the condition. DMD afflicts all three of their sons Archie, George and Isaac. Before the boys were diagnosed in November 2012, neither parent, despite being senior nurses, had ever heard of the disease.
"Like most parents we dream our children will grow up to be happy, healthy adults. However, on 9 November 2012, our dreams changed beyond comprehension. There are no words to describe how it feels to learn that one of your precious children has a terminal illness, which has no cure. Sadly for our family we have three children who are terminally ill. A diagnosis of DMD means that our children are unlikely to live beyond their late teens or early 20s," Ms Naughton told delegates.
Experts
Some of the foremost DMD researchers and clinicians in the world spoke at the conference.
One of the key speakers at the conference was Prof Kate Bushby, Professor of Neuromuscular Genetics at Newcastle University, UK. Prof Bushby specialises in developing trial-ready services with the aim of improving the diagnosis process for DMD and other rare diseases. The muscle team at Newcastle consists of some 70 people and has developed an extensive programme of research in neuromuscular diseases.
"Ireland has a much smaller population than that of the UK, meaning that the issue of rarity is much larger on this side of the sea. Where I am based, in the north-east of England, the population is similar to the whole of the Republic of Ireland. A centre of expertise would be ideal for Ireland as it would provide one place for medical experts in rare diseases such as DMD to diagnose and manage these diseases," she said.
The fact that there is no cure yet for DMD should not imply that nothing can be done to improve the quality of life of those who are living with the disease
Trial-readiness in rare diseases carries several challenges relating by definition to the rarity of the conditions, she explained.
Such rarity and a historical lack of trial activity means that patients and centres are not readily identifiable for trials, outcome measures may be poorly understood, and standards of care may be patchily applied, she explained. Another challenge faced by DMD trials is when and how to move from preclinical studies to clinical studies, Prof Bushby noted.
Regarding outcome measures, Prof Bushby stated that there is now an increased confidence in the clinical meaningfulness of certain functional tests, while MRI and biomarkers are showing some promise. However, additional work is needed on younger and older populations.
Identifying suitable patients provides further challenges to getting trials started, with a lack of patient registries in Ireland.
In the UK, the DMD Registry (Action Duchenne) is part of TREAT-NMD, which provides an infrastructure to ensure that the most promising new therapies reach patients as quickly as possible. Irish patients are eligible to register with Action Duchenne and have been involved in clinical studies via the registry.
Diagnosis
Late diagnosis in children can prevent management of DMD in adult life, Prof Bushby said. "My message to doctors in Ireland is that the parents of children who are diagnosed with rare diseases should be able to plan for adulthood and a centre [of excellence] would minimise medical implications and allow the afflicted families to get on with life. Early diagnosis would allow for this and there are always things that medical personnel can do to help families who should be planning ahead for adulthood rather than conceding defeat. Minimising medical implications is vital when it comes to DMD and other rare diseases. For early diagnosis of DMD in boys, I implore doctors to follow the acronym 'MUSCLE'," she told the conference (see Figure 1).

Figure 1: DMD diagnosis algorithm
As well as the MUSCLE acronym, identifying the following signs could be vital for an early diagnosis of DMD, Prof Bushby said:
On examination, it is common to find some muscle groups to be enlarged and others wasted; enlargement of the muscles of the calves, buttocks and shoulders, and chest muscles are often wasted;
Cardiac arrhythmia is a common complication that can be life threatening;
A mild intellectual impairment is also symptomatic of DMD, since dystrophin is also normally expressed in neurons.
Service plans
Prof Bushby's calls for a centre of excellence for rare diseases in Ireland were reflected in a later presentation delivered by Prof Eileen Treacy, Clinical Lead for the HSE Clinical Programme for Rare Diseases.
Prof Treacy's presentation highlighted how Ireland, in line with other EC Member States, has responded to the EC 2009 Recommendation on Rare Diseases by establishing the Rare Diseases Clinical Programme 2013, publishing its first Rare Diseases National Plan in July 2014 and recently opening a National Rare Diseases Office (NRDO) and national European rare diseases information portal site at www.orpha.net.
The long-term goal of the NRDO is to establish rare disease registries, highlighted as vital by Prof Bushby. Orphanet aims to help improve the diagnosis, care and treatment of patients with rare diseases, as well as providing information and access to orphan drugs used to treat rare diseases.
Comprehensive service
Dr Denise McDonald, Consultant in Paediatric Neurodisability, Tallaght Hospital, spoke about her vision for a comprehensive paediatric neuromuscular service, which will include the amalgamation of services currently available, standardising clinical care and providing a readily-accessible centre of expertise for children and young people across Ireland. The service will be affiliated to established international centres of excellence, in accordance with the EU initiative for the management of rare diseases in countries of low population, she said.
The centre will include an appropriately-resourced research facility, which supports participation in international clinical research studies and national clinical research initiatives. The project will include the development of a patient registry and participation in an international database project.
Prof George Dickson, Professor of Biomedical Sciences, Royal Holloway, University of London, outlined his ground-breaking research in microdystrophin gene therapy for DMD during the conference.
Children with DMD have a genetic mutation, which means they cannot manufacture dystrophin. Prof Dickson's laboratory has used a virus vector to express microdystrophin, which can replace the missing dystrophin. He reported on the results of studies with golden retriever dogs and the plans for clinical trials.
Meanwhile, Prof Dame Kay Davies, Lee's Professor of Anatomy, University of Oxford, who has spent the last 30 years researching DMD, spoke about her work on utrophin, a replacement for dystrophin. Reporting on the latest clinical trial results, which are in the process of being published, she said that there is very significant therapeutic potential for utrophin modulation in DMD as a disease-modifying therapeutic strategy for all DMD patients irrespective of their dystrophin mutation.
This is particularly significant as there is no currently approved therapy applicable for all patients with DMD, with much of the existing research focused on disease-modifying approaches restricted to sub-populations of specific dystrophin mutations. Prof Davies also reviewed other approaches to finding a cure for DMD.
Treatment
While there is currently no cure for DMD and much of the conference focused on the ongoing research and trials in the area, as well as the need to ensure early diagnosis, current medical treatment was also addressed.
Dr Patrick Murphy, Respiratory Unit, St Thomas's Hospital London, spoke about managing respiratory illnesses in children with DMD. He stressed the importance of having dedicated services for children with neuromuscular diseases. The use of non-invasive ventilation (NIV) has prolonged survival in DMD but requires regular assessment to ensure that it is initiated at the optimal time for patients, he said.

Speaking at the Join Our Boys Trust International Conference at the Croke Park Conference Centre was Mr Padraic Naughton from the Join Our Boys trust
The need for NIV usually follows after loss of ambulation and thus frequently occurs in the transition period between child and adult services. It is essential, therefore, for safe and effective care of these patients, that multidisciplinary care is driven in a structured way by care providers as opposed to, as is frequently the case, reliance on highly dedicated individuals and charitable organisations, Dr Murphy maintained. Specialist units caring for DMD patients require access to a range of elective and emergency medical services to reflect the multisystem nature of DMD, he added.
Quality of life
The fact that there is no cure yet for DMD should not imply that nothing can be done to improve the quality of life of those who are living with the disease, as well as of those who are their carers, stressed Prof Peter Nolan, a former psychiatric nurse and academic in humanity, politics and society.
As with other life-limiting and chronic conditions, a growing body of evidence, largely from Scandinavia, indicates that where there are carefully planned and funded services, life expectancy increases, he said. The aim of services for those living with DMD, and their families, should be to make life as good as it can possibly be and to nurture optimism and hope, he stressed.
An important factor contributing to quality services is the education and training of professional and voluntary personnel, Prof Nolan continued. All doctors, nurses and physiotherapists, regardless of their speciality, should have a knowledge and understanding of the condition, the appropriate skills to communicate with DMD patients and their families, and the ability to devise a care plan that will enable them to enjoy their life to the full, he stated.
The best starting point in finding an effective treatment for children with DMD is to increase awareness of the condition, along with a determination to tackle it, and to nurture a culture in which scientists, health professionals and the general public are of one mind that a cure can, will and must be found, and that the enormous burden of suffering which the condition entails can, will and must be alleviated, Prof Nolan concluded.