You are reading 1 of 2 free-access articles allowed for 30 days
Transforming eHealth in Ireland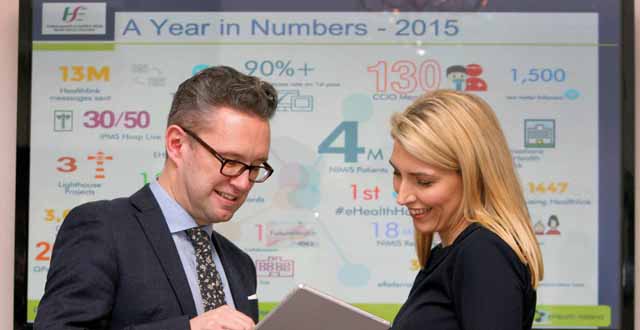 ICT enables healthcare systems to deliver safer and more efficient services for patients and provides clinicians with the technology needed to solve complex medical problems. Ireland, however, has long lagged far behind in this area.
After years of underfunding, stalled plans and an unimplemented ICT strategy, largely contributed to by the PPARS debacle, in late 2014 the HSE appointed Mr Richard Corbridge as its first Chief Information Officer (CIO) to spearhead the transformation of its outdated and inadequate ICT landscape.
Mr Corbridge was also appointed as Chief Officer of eHealth Ireland, a new structure "responsible for the delivery of an eHealth eco-system for Ireland", which was set up following the publication of the eHealth Strategy for Ireland in late 2013.
A former senior NHS CIO who was last year ranked fifth in the top 100 CIOs in the EU, Mr Corbridge faces a daunting challenge in leading the HSE's ICT transformation.
But just over a year into his five-year contract, the headlines about HSE ICT projects have transformed from the negative to the positive, with a succession of announcements, project launches and regular updates from Mr Corbridge, who is open in engaging with the media and all stakeholders.
New approach
The main elements of the HSE's eHealth programmes include the long-mooted electronic health record (EHR), individual health identifiers (IHIs), eReferrals, ePrescribing, a Maternal and Newborn Clinical Management System (MN-CMS) and a National Medical Laboratory Information System (MedLIS), as well as a myriad of other projects.
Pilots with set timeframes, rigorous consultation and phased roll-out with regular public updates, as opposed to the large, simultaneous roll-outs of the past, have been a strong feature of the HSE's more recent approach to ICT delivery.
The governance process that eHealth Ireland goes through to allocate funding to specific technology projects involves a review process with members of the Office of the Government CIO (OGCIO) and the Department of Health. This process is in place to allow a 'peer test' of health IT to ensure that new projects are grounded in benefit and have appropriate governance and project management rigour in place, Mr Corbridge told the Medical Independent (MI).
"There are too many examples of that globally, where healthcare IT has been deployed and it doesn't work, because the clinical engagement or the patient engagement hasn't been done… Though the vision is that by 2020, that we stop having IT projects, and have business projects that have an IT component to deliver business change and clinical benefit… "
EHR
Undoubtedly the biggest challenge for Mr Corbridge's five-year CIO contract is the successful implementation of the EHR, seen as the holy grail of a successful eHealth system.
There won't be a 'one size fits all' solution to the creation of a successful EHR for Ireland and different (though connectable) EHRs for primary care and secondary care may have to be developed, Mr Corbridge acknowledged.
The EHR is currently being piloted through three different projects, in both the hospital and community settings, while the business case is due to be published this month. A public consultation survey was open until the end of last month.

Mr Richard Corbridge
"What the business case is leading us towards is not a big bang on 'x' date in 2019, when the EHR is turned on, but a gradual process where we move towards that," he said, adding that there are already existing examples of EHRs in the Irish healthcare system, such as in Temple Street Children's Hospital and the National Integrated Medical Imaging System (NIMIS) system, which will be incorporated in a planned 'portal'-style overarching system.
Data security and confidentiality are also key elements of the EHR plans, Mr Corbridge confirmed. "One thing we are bringing in is 'legitimate relationships', so a clinician has to be delivering care to you to see your record… We can also audit who has looked at what and when. One thing I spoke about recently on an #irishmed Twitter chat is how good it would be if we got to the point where the patient owned the record. Legally that is the case, but culturally that absolutely isn't the case. So the patient could see who had accessed their record.
"Even more powerful is, imagine if you could determine what bits of your clinical record could be viewed by whom. There are clinical safety elements attached to that but all that stuff are considerations for the EHR — how we empower the patient to own their record."
IHIs
Underpinning EHRs is the IHI. After years of delayed plans and privacy issues, the introduction of IHIs in Ireland was finally enabled following the enactment of the Health Identifiers Act 2014.
Everyone using health and social care services in Ireland has now been assigned an IHI but no-one knows what their number is and they are not yet officially in use in clinical settings. So what is the story there?
"There are 4,285,952 IHIs that have been created on a proof of concept database," Mr Corbridge explained, saying that the data quality checking process has shown matches of between 72 and 92 per cent, depending on the data checked, ie surname, date of birth, etc.
Thirty-five GP practices have now signed-up to pilot using IHIs in their systems, and they are also being tested through the EHR pilots.
However, there are currently no plans by the HSE to send people their IHI number.
"As a patient, you don't need to have your IHI. Why would you want to memorise a 10-digit number? Because actually it is used inside systems so that when one system talks about you, the other system knows you are still talking about the same person. You don't need it to get healthcare, you don't need it to enable the doctor to access your information. The doctor is still going to use your name and date of birth to find you," Mr Corbridge outlined.
"… This isn't a secret number you can't find out; patients can ask their clinician for it, but we're not going to send a card out… that said, the IHI is a crucial building block for the EHR."
A privacy impact consultation document on the use of IHIs has also just been published.
Mr Corbridge added there is now a mechanism for working with NHS IHIs for Irish patients, which will enable the recognition of the same Irish patients by both systems, and will be particularly useful for patients using cross-border health services.
This summer, IHIs will also be incorporated into the eReferrals system, he said, "and we are also exploring where if a patient asks for a copy of their referral letter, they can be emailed it at the same time it is sent digitally to the hospital and therefore the patient will see their IHI in communications about their healthcare."
eReferrals
Significant progress on the HSE's new eReferrals system was made during 2015. Under the system, a GP can submit a referral electronically, directly from their practice management system to the hospital in question using the HIQA-approved referral form, and immediately receive an acknowledgement confirming receipt of same.
Over 50 per cent of hospitals are now able to accept eReferrals and all acute hospitals — with the exception of the National Maternity Hospital, Holles Street, which has yet to submit its implementation plan — and 95 per cent of GPs are due to be able to use the system by March, Mr Corbridge stated.
Later phases in the project will include the development of specialty-specific referral templates and the capacity to allow GP practice systems to receive a response message once the patient has been triaged.
During the recession, our health service fell behind when it comes to information technology. The economic recovery gives us the opportunity to catch up. As Minister, I have increased the ICT budget by 40 per cent… I want this to be sustained and increased further over the next few years. In particular, I want the new National Children's Hospital to be 'born' digital.

"I want ambulance paramedics to be able to access patient records electronically from the moment they get to the patient or even before. I want every GP enabled to refer patients to specialists online and I want every radiology and laboratory system able to talk to each other so that test results can be accessed easily and do not have to be repeated unnecessarily."

Minister for Health Leo Varadkar
"eReferrals have been a real push and something that has been exciting. Something that all of the clinicians have really loved. The big benefit for a GP going through eReferrals is that it removes the need to write and sign a letter, post it and the unsure nature of 'has it landed?' It's also great for the patient as they leave the surgery knowing their referral has been delivered to the hospital."
Mr Corbridge added that under the paper-based referral system, "18 pairs of hands would touch the referral letter, from the GP writing the letter to it getting to the clinician. I just find that absolutely bonkers".
As well as being safer and more efficient, the information generated by the use of eReferrals could have a major impact on managing waiting lists nationally, by being able to identify referral trends and pressures in certain areas and specialties, he pointed out.
Healthmail
He also noted that the use of healthmail, a secure, clinical email service which connects clinicians in primary and secondary care, has increased rapidly since its introduction in November 2014.
The service now has over 1,200 registered users, GPs and support staff, while the number of hospitals and health agencies securely connected to Healthmail is continuing to grow and now totals over 30 agencies. These include HSE, voluntary and private hospitals, palliative care hospices, maternity hospitals and health agencies.
"Any clinician in Ireland can ask for a Healthmail account. We ask that the account is used for the passing of unstructured clinical information," said Mr Corbridge.
Meanwhile, Healthlink, the long-running online system for GPs to receive clinical lab and radiology results, is also continuing to evolve, he added.
ePrescribing
There is increasing demand to roll out ePrescribing in Ireland as a priority, particularly with the advent of online and telemedicine GP services, but like many things in the health service, desire is far ahead of reality.
"Legally, it [ePrescribing] is not allowed. Legally, a prescription still requires an ink signature and an ink date, bizarrely," clarified Mr Corbridge, adding that ePrescribing is still in the early pilot stages and in need of enabling legislation and agreed national protocols.
"What we are doing now in Mallow is piloting electronic prescriptions in the practices around that area. What happens is they [GPs] still give patients a paper prescription but on that prescription is a barcode. The patient walks into the pharmacy that is enabled. They scan the barcode. There is no reading or messing up what is happening," he said, adding that one of the pilot community pharmacies he visited has a robotic medicines dispensing system, "so the medicine just comes down a chute and the pharmacist hands it to the patient, and that is amazing to see".
There is also an ongoing eScript pilot, which is a prescription notification service that is able to safely send patient prescription details from their doctor's computer to their chosen pharmacy.
"It, ePrescribing, is the future. It is just phenomenal. It just takes the errors out of the system."
The report on the pilot ePrescribing project is due later this month, Mr Corbridge said. "And the Health Information Bill has, hopefully, some guidance on how to put legislation to make ePrescribing more possible… I haven't put a date on ePrescribing [roll-out] because it is so reliant on legislation and the outcomes of pilots."
He added that the HSE's ePharmacy programme is about more than just ePrescribing and will also look at introducing a single drug file (an electronic dictionary of medications available for prescribing and dispensing, which will be called the National Medicinal Product Catalogue) and increasing the usage of robotic dispensing technology.
Primary care IT
The Primary Care IT Strategy was due to be launched last summer, and then last November, but still has not appeared. Mr Corbridge acknowledged the delay and said it has proved more complicated than anticipated, largely because "10,000 people working in primary care have no access to ICT to help them in the delivery of their work," while GPs are not HSE employees and own their own ICT systems.
In the UK, the NHS primary care IT structure is team based and not GP led and dominated, as it is in Ireland, he elaborated.
However, the HSE is now working with GPs to bring in agreed protocols and systems, which are compatible with the existing GP systems. The HSE will provide some funding towards these changes, which include eReferrals and IHIs. "What the HSE can't expect is for GPs to fund changes to their IT systems based on national initiatives. We know there will be benefits to GPs, but what we have done is make sure that in 2016, we can fund changes in primary care."
Questions remain on whether these changes should be linked to the new GMS contract, and discussions and consultation between eHealth Ireland and GPs are taking place. It is now hoped the Strategy will be published within the next six months, with plans for "a direction of travel" document for consultation to be published first, within the next couple of months, Mr Corbridge said.
Funding
The PPARs debacle as well as the recession led to a severe tightening of the purse strings in relation to healthcare ICT projects and staff. While funding has increased in the last two years, is it sufficient given the scale of the aforementioned projects?
"This year we have €100 million for revenue and €57.2 million for capital, which has given us the ability to recruit 47 more staff within technology this year across the country… That is a phenomenal success when you see that the IT team in the HSE hadn't recruited a new person in 10 years, so to get 12 new people last year and 47 this year is a giant leap forward. You look at the budgets though and I won't sit here and say that is enough to deliver healthcare IT. It is less than 0.8 per cent of the entire health budget. The average across Europe is 3.2 per cent… if we want and believe IT to be the enabler for healthcare, we have to spend money on it. It is not free."
Concluding, Mr Corbridge added: "The HSE is 109,000 people and there are only 288 people trying to do everything, from supporting laptops to delivering an EHR. That is one IT person to every 380 people; it is almost impossible to do. The budget sought was about getting more people to help us deliver."
For more information on the topics discussed in this interview, see the eHealth Ireland website (www.ehealthireland.ie).
MI also spoke to Ms Yvonne Goff, eHealth Ireland Chief Clinical Information Officer during the interview with Mr Corbridge, and her interview will appear in our next edition, out February 18.