You are reading 1 of 2 free-access articles allowed for 30 days
'Tis the season to be reading — medical style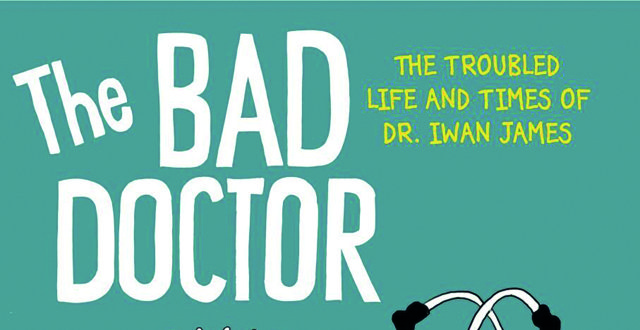 This year has seen the publication of at least 10 books (mainly written by doctors) reflecting on the art of medicine or on where the science of medicine meets good storytelling.
I've put together a list of my favourites. The methodology of selection was straightforward — a long list was made up by what I discovered through friends in real life or on Twitter, and then a shortlist of the books that I liked best myself. Hardly democratic, but it is one of the advantages of having your own column. I hope you enjoy them.
The Bad Doctor. Dr Ian Williams (Myriad).
This brilliant graphic novel by GP (and Guardian cartoonist) Ian Williams is my favourite medical book of the year. It tells the story of a wonderfully imperfect, deeply human and lovable fictional GP, Dr Iwan James. Medical readers will cheer as they watch their frustrated hero deal with the daily grind of heartsink patients, difficult work colleagues, his own mental health problems and a painful mid-life crisis. It is a wonderful and hilarious meditation on life, healing and cycling. The doctor featured in The Bad Doctor is anything but.
A Fortunate Man: The Story of a Country Doctor. John Berger and Jean Mohr (Cannongate).
This intense, beautiful and original book shines a light on the practise of medicine by examining the day-to-day life of remarkable country GP Dr John Sassall as he tends to his patients. First published in 1967, and republished this year, A Fortunate Man is written by the Booker Prize-winning John Berger and illustrated with photographs by Jean Mohr. The photographs, much like those of Fionn McCann's 2012 exhibition of Irish GPs, skilfully capture both the intimate, and usually hidden moments between a doctor and patient, and the physical landscape in which they live their lives. Considered by many to be a 'must read' for those entering general practice, this book should be compulsory reading for anyone interested in the art of medicine.
Being Mortal: Illness, Medicine and What Matters in the End. Dr Atul Gawande (Profile books).
Atul Gawande, New Yorker staff writer, surgeon, and author of The Checklist Manifesto, this year published his best (and most personal) book to date.
Being Mortal is about medicine and society's inability to deal appropriately with the realities of ageing and death. One of the central paradoxes of medicine identified in the book is that expensive, high-tech medicine doesn't always guarantee good medical care, and can sometimes make it worse. Gawande observes that medicine's inability to deal with the death of our patients prevents us from counselling them in a way that is wise and humane. Solutions are offered by observing those working in medicine who have gone against the grain. The book will be particularly well received by those working within the specialties of gerontology and palliative care, whose contribution is (appropriately) celebrated.
On the Move: A life. Dr Oliver Sacks (Picador).
One of medicine's best-known writers, the neurologist Oliver Sacks, died this year. Well known for the way in which he blended his compassionate curiosity about the science of medicine and the narratives of illnesses of his patients, in On The Move Sacks turns his perceptive eye to his own life.
Sacks, author of The Man Who Mistook his Wife for a Hat, Awakenings and Musicophilia: Tales of Music and the Brain, tells us the story of being born into a medical family, his fascination with weight-lifting, motorbikes, music, his experiments with hallucinogenic drugs, and his loneliness and isolation as a gay man in the 1960s. This memoir is a document of a life well and fully lived.
Adventures in Human Being. Dr Gavin Francis (Profile).
GP Francis, an award-winning travel writer who also writes for The Guardian, has written what Hilary Mantel describes as a sober and beautiful book about the landscape of the human body. He helps the reader by charting the territory of the human body using a combination of science, narrative, memoir humour and reflection. Influenced by the writing of John Berger (Francis wrote the introduction to the new edition of A Fortunate Man) and by Oliver Sacks, he manages to have written a book for the general public which will fascinate medical readers alike.
Worthy of mention
Other books relevant to medicine I enjoyed this year, which might find a way into your Christmas stocking, include neurosurgeon Henry Marsh's Do No Harm — Stories of Life, Death and Brain Surgery (it does what it says in the tin); The Patient Will See You Now, Eric Topol's second book about the democratisation of healthcare that technology will bring; Humans are Underrated by Geoff Colvin (a book about how professionals might survive in the disruptive digital utopia that Topol's book promises); mortician Caitlin Doughty's surprisingly uplifting book Smoke Gets in Your Eyes and Other Lessons from the Crematory, and the lovely, life-affirming Tools of The Trade: Poems for New Doctors (edited by Dr Lesley Morrison).
I hope Santy comes. Happy Christmas to all.