You are reading 1 of 2 free-access articles allowed for 30 days
Through the looking glass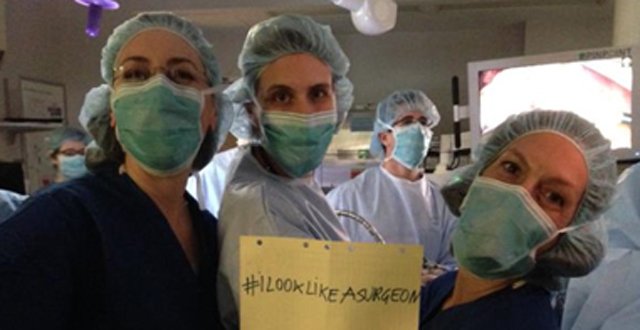 Our current age of social media and instant on-demand outrage can be easily manipulated towards the tokenistic gesture rather than grasping the nettle of the true problem. During the spring, we witnessed an appalling act of violence in the US where a disturbed young racist, growing up in an environment of poverty and ignorance, with easy access to firearms and a confederate flag, committed a crime that stunned the world. Bizarrely, of all the factors outlined, by far and away the one that attracted the most debate and attention was the flag. This was, in my view, a very damaging example of how social media can seize an agenda and manipulate complex issues into disposable sound bites that can be consumed and disposed of when the next hashtag or 'twibbon' arrives.
So it was in this spirit that I will admit to feeling a little sceptical about the recent #ILookLikeASurgeon Twitter phenomenon, which aims to raise awareness of women in surgery. Why no #ILookLikeARadiologist (I have rickets from vitamin D deficiency) or #ILookLikeAnAnaesthetist (bored)? Is this the surgical hubris dressed up as activism?
As a millennial medical graduate, it can feel like we live in a post-sexist era. Females outnumbered us males in medical school and this followed through into my SpR group. I glanced at my CV and added up all the consultants I had worked for in training and found a slim majority of women. The most admired and prominent GP and consultant in Ireland now are probably Dr Ciara Kelly and Dr Rhona Mahony. The number one medical TV drama of this century is focused on the lives and tribulations of female surgical trainees. I mean, how much more awareness needs be raised?
Equally though, the conclusion that gender bias is somewhat less relevant now is a very easy one for me as a male to arrive at. When I read on, I was converted. There is very clear evidence that the preponderance of women at undergraduate level has not fully translated into parity at the apex of several of the specialities. Many of the contributors related tales of prejudice they had experienced, betraying attitudes towards them that I could scarcely believe still existed. The campaign was simple and effective.
However, I looked at the pictures on the Twitter feed and drew some other conclusions. Of the first 100 surgeons who had used the hashtag to post pictures of themselves, 59 were white women, 15 were Asian women, 21 were men, and just five were black women. On the basis that being African-American, and especially an African-American woman, is an unfortunate surrogate marker for being more likely to be poor in the US, does the same thing apply here? The answer for me is a resounding yes. A 16-year-old girl in a school like Alexandra College, Scoil Mhuire or Laurel Hill is infinitely more likely to find herself wielding a scalpel than a 16-year-old boy in a community school in Ballymun, Knocknaheeny or Southill. No one prejudice trumps another, but it is clear to me the most difficult barrier to surmount in the Western world is neither race, gender, religion or sexual orientation, but poverty. This is as true in Georgia as it is in Glasgow, Geelong or Galway. In other jurisdictions it may be different.
This leads me on to another observation from the Twitter photos. In several instances, very senior surgeons occupying senior positions in academic bodies in a variety of countries were tweeting their selfies to support their female trainees and colleagues. While this is laudable, I find it difficult to square the circle of this support with some of these bodies represented by these men having very cosy relationships with regimes that have records on women's rights that are utterly deplorable. I was tempted to pose behind bars in scrubs with 'Al-Ekri' written on them and hashtag it #ILookLikeASurgeon, but thought better of it.
Perhaps the true lesson of #ILookLikeASurgeon is in its inclusivity and its unashamed message that surgery, and, by extension, medicine in general, is a profession for all. Its specific message to young women is most laudable. As I write, our TV is on in the background and I've just seen a trailer for a new programme called WAGS, which is an aspirational reality show focusing on the lives and hierarchy of women married to professional male athletes. As a father of a young girl, and as a human, I find this ineffably disheartening. Let's now take the next steps beyond hashtagging and liking on Facebook towards creating a world where all our sons and daughters have access to whatever they need to create their chosen narrative and be defined by their own achievements and characters.