You are reading 1 of 2 free-access articles allowed for 30 days
The X-mini Kai speaker — a sound acquisition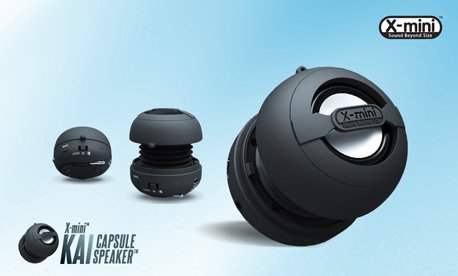 Without the inconvenience of cables, users can easily connect their media devices with the X-mini KAI Capsule Speaker via Bluetooth.
Music lovers can also control their list of favourite tunes wirelessly with the simple toggle of a button on the X-mini KAI Capsule Speaker to skip through tracks.
It also includes the popular 'Buddy-Jack' function, so you can use the same dongle feature with a 'daisy-chain' of your X-mini Capsule Speaker collection and enjoy an enhanced sound experience while your music is being transmitted wirelessly.
The Bass Expansion System, seen across all X-mini products, continues to offer good-quality sound, while you are able to either play music loudly when you are in a group or turn it down for easy listening on your own.
The built-in battery is charged via USB, with each two-hour charge offering up to six hours in playback time in the Bluetooth-enabled mode.
Bluetooth-equipped
Not only will users be able to enjoy all the fundamental features of the X-mini Capsule Speaker, they now have an additional option of transmitting their music wirelessly.
The X-mini KAI Capsule Speaker is also capable of remembering the last Bluetooth-enabled device you paired it with, which means each time you turn the product on, it will automatically re-establish the connection.
Built-in mic for conference calls
To add on to the functionality of the X-mini KAI Capsule Speaker, an incorporated microphone allows you to answer your calls just by pressing the toggle button when the device is paired to your mobile phone. This not only allows you to communicate through your X-mini KAI Capsule Speaker, you will also be able to conduct conference calls with colleagues.
And if your device is not Bluetooth enabled?
The stow-away 3.5mm cable means that the X-mini KAI Capsule Speaker is compatible with, and able to perform, its speaker function on an array of devices, from music players, to laptops, to mobile phones, regardless of whether they are Bluetooth-enabled or not.
Available ON SALE at Right-Click for just €39.99, reduced from €69.99 (while stocks last)
Syma S39
The S39 is one of their newest helicopters on the market. It is colourful and bigger than its smaller brother, the S36. It comes with all the technology you would expect from a top-quality helicopter.
It also comes with two speeds, low and high, so it's perfect for beginners. It has the built in Gyro system so it is very easy to fly and keep stable. You can even fly it and hover it right in front of you. Once you get used to the power of the rotor blades, control of the helicopter is easy so it doesn't take long to become an expert flyer.
The S39 comes with the 2.4gHz frequency — this is a Spread Spectrum Technology, which means the copter will respond 100 times faster than a normal radio frequency.
It also means you can fly a large number of helicopters without any of them interfering with each other.
The S39 is a great gift for both young and the young at heart.
€49.95 @ www.thegadgetstore.ie
Selfie Stick
'Selfies' are all the rage at the moment and the Selfie Stick ensures that these images can be taken with the maximum quality and the minimum inconvenience.
The user can simply attach their smartphone to the Selfie Stick to take the picture, allowing them to get the correct perspective on the image.
A great gift for any friends or family who have become involved in the 'selfie' craze that is sweeping social media forums across the world.
€10 @ www.thegadgetstore.ie
Big Mouth Bookmark
A cheeky gift for the book-lovers in your life, the Big Mouth Bookmark is a novel way of keeping your page while 'sticking a tongue out' at passers-by.
It's an amusing alternative to the tasselled, red leather bookmark and a great gift for those who prefer to read real books rather than Kindles.
€6.99 @ www.thegadgetstore.ie
Scratch Map Deluxe
For those of us who like to, or need to, travel a lot, there is a novel way to keep a record of your far-flung destinations — a fantastic gift that does exactly that, the Scratch Map Deluxe.
The more stylish sister to the original Scratch Map, the Deluxe comes with copper foil printed on beautiful matt-finish black paper.
The Deluxe Map is very detailed and also features fascinating infographics along the bottom, revealing a wealth of facts and information about the land and oceans. Very popular, the Scratch Map Deluxe looks even better in a wood frame.
€24.95 @ www.thegadgetstore.ie