You are reading 1 of 2 free-access articles allowed for 30 days
The writing's on the wall for nervous patients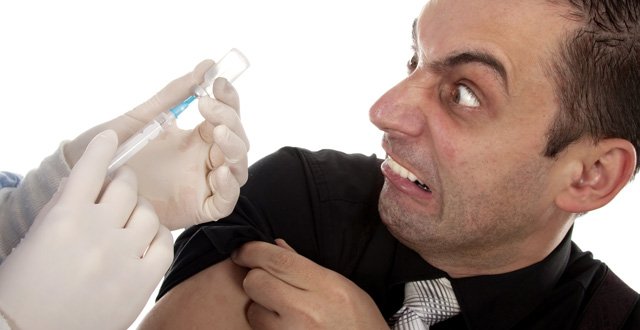 But for the ultra-nervous, a colleague of mine has an unusual technique to help people be at peace with the syringe.
His method is simple — a quirky wall-chart with some 'medical practices' from days gone by.
For example, one of the items featured is 'Mrs Winslow's Soothing Syrup', designed for the busy 18th Century mother on-the-go with a noisy baby. The secret of this elixir was that each ounce contained no less than 65mg of pure morphine and no doubt stressed mothers of that time also treated themselves to a quick nip when the going got tough.
The New York Times copped-on in 1910 and ran an article pointing out that many of these syrups contained "… morphine sulphate, chloroform, morphine hydrochloride, codeine, powdered opium and cannabis indica".
Suddenly the gripe water doesn't seem so bad.
Cures for sexual dysfunction in men were even less subtle. For example, the 'Giant Power Heidelberg Electric Belt' and the 'Dr Bell Electro Appliance' of the late 19th Century ensured a shocking time was in store for the nether regions of the poor soul with erectile dysfunction.
An advertisement from the time, touting 'Dr Sanden's Electric Belt and Suspensory for Weak Men', professed: "Men! Why are you weak?" and recommended this shocker for "men who are debilitated and suffering from nervous disability, seminal weakness, losses, drains, impotency, lost manhood, rheumatism, lame back, kidney troubles, nervousness, sleeplessness, poor memory and general ill health". If you didn't have any of these problems to begin with, this belt would probably do it for you.
My friend also explains to patients that some 70,000 people were lobotomised in the '50s and '60s and that bloodletting was standard practice for pretty much every ailment you could think of up until the 19th Century.
Trepanation — drilling holes in a patient's head, believed to be the first ever 'surgical practice' — is also mentioned in passing, if his patients take an idle curiosity in the wall chart while he is preparing the syringe.
It might be worth a try — he swears that by the time this five-minute conversation is over, the humble jab has lost its power to terrify.
Striking stuff
Another vignette to help patients feel that they're in good hands might be the tale of Prof Ninian Peckitt, who until recently was honorary locum consultant in oral and maxillo-facial surgery at Ipswich Hospital in the UK.
A surgeon of some renown, who has been published in medical journals and was a pioneer of engineering-assisted surgery, he did not attend the recent Medical Practitioners Tribunal Service panel that recently considered three complaints against him. One of these related to an incident where he is alleged to have repeatedly punched a patient in the face in order to try to correct a fracture.
'Patient A' had already undergone a facial surgical procedure but fell out of his bed under anaesthetic, displacing his cheekbone.
It was then, the Tribunal heard, that Prof Peckitt asked Dr Erica Rapaport, an experienced dental surgeon, to hold the patient's head steady while Prof Peckitt punched him repeatedly.
"He said that when the patient fell out of bed, the cheekbone, which was already fractured, was moved outwards so he was trying to reposition it without having to make further cuts to the face," Dr Rapaport told the hearing.
"He applied about 10 punches, like a boxer… the first punch was unexpected and then he explained what he was doing," she continued. "I can remember a feeling of total shock the first time he hit the patient because I wasn't expecting it and I think anyone who saw what happened was reacting in a similar way and then he asked me to assist by holding the patient's head… he was looking himself and inspecting it and asked if anybody thought the fracture had moved."
And tellingly, Dr Rapaport added: "I didn't challenge him, partly because he is a consultant and partly because I was so shocked that I didn't have the strength to argue."
UK media reports say Prof Peckitt left the hospital within two days of the incident and is now believed to be working in Dubai.
The Tribunal was not impressed and stated: "The panel has determined that Mr Peckitt's misconduct is fundamentally incompatible with his continuing to practise medicine."
Communication breakdown
Referral letters can sometimes be annoying and amusing in equal measure. My thanks to the colleague who emailed me these ones.
"I saw Mr X in my surgery on January 17. He complained of impudence during sexual intercourse and I wonder if this is related to his beta-blocker."
"Dear Ms X, we have been informed that you are pregnant by your GP. Your local team of midwives will be contacting you shortly."
"Thanks you for referring this patient. Her leaking occurs with coughing, sneezing and exercise, such as running. She would like to do more exercise but her incontinence inhibits her. She does, however, carry on swimming."
"Kindly see four-year-old James, who has had a cough since yesterday. Also, the family pet dog has had a similar barking cough for the past few days."
"I would be grateful if you could see this man, who is complaining of impertinence."