You are reading 1 of 2 free-access articles allowed for 30 days
The road to HCV elimination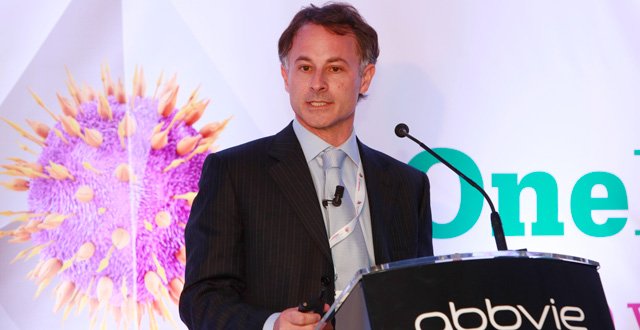 Human immunodeficiency virus (HIV) and hepatitis C virus (HCV) rank as two of the most serious public health problems worldwide. While there have been significant strides in treatment, awareness and destigmatisation in the last two decades for both viruses, many challenges remain.
One of the most exciting recent breakthroughs in this field, however, is the latest HCV combination treatment regimens. These have now been shown, in a number of phase III clinical trials, to cure over 96 per cent of HCV cases with 12 weeks' treatment. The new treatments are effective even in advanced disease and in patients with difficult-to-treat genotypes, and in those who have previously failed other treatments, with the availability of all-oral treatments, with low side-effects meaning very high adherence rates. This means that elimination and even eventual eradication of HCV is now possible.
Cost and access are now the main hurdles to be overcome in HCV treatment, but much can be learned from how access to HIV antiretroviral treatment was handled, explains Prof Jeffrey V Lazarus, a Senior Researcher based at CHIP, the Centre for Health and Infectious Disease Research and WHO Collaborating Centre on HIV and Viral Hepatitis at the University of Copenhagen.
Prof Lazarus was recently in Dublin to address a special event on HCV, hosted by AbbVie, which addressed the latest HCV treatment options in Ireland and how the disease could eventually be eradicated.
Prof Lazarus had a 10-year career as a health systems and communicable diseases expert at the WHO's Regional Office for Europe, where his achievements include co-hosting the first World Hepatitis Awareness Day. He is also acclaimed for his work with the Global Fund to Fight AIDS, Tuberculosis and Malaria and for his authorship of the first Global Hepatitis Policy Report for the WHO.
"In 2005 I was appointed to the AIDS department [in the WHO] and I was able to fulfil my own interest in making a change, not as a clinician, but as a public health researcher and health policy expert. Of course it was a very exciting time as we were scaling up treatment [for HIV]. It was very much akin to where we are now with HCV. There was the '3×5' initiative — to get three more million people on antiretroviral treatment by the end of 2005. In 2006 universal access to HIV prevention and care was launched, which had already been agreed on at the Dublin Declaration," he told the Medical Independent (MI).
Dublin Declaration
The Dublin Declaration on Partnership to Fight HIV/AIDS in Europe and Central Asia was announced in 2004, during Ireland's then Presidency of the EU.
The Declaration, the first in a series of regional declarations, emphasised HIV as an important political priority for the countries of Europe and Central Asia. It stated the commitment of all signatories to act collectively in tackling the HIV/AIDS epidemic and set out a number of actions to accelerate the achievement of this commitment. The involved countries also committed to closely monitor and evaluate the implementation of the actions outlined in the Declaration.
"It was an extremely important declaration and one that would have been lost, except for a few activists working at the WHO who said 'everything has been said in Dublin and we don't necessarily need more declarations. We need to implement this, we need the funding'. So I was part of a group who kept the spotlight on the Dublin Declaration. We presented it at scientific conferences, at the European Commission think-tank on HIV. All of these are lessons that HCV can learn from. There is a think-tank, with the representatives of 28 countries, meeting every six months to talk about HIV," Prof Lazarus said.
The governmental think-tank was set up around 2006 and there is now also a civil society forum that meets the day before and presents its findings to the think-tank. "So I was there from the very first meeting, an incredible time… we repeatedly discussed the Dublin Declaration and what was to become the ECDC (European Centre for Disease Prevention and Control) then took the declaration and said they were going to make it their official monitoring tool. So that was the effect of a declaration, when you keep it alive. I think the flames of passion around Dublin were really exciting, which is why I was really excited to come back," he told MI.
Medical breakthroughs
In relation to both HIV and HCV, Prof Lazarus feels there have been "great achievements" in the last decade regarding new drugs coming onto the market, much greater awareness, and increased destigmatisation.
"Recently, the START trial released its results, which was on the front page of the New York Times and pretty much everywhere in the world. So that is big, when our office in Copenhagen makes it to the cover of the New York Times. We're lucky when we make it to the cover of the Danish Times! So this was huge, huge news, and it basically says to start treatment upon diagnosis," he commented.
The Strategic Timing of AntiRetroviral Treatment (START) trial is the first large-scale, randomised clinical trial to establish that earlier antiretroviral treatment benefits all HIV-infected individuals. Though the study was expected to conclude at the end of 2016, an interim review of the study data by an independent data and safety monitoring board recommended that results be released early.
'The WHO goal is HCV elimination by 2030. In Ireland, you are talking about HCV elimination by 2025'
The study has found that HIV-infected individuals have a considerably lower risk of developing AIDS or other serious illnesses if they start taking antiretroviral drugs sooner, when their CD4+ T-cell count is higher, instead of waiting until the CD4+ cell count drops to lower levels. Together with data from previous studies showing that antiretroviral treatment reduced the risk of HIV transmission to uninfected sexual partners, these findings support the concept of offering treatment to everyone with HIV.
"So there are still breakthroughs, there are still innovations. Some people have said 'can you move on now?' I wish we could, that we didn't have 20-to-30 per cent, sometimes 35 per cent, undiagnosed [with HIV] in western European countries, and of course those numbers are double in some of the eastern European countries. And there are rises in some populations as you start to live with the infection," Prof Lazarus said.
In relation to the latest HCV combination therapies, he was vocal in his excitement.
"This is huge. It is the global breakthrough. About six years ago TIME magazine had their 10 breakthroughs of the year and one of those was male circumcision as HIV prevention. I think a cure for HCV dwarfs that by a long shot! We can now talk about ending HCV. As an epidemiologist, we differentiate greatly between eradication and elimination. Smallpox was eradicated from the face of the earth, while eliminate means that it is still there but there are no new cases. Basically, elimination is on the road to eradication. The WHO goal is HCV elimination by 2030. In Ireland, you are talking about HCV elimination by 2025. We can talk all we want and we have to see if governmental resources are there but it is always good to have visionary goals. It was in Dublin that universal access for HIV was set two years before anywhere else in the world, back in 2004, but we are nowhere near that yet… " Prof Lazarus said.
He added that polio, for example, still exists in some countries but so many diseases that were once lethal can now be simply treated or prevented and that is the way HCV is going.
"I'm looking forward to the day where you can go to your GP, they ask if you have ever had a HCV test, do a quick finger-prick and if it is confirmed you get a bottle of pills, maybe for eight weeks, it is currently 12 weeks, and in a few months you won't have HCV anymore. That's it, it should be a simple as that, like antibiotics," he remarked.
Responding to fears of HCV reinfection in patients who receive the expensive new treatment regimens, particularly in injecting drug users or other high-risk patient populations, Prof Lazarus was pragmatic: "We treat lots of people for lots of things related to reinfection. We don't say 'I can't believe you are back with influenza, headache, etc'. It is more complicated in infections and diseases and [HCV] treatment is expensive, maybe €50,000-€80,000, depending where you are and what you have negotiated but prices will come down and need to come down. I think everyone is aware of that, both the producers of the medicines and certainly everyone who is paying for it, as well as those who are being denied care because of costs.
"There was a famous case in the US recently of a woman [with HCV] who was told by her insurance company to come back when she had scarring of the liver; she was too early to be covered. So we understand there is rationing and high costs but there is now an elimination plan in Georgia, and Egypt, which has the highest prevalence in the world, is getting a 99 per cent discount [on treatment] and there are 109 countries who will have generics but that leaves another 85-to-90 countries, so there is a long way to go."
Access
Many questions now need to be considered about HCV treatment in terms of access and treatment programme protocols, Prof Lazarus pointed out.
"So what I emphasised in my talk in Dublin, is that while we have had this incredible biomedical breakthrough with DAAs, there is a whole other aspect to consider, which is the public health and health systems side of things. How will you find and test the people that need it, in a respectful and engaging way? How will you take decisions on who to treat? Is your health workforce adequate for this? How will you support treatment adherence for individuals and treatment populations that have a chaotic lifestyle? How will you talk to the people upstairs based on your clinical expertise and tell them that you need a lot more money for the treatments? What kind of information will you be providing? How will you be following up your patients? So there is a long, long way to go…. " particularly when you look at HSE plans to treat approximately 400 HCV patients in 2015 when there are an estimated 20,000-50,000 infected in Ireland, he concluded.