You are reading 1 of 2 free-access articles allowed for 30 days
The rise of keratoprosthesis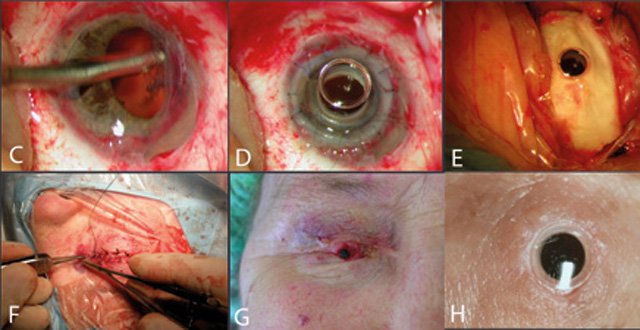 Case report
A 56-year-old woman was legally blind since age 14 years due to Stevens-Johnson syndrome (SJS). She had several surgeries to try to restore her ocular surface including several mucous membrane grafts in the UK, all of which failed and ultimately her left eye was enucleated at age 23 years. She had bare perception of hand movements in her right eye with a severely scarred and keratinised ocular surface with her eyelids fused to the globe when she first presented to the Royal Victoria Eye and Ear Hospital (RVEEH), Dublin, in 2007.
Her only option to restore vision was an 'artificial cornea' or keratoprosthesis (Kpro) for the right eye as a standard corneal transplant would have had a very poor prognosis.
In April 2009, she had a Type II Boston Keratoprosthesis implanted in her right eye by Mr William Power, Consutlant Ophthalmic Surgeon, RVEEH.
The device was covered by her sutured eyelids for one month and then opened centrally to reveal the device optic. The next day, her visual acuity had improved to 1/12 Snellen unaided. It improved to a remarkable 6/9 over time and has been maintained at this level seven years postoperatively with regular cleaning of the device. Despite being 14-years-old when she lost her vision, the long-standing blindness that preceeded her sudden visual restoration led to significant visual agnosia and she struggled to name objects that were immediately recognisable to her by touch and had to gradually learn to recognise the faces of her family and friends.
Discussion
The concept of an artificial cornea is not new, dating back almost 230 years to initial ideas about implanting glass lenses within opaque corneas. Early devices had high rates of devastating complications with device extrusion, endophthalmitis and loss of the eye in many cases. Significant advances in the design and safety of the devices have been made in the last half century and, as of 2015, more than 11,000 Boston keratoprostheses have been implanted worldwide. This is still a very small amount by comparison to the number of standard penetrating keratoplasty surgeries carried out around the globe which totals >100,000 per year.
Indications
A Kpro is an option for cases of blinding corneal disease where a traditional corneal transplant has failed or would have a very poor prognosis. A standard keratoplasty using a donor human cornea has a poor likelihood of success in cases of significant corneal vascularisation, severe ocular surface disease, inflammatory or autoimmune disease, limbal stem cell deficiency, certain infections and where previous grafts have already failed. It can be performed as a primary procedure if the chance of success of a standard graft is deemed very poor or as a secondary procedure where traditional keratoplasty has failed one or more times. Elderly patients are preferable candidates due to concerns about long-term device retention in younger patients.
Devices
There are several types of artificial corneal devices available. In the subject in the above case report, a Boston Keratoprosthesis was used and is one of the most widely used devices.
The Boston Keratoprosthesis device comes in two types. The Type I device is the most commonly used and is indicated in patients with reasonable blink and tear secretion mechanisms. It consists of two plates joined by a stem which houses the optical portion of the device and has the appropriate dioptric power for the patient depending on their phakic staus and axial length. Lens removal is necessary at the time of surgery and an aphakic or pseudophakic version of the device is available. The front plate is mushroom shaped and passes through a 3mm opening trephinated in a large corneal graft. The posterior plate then screws onto the stem to sandwich the corneal graft between the front and back plates and is locked with a titanium ring posteriorly to prevent intraocular unscrewing of the device. The graft-Kpro is then sutured in place like a standard penetrating corneal transplant. Holes in the back plate facilitate passage of nutrients from the aqueous humor to the corneal graft. The original backplate was made of PMMA, but in a newer version of the device the back plate is made of thinner titanium and 'snaps' on with no locking ring. A soft bandage contact lens is worn over the Kpro on an ongoing basis to retain a film of tears over the ocular surface and reduce the chance of tissue necrosis, melt and device extrusion.
The Type II device is similar except it has a 2mm long anterior nub that can protrude through a small opening in the eyelids which are otherwise sealed in a complete tarsorrhaphy for patients with severe ocular surface disease such as end-stage ocular cicatricial pemphigoid (OCP) and SJS.
Results of surgery
Visual outcomes following Kpro implantation are favourable if there is no concurrent posterior segment disease or glaucoma. Overall 70 per cent of reported patients have achieved visual acuity of 6/60 or better postoperatively with the probability of maintaining this level of vision at seven years estimated at 50 per cent.

Table 1
While the visual restoration can be life-changing for the patient, the device is not without potentially serious complications, the risk of which remain for life.
Some of the most common and serious complications following Kpro surgery are shown in Table 2.

Table 2
In one of the largest reported series to date from a large multicentre retrospective study in the US, the seven year retention rate for the Boston Type I Keratoprosthesis was estimated at 67 per cent, but was substantially less in the subset of patients with severe ocular surface disease at 35 per cent. In eyes without ocular surface disease, the device retention rate plateaus around three years. In that series, 22 per cent of the Kpro devices in the series were removed due to complications and the eye enucleated in an additional four per cent due to serious device-related complications.
The most common complication is formation of a retroprosthetic membrane which can occur in up to 50 per cent of patients usually within the first two years. This can be treated with Nd:YAG laser or occasionally necessitates vitrectomy and membranectomy surgery.
The second most frequent complication and the leading cause of poor visual outcome after Kpro is glaucoma. Pre-existing glaucoma is not uncommon among patients requiring Kpro surgery and exacerbation of glaucoma as well as new onset disease (in one-third) occurs frequently post Kpro with 22 per cent of patients needing glaucoma surgery during follow-up. The glaucoma in these cases is difficult to detect and manage as it is not possible to measure the intraocular pressure using standard tonometry in the presence of the Kpro device necessitating a reliance on digital palpation of the eye.
The most serious complications are tissue necrosis and melt around the device with extrusion or development of endophthalmitis. The incidence of endophthalmitis has been dramatically reduced with the standard use of prophylactic antbiotic eye drops which must be continued indefinitely. Endophthalmitis still occurs in approximately 15 per cent of eyes and has a very poor visual prognosis despite
aggressive treatment.

Figure 1a: Pre-operative appearance

Figure 1b: Pre-operative appearance

Figure 2: Post-operative appearance

Figure 3: Type I (left) and Type II (right) Boston Keratoprostheses

Figure 4a and Figure 4b: A patient before and after implantation of the Type I device


Keratoprosthesis surgery in Ireland
Mr Power at the RVEEH leads the national keratoprosthesis programme in Ireland and has been implanting the devices since 2000.
Thirty-four Kpro implantations have been carried out in the RVEEH between 2002 and March 2014. This represents the largest reported series of Kpro patients and the longest follow-up in the British Isles. They have been predominantly Type I devices with only three of the rarer Type II devices implanted (90 per cent Type I and nine per cent Type II). Eighty-five per cent of patients achieved an improvement in their best corrected visual acuity (BCVA) from baseline with 50 per cent achieving 6/12 or better 'best-ever' corrected acuity posteroperatively and 64 per cent of patients maintaining a BCVA of 6/60 or better at one year. Over a mean follow-up of 42 months (range two to 110 months), six devices had to be explanted from five patients due to complications, giving a device retention rate of 82 per cent over the follow-up period, which is comparable to rates from large international series. Some 77 per cent of patients have developed some form of complication, most commonly retroprosthetic membrane formation and exacerbation of pre-existing or new-onset glaucoma, emphasising the need for continuous meticulous follow-up.
The graft-Kpro is then sutured into the recipient bed (D) and covered with a scleral graft around the optic (E). The lids are sutured closed and opened a month later around the device optic (F and G). Final appearance (H)
Conclusion
For patients with corneal blindness from severe cicatrising diseases such as SJS and OCP and severe chemical burns, this can be a life-changing intervention. However, complications remain high, particularly for this subgroup of patients. Continued refinements to the device and technique in the future will hopefully continue to improve the safety and longterm visual outcome for patients.
While the Boston keratoprosthesis has gained acceptance, the search for an 'ideal device' continues. The advantages of an ideal keratoprosthesis device would include elimination of the need for human donors, the possibility of large scale manufacturing, varying optical powers, long shelf life and potential widespread availablility for the 4.9 million people blind from corneal disease worldwide.
References on request