You are reading 1 of 2 free-access articles allowed for 30 days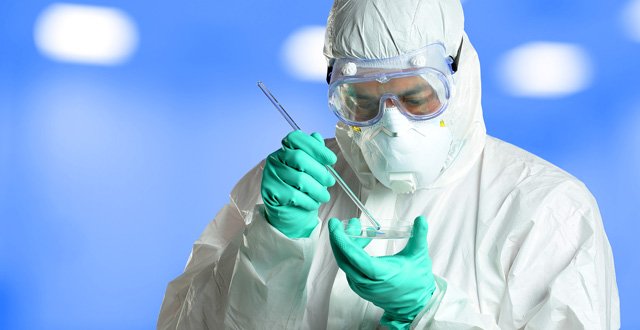 Ebola isolation
New research from Germany has indicated that doctors who treat Ebola patients do not feel more stress than usual, but do feel socially isolated. The team surveyed 46 healthcare workers who cared for Germany's first Ebola patient in August 2014 and based their studies on the idea that doctors treating Ebola patients would experience more stress for fear of catching the disease.
However what they found was that the doctors had almost identical levels of fatigue, depression and anxiety than healthcare workers who hadn't treated the Ebola patient and that their levels of stress were equivalent to that of the general population.
However, they did report high levels of social isolation and the doctors wanted their 12-hour shifts reduced to eight hours.
The study is to be published in an upcoming edition of the Journal of Emerging Infectious Diseases.
Obesity scales
A 100-year-old crocodile in Bangladesh has died as a result of obesity-related symptoms after visitors and worshippers over-fed it with sacrificial offerings.
The animal was kept in the Hazrat Khan Jahan Ali Shrine in the Bagerhat district and worshippers believed that feeding it would guarantee them good fortune and even grant specific wishes.
He previously had three other crocodiles for company but all three became obese and died, leaving a massive over-supply of sacrifices for the remaining croc. As the Bangladeshi economy has become turbulent, more and more visitors had been frequenting the shrine and bringing ever-larger offerings. Keepers found him dead recently due to an obesity-related condition.
Crocodile keeper Mohammed Sarwar explained: "We were aware of the problem but were not sure what to do about it. The legend is that anybody who feeds the hunger of the crocodiles will have their heart's desire fulfilled.
"Usually, it was just a chicken but more recently people have been offering even more, including goats, believing that big sacrifices meant more chance of a wish being granted."
Learning and living with debt
A study has suggested that loans to fund education have a significant effect on the mental health of students.
Prof Katrina Walsemann of the University of South Carolina and colleagues analysed responses from 4,643 participants and discovered a prominent trend — the higher the student loan, the poorer their mental health.
The results, published in Social Science and Medicine, showed that the effect of debt on mental health was evident, regardless of level of education completed or household income.
However, there was one quirk in the results — if the students originated from a low-income family, their mental health often improved with a high student loan. The researchers postulated that among these people, the loans provided them with a higher social standing than they previously had.
A new view on AMD
A new 'telescopic' contact lens is in development that could help patients with age-related macular degeneration (AMD). The lenses could replace the current see-through displays worn by patients, which are often resisted because of their impractical and unsightly nature.
Regular eye-glasses can be worn with the lenses and allow the user to control the lenses with eye-blinks. The lens can magnify up to 2.8 times and optics specialist and developer Dr Eric Tremblay commented: " We think these lenses hold a lot of promise for low vision and AMD.
"It's very important and hard to strike a balance between function and the social costs of wearing any kind of bulky visual device. There is a strong need for something more integrated and a contact lens is an attractive direction."
It's grim up North
"Improve the hygiene and anti-epidemic work and curative medical care so as to give fullest play to the advantages of the socialist public health system!"
Not the latest HSE circular, but rather one of Kim Jong-un's recent edicts to the workers of North Korea. Jong-un used the state-controlled national broadsheet newspaper to publish a list of 310 instructional declarations to the population, which ran to more than 7,000 words. Mercifully for Korean doctors, only four of these were aimed at healthcare workers. These were festooned with exclamation marks and include: "Show people utmost devotion, the way medical workers in the Chollima era did!"
"Boost the production of highly-efficacious medicines conducive to promoting the people's health!" and
"Bring to perfection telemedicine and the medical information network!"
Doctors escape lightly, unlike sportspeople, who are instructed: "Play sports games in an offensive way, the way the anti-Japanese guerrillas did!" and "Let us fiercely raise the sports wind across the country!"
On a more general note, Jong-un observes: "Fertiliser means rice and socialism!"
Given the country's well-known food supply issues, food producers come in for particular attention: "Let the strong wind of fish-farming blow across the country!"
"Make fruits cascade down and their sweet aroma fill the air on the sea of apple trees at the foot of the Chol Pass!"
"Let us turn ours into a country of mushrooms by making mushroom cultivation scientific, intensive and industrialised!"
And of course, the military is the focus of many of his thoughts: "Let the wives of officers become dependable assistants to their husbands!"
"Let us raise a strong wind of studying the great Kimilsungism-Kimjongilism!"
"Let us turn the whole country into a socialist fairyland by the joint operation of the army and the people!"
"Overcome thoroughly the manner of working like extinguishing fire after it has broken out, like a flash in the pan and like conducting a shock campaign!"
And finishing on a typically conciliatory note, he declares: "Should the enemy dare to invade our country, annihilate them to the last man so that none of them will survive to sign the instrument of surrender!"