You are reading 1 of 2 free-access articles allowed for 30 days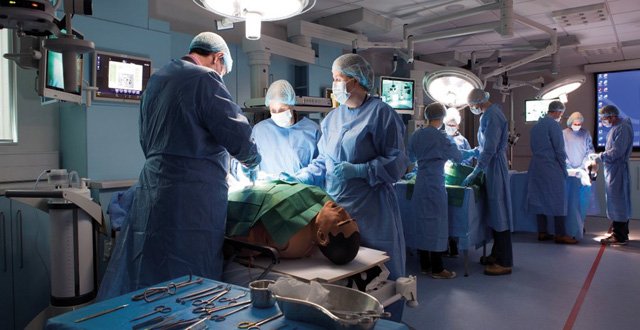 Earlier this month the world's first surgery to be broadcast live through virtual reality (VR) took place in London.
The surgery was conducted by Dr Shafi Ahmed, Consultant Surgeon at the Royal London Hospital, UK, who undertook the broadcast for the benefit of medical students.
It is just one example of the ways in which virtual reality is changing the nature of medical education. One of the pioneers in the field, Prof Anthony Gallagher, Professor and Director of Research at the ASSERT Centre, College of Medicine and Health, University College Cork (UCC), recently received a prestigious award for the work he has conducted into virtual reality and simulated education.
Prof Gallagher, received the Satava award at the Medicine Meets Virtual Reality (MMVR) conference in Los Angeles, California. MMVR is the leading engineering and educational forum for researchers who invent, develop, and market interactive, information-focused tools for clinical care and medical education. Prof Gallagher told the Medical Independent (MI) that he was honoured to receive the award, adding: "It is always nice to be recognised for work that you have done."

Prof Anthony Gallagher
This work began in Queens University Belfast, in the late nineties. A psychologist by profession, Prof Gallagher's research at the time concerned suicide risk in schizophrenia. However, he began to be fascinated by the challenges involved in training medics in laparoscopic surgery, which was generating considerable debate within the field. Prof Gallagher began to examine what exactly was causing these training issues and concluded that it was due to psychomotor co-ordination difficulties involved in using the instruments while looking at a monitor. In 1998, he went to a course in Cincinnati, US, that was to subsequently greatly impact on the future direction of his research.
"One of the surgeons on the course started to describe virtual reality simulation to me. At that time computer processes and capacity wasn't what it is today and any of the virtual reality simulators for surgical training that we had seen at that time weren't worth the money," he recalled.
"The cost was up to a quarter of a million pounds. Some of them didn't really move in real-time. Some of them were cartoon-like. So when he talked to me about virtual reality simulation I was quite dismissive. It turns out this person was a very respected surgeon and they were looking very seriously at a virtual reality simulator to use for training in their centre in Cincinnati. And he asked me if I would do an evaluation on it. I have to say I wasn't really that enthusiastic initially. And, eventually, he said 'if you do an evaluation for me I will buy you a simulator'. I said okay then. I did an evaluation of the simulator and it turned out it worked really well. They didn't simulate tissue, they didn't try to simulate the haptic feedback that you get from using instruments on tissue. What they did concentrate on was training the appropriate psychomotor co-ordination to use instruments safely. And focusing on that they did a really good job. I started to produce a series of papers that showed no matter what we compared this virtual reality simulation to, the trainees always performed better."
What my research has shown over the past 10 odd years is that you have to know what the trainee is able to do by the time they are finished their training. Because if they are not able to perform at a certain level, they are not trained
As a Fulbright Distinguished Scholar in the Department of Surgery at Yale University in 2001, Prof Gallagher led the project team that reported the first prospective, randomised, double-blinded controlled clinical trial on virtual reality. This demonstrated that virtual reality-trained surgeons performed the operation 30 per cent faster with six times fewer intra-operative errors in comparison to conventionally trained surgeons. Following the publication of the landmark study, the American College of Surgeons established a model for the creation of accredited educational institutes to standardise the use of simulation technology for training. There are over 80 such institutes in the US today.
Proficiency-based progression
A central part of Prof Gallagher's research has been on the concept of proficiency-based progression (PBP). The training protocol dictates that the trainee must master and be able to demonstrate increasingly more complex skillsets in accordance to set benchmarks before being able to progress in training.
"At the minute what happens is a trainee goes into a course and they do a certain amount of time on the course and they do a certain number of cases and the assumption is that they are trained," according to Prof Gallagher.
"What my research has shown and other research has shown is that is an unwarranted assumption. What my research has shown over the past 10 odd years is that you have to know what the trainee is able to do by the time they are finished their training. Because if they are not able to perform at a certain level, they are not trained."
Recently, Prof Gallagher completed the largest prospective, randomised, blinded, multi-centre clinical trial of proficiency-based progression simulation training with Arthroscopy Association of North America (AANA).

Prof Gallagher and MIST VR, his first VR simulator
For the study orthopaedic surgical residents in postgraduate year-four and year-five from 21 Accreditation Council for Graduate Medical Education (ACGME) approved residency training programmes across the US completed a weekend arthroscopic shoulder course.
Surgical residents were randomised to traditional training (Group A); a modified Bankart curriculum adding the use of a shoulder model simulator (Group B); and the exact same curriculum with a requirement to demonstrate the ability to meet a quantitatively defined proficiency benchmarks at various technique stages before being permitted to progress in training (PBP) (Group C).
At the end of the weekend course all residents completed an assisted but unaided three-anchor Bankart procedure. Their performance was videotaped in its entirety and assessed independently by two senior surgeons blinded as to the subject or training group.
The PBP-trained group (Group C) made 56 per cent fewer objectively-assessed errors than the traditionally trained group (Group A) and 41 per cent fewer errors than Group B, who were also trained with the simulator. The proficiency benchmark was achieved on the final repair by 68.7 per cent of participants in Group C compared with 36.7 per cent in Group B and 28.6 per cent in Group A. When compared with Group A, Group B participants were 1.4 times, Group C participants were 5.5 times, and Group C PBP participants (who met all intermediate proficiency benchmarks) were 7.5 times as likely to achieve the final proficiency benchmark.
According to the results of the study, a PBP training curriculum and protocol coupled with the use of a shoulder model simulator and previously validated metrics produces a superior arthroscopic Bankart skillset when compared with traditional and simulator-enhanced training methods.
The results of the study, according to Prof Gallagher, underline that the importance of the technology lies in how it is used.
"I always say that surgical training must be more than an interesting educational experience," he said.
"For the study, the simulation group [Group B] got an interesting educational experience. They got trained on a simulator, they have the experience of training over the two days, but you have no idea what they are taking in or what they are not taking in, what they are able to do or what they are not able to do. It is at the end of the course that we know. The proficiency-based progression trained group [Group C], who also used this technology, we assessed them the whole way along. They had a didactic component online and they had to pass that before they progressed. If they didn't pass that they were put back through the same modules. Then they were put back to suturing and knot tying. They had to pass that. If they didn't pass that, they needed to repeat the process. And they kept going until they passed. So what this is doing, it is quality-assuring the performance of the trainee all the way through training."
Resistance
Prof Gallagher said that while the data is very hard to dismiss, many surgeons continue to resist the idea of the new approach to learning.
"You wouldn't believe the resistance," he commented.
"It is largely the argument of 'that is not how they did it in my day'. The difference is that training on patients is no longer acceptable. And in the past that is what happened. Now a certain amount of training has to [take place on patients]. But it eliminates a significant part of the learning curve. You are never going to remove all of it. What you have to do is make sure that the trainee is as well prepared and as safe as possible before they get to do a procedure on the patient."
The new methods are receiving support from surgical leaders and educational bodies. The results of the study, for instance, caused the AANA to revise the manner in which it teaches surgical skills. Other groups are sure to follow suit given the mounting evidence in favour of the approach. In Ireland, the establishment of the ASSERT (Application of Science to Simulation-based Education Research or Training) Centre promises to lead developments in the field. While it is officially connected to UCC, Prof Gallagher called it "a national resource".
The Centre has acquired cutting-edge VIST simulators, which are, according to Prof Gallagher, much more advanced than the ones he used for the Yale study in the late nineties. VIST-Lab mimics the cath lab environment providing a full body mannequin, one 4K-UHD screen (fluoro, cine, and vitals) and a HD touch screen (controls).
"The simulations that I have validated are mostly in procedure-based medicine, such as surgery and interventional cardiology," Prof Gallagher said.
"But the same principles and practices apply across the board. And the medical device industry find this very attractive because if they have a new device for taking a thrombus out of the brain the question is how do you train the consultants to do that procedure as it can't be on a patient. This technology provides the solution."
For more information see www.ucc.ie/en/assert/.