You are reading 1 of 2 free-access articles allowed for 30 days
The flame of passion in the twilight years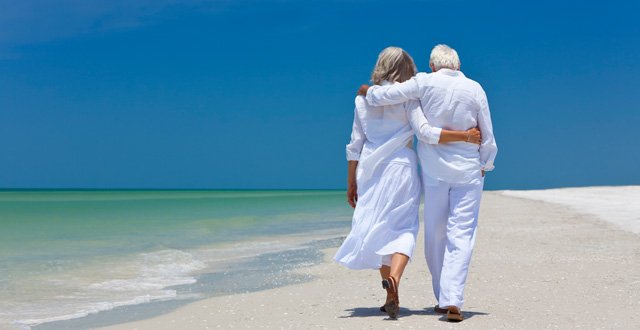 They also tend to think they 'invented' sex. Not according to a new survey involving singles over 70 years old, 84 per cent of whom said sex gets better with age.
More than 2,500 people who use online dating were quizzed and among the over-70s, 93 per cent said sex is 'important' in a relationship, with 37 per cent rating it as 'very important'. Some 84 per cent of people over 70 said sex gets better with age, while 37 per cent said they 'couldn't stay in a sexless relationship'.
Indeed, celibacy was considered less acceptable for older singles than for younger ones, with only 7 per cent of the pensioners saying they were 'happy without sex in a relationship'.
This compared with 14 per cent among the 18-to-30 year-olds surveyed.
But it's not just about sex — according to the survey, we're never too old to fall in love. Even after a break-up, separation or divorce, 96 per cent believe that they could fall in love at any age, while 60 per cent of them still believe in love at first sight.
But it doesn't take long for those raunchy over-70s to drag us back towards the sexual — they rated face, chest and backside as the three most attractive features in an older person.
Strikingly, and to put our 'hipsters' in the ha'penny place, it was also revealed that 79 per cent said they didn't need to wait for a steady relationship before having sex, compared with 69 per cent of younger singles.
But there were some slight differences between the views of elderly men vs their female counterparts, the Elite Singles study showed. Some 93 per cent of women think the quality of sex improves with age, compared to 76 per cent of men. Read into that what you will.
Older women are also more willing to get out and about — only 4 per cent of the women said they lacked the 'energy or mobility' to join the dating scene, compared to 23 per cent of men. "We must recognise that today's seniors have lived through society's sexual liberalisation and enjoy the same sexual freedom as the rest of us," commented psychologist Salama Marine.
Back in your box, you young scamps. You've a lot to learn.
WHO knows…
As if they didn't have enough on their plates, officials at the WHO have met "a few times" over the past year to discuss how to eradicate what they see as another plague on our houses — diseases with potentially offensive names.
It has released a guideline for the Naming of New Human Infectious Diseases and aims to prevent diseases like the Ebola virus being named after places, people or even animals in the future.
The Organisation is encouraging health officials and journalists to avoid using names such as Rift Valley fever, Ebola, swine flu, German measles and Creutzfeldt-Jakob disease in favour of more generic, neutral terms.
They may have a point in extreme circumstances — for example, AIDS was initially known as 'gay-related immune deficiency' — but there are plenty of critics who say the latest WHO missive is political correctness gone mad. Or rather, should that be, 'political correctness with a psychiatric illness'?
Bacteriologist Prof Hugh Pennington is not a fan of the declaration: "This won't save lives. It comes under the heading of 'political correctness' and I am very sceptical that it will have any permanent benefit," he told the Mail on Sunday.
"The World Health Organisation is a political organisation, an arm of the UN, which got badly burned by not acting fast enough on Ebola."
Other names the WHO recommends changing are Cook's syndrome, psoriasis butcher's disease, Legionnaire's disease, Middle East respiratory syndrome and Japanese encephalitis.
But the WHO insists that there have been implications for people and regions because of the names given to diseases.
"This may seem like a trivial issue to some, but disease names really do matter," said WHO Assistant Director General for Health Security Dr Keiji Fukuda. "We have seen certain disease names provoke a backlash against members of particular religious or ethnic communities, create unjustified barriers to travel, commerce and trade, and trigger needless slaughtering of food animals. This can have serious consequences for people's lives and livelihoods."
It also warns against naming new diseases with terms that might cause alarm, such as 'epidemic', 'death', 'unknown' and 'fatal' and during their meetings, they discussed using naming conventions similar to those used to name comets, hurricanes and Greek or Roman gods.
By Jove, don't we have enough to be doing?
A cut above
All apologies to my eminent surgeon friends but to finish on a light note, here are a couple of quick gags sent to me by a colleague.
Q. How do you hide a €10 note from a general surgeon?
A. Hide it in the patient's notes.
Q. How do you hide a €10 note from an orthopaedic surgeon?
A. Hide it in a textbook.
Q. How do you hide a €10 note from a cosmetic surgeon?
A. Trick question. You can't.