You are reading 1 of 2 free-access articles allowed for 30 days
The Dorsal View – 22 January 2015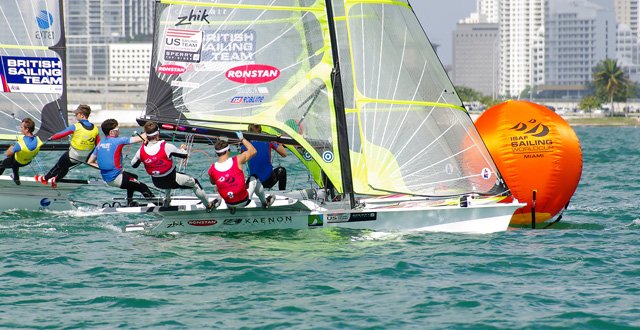 Not all plain sailing for the Rio 2016 competitors
There may be choppy waters ahead for those planning to compete in the sailing events at the Rio 2016 Olympics. The events begin in August but scientists have found that the waters in which they will sail contain an antibiotic-resistant super-bacteria normally found in hospital waste.
Water samples were taken in three locations along the Rio Carioca river, which runs into Guanabara Bay, where the events are scheduled to take place. More than half the water flowing into the bay is sewage and sailors were concerned after a visit to the site, describing the water as "filthy", according to Reuters.
The bacteria — which produces the KPC enzyme — can cause gastrointestinal, urinary and pulmonary infections.
Study co-ordinator Ana Paula D'Alincourt Carvalho Assef said: "There is a risk of contracting diseases which are not more serious than those caused by other micro-organisms. The problem is that in case of infection, it is possible that treatment involves hospitalisation."
Legendary sailor Lars Grael tested the waters for himself and reported encountering no less than four human corpses during the course of his training. A miscellany of debris litter the river, including plastic bags, which have caught the keels and rudders of boats using the stretch.
Allan Norregaard, Danish bronze medallist from 2012, also did a test run and found chunks of timber with protruding nails, mattresses, discarded doors and even entire trees littering the river.
There is concern among the Irish team, who visited the site. A team of Irish doctors was due to head to Rio early this year, led by the Medical Director of Team Ireland, Prof Sean Gaine, according to the Irish Times.
James O'Callaghan, Team Manager with the Irish Sailing Association, was also troubled by the waters. "I'd be lying if I said we were not concerned about it," he said. "All the sailors have highlighted their concerns, but in honesty it is the rubbish that is a bigger problem than the sewage itself."
The organisers have vowed to reduce the amount of sewage in the water by 80 per cent in time for the event, but O'Callaghan doesn't seem convinced: "The organisers are aware of the problem. They have even said they won't make the targets and have also said it will be a safe place for athletes. We would take precautions wherever we go and have all our vaccinations up to date."
Good luck to team Ireland — try to keep all hands on deck.
A pizza the hospital food action
As we try to fight the obesity trend, there are some who seem to be fighting to continue it.
A Pizza Hut outlet has opened in the car park of Derriford Hospital in Devon, UK, just 100 yards from the hospital entrance. It is soon to be followed by a Subway sandwich bar.
In fairness to hospital officials, they have stated that they have no say in what outlets are placed on the site and have reportedly banned staff and patients from ordering the fast-food and having it delivered to wards or staff rooms.
How successful this ban will be remains to be seen, with the franchise owner reporting a "roaring trade" from within the hospital.
A recent survey by pressure groups CASH (Consensus Action on Salt and Health) and WASH (World Action on Salt and Health) showed that a Pizza Hut BBQ Mega Meaty contains 10.4g of salt, with the NHS recommending 5g a day as the limit for an adult.
But if you think opening a Pizza Hut close to a hospital is blasphemous, consider the group The McMass Project, which is trying to raise funds to open a McDonalds outlet inside a church in New Jersey or Philadelphia.
"It's time for churches to engage with entrepreneurship. By combining a church and a McDonald's, we can create a self-sustaining, community-engaged, popular church, and an unparalleled McDonald's restaurant," said a spokesperson for the group, which aims to raise a nice, round $1 million. As of November last year, they had raised $79.
Against the head
Producing newspapers can be a tricky business.
Without tempting the gods of publishing, and in deference to my colleagues in MI who whip my column into shape for each issue, here are a few unintentional clangers that have appeared in the headlines of print publications.
There but for the grace of God…
'Hospitals resort to hiring doctors' (referring to a staff shortage).
'New sick policy requires two-day notice.'
'Rally against apathy draws small crowd'.
'Miracle cure kills fifth patient.'
'Homicide victims rarely talk to police.'
'Meat head resigns.'
'Statistics show teen pregnancy drops off significantly after age 25.'
'Marijuana issue sent to a joint committee.'
'Federal agents raid gun shop, find weapons.'
'Republicans turned off by size of Obama's package.'
'Utah poison control centre reminds everyone not to take poison.'
'Dead body found in cemetery.'
'Diana was still alive hours before she died.'
'County to pay $250,000 to advertise lack of funds.'
'Tiger Woods plays with own balls — Nike.'
'Total lunar eclipse will be broadcast live on Northwoods Public Radio.' And finally…
'Waterford boy, 8, saves sister's life', with the quote: "I wouldn't do it again. She's been a pain this week."