You are reading 1 of 2 free-access articles allowed for 30 days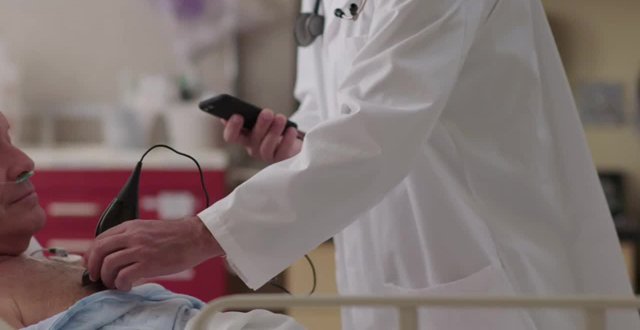 The stethoscope has "withstood the most violent assaults that ever stormed any science, and has emerged strong and refreshed from the struggle… The public has proclaimed its fiat; the public will have auscultation. The public must be obeyed".
Dr James Hope, Scottish Physician, 1938.
It had taken over 100 years since René Laennec's invention of the stethoscope in 1816 for its broad utilisation into clinical care to be accepted. From a rolled piece of card to a now digitally-enhanced auscultation tool, for over 200 years clinicians the world over have been listening to the 'music of the heart' in order to obtain a glimpse of understanding of its form and function.
The word 'stethoscope' has its roots in the Greek words stethos, meaning 'chest', and skopien, meaning 'to explore' or more appropriately, 'to look inside'. But for all this time we have, in fact, been listening to the heart, not looking.
Yes, the introduction of echocardiography in the 1950s gave us the ability to visualise cardiac structure and function using ultrasound. But this has been largely limited to formal studies in a cardiac department and most often not at point-of-care, where the physician encounters the patient. At the bedside, we have been listening, not looking.
And then, the music died.
In 2009, GE introduced the first pocket-sized, hand-held ultrasound, allowing physicians, for the first time, to perform point-of-care echocardiography with a device that could fit in the pocket of their white coat. With its almost $8,000 price tag, however, the clinical community was slow to adopt this new tool. A movement, however, had begun.
From an investigation that was typically limited to that of the cardiologist or formally-trained echocardiographer, the hand-held cardiac ultrasound quickly found its way into the hands of trainee physicians and even incoming medical students who, unsurprisingly, demonstrated an ability to perform the core functions of cardiac ultrasound with ease. Observational studies have shown first-year medical students after basic training identified 75 per cent of cardiac abnormalities using hand-held ultrasound, compared to 49 per cent by fully-trained cardiologists using physical examination alone.
A common criticism of handheld ultrasound is that the operator, or the technology, will never compare with what is offered by conventional lab-based echocardiography by a highly-skilled technician. This is true, at least for now. But that is not the purpose of hand-held ultrasound. Its purpose is to augment the diagnostic ability of the physician at the bedside and reduce the amount of unnecessary formal echocardiography studies; an outcome measure that has already been demonstrated.
And then, the music died.
In 2015, Philips introduced the Lumify, the first hand-held ultrasound probe that connected directly to a smartphone. Doing so allowed physicians to utilise their own phones as medical diagnostic tools and by extension, use them to rapidly and securely share real-time echo imaging, including 2D, M-Mode and colour Doppler functions. Although substantially less than the $8,000 price tag of the GE VScan, at $4,000 per two-year contract it was still beyond the reach of most clinicians. Its utility, however, was now quickly extending beyond the realms of cardiology and into the fields of rheumatology, emergency medicine and obstetrics. These specialties had long utilised ultrasound but had faced similar challenges to cardiology in terms of access and limited point-of-care use.
It is important to note, however, that hand-held ultrasound is not yet in a position to entirely replace the role of the stethoscope or formal echocardiography. Current limitations of hand-held ultrasound include the inability to perform continuous or pulse wave Doppler to assess stenotic lesions, for example, or also to substitute for respiratory or bowel auscultation.
While a near-term replacement of the stethoscope in cardiovascular examination is unlikely, it is essential to recognise that our auscultation skills using the stethoscope may not be as robust as we imagine. When tested on pre-recorded cardiac murmurs, more than half of cardiologists failed to identify basic murmurs, with this number rising to 75 per cent for more advanced murmurs. So maybe replacement of auscultation with hand-held ultrasound is a diagnostic requirement and not a clinical preference.
And then, the music died.
In October 2017, Butterfly introduced the 'IQ', a smartphone-enabled hand-held ultrasound. While it does not perform any more advanced functions than the Philips Lumify, the major difference is the price. At less than $2,000, the IQ continues the trend for point-of-care hand-held ultrasound at increasingly lower costs, which will ultimately drive much broader adoption for a range of clinical scenarios in almost all specialties.
As clinicians, we have spent over 200 years auscultating various organ systems to listen for their diagnostic 'musical signature' and have slung the stethoscope around our necks as one of the most emblematic icons of our field. While the stethoscope will likely be with us for some time yet, we are slowly replacing its auscultatory whispers with a more powerful visual tale. When 'seeing is believing' becomes a ubiquitous part of our clinical examination, then maybe for medicine, that will be 'the day the music died'.