You are reading 1 of 2 free-access articles allowed for 30 days
The cutting edge in eHealth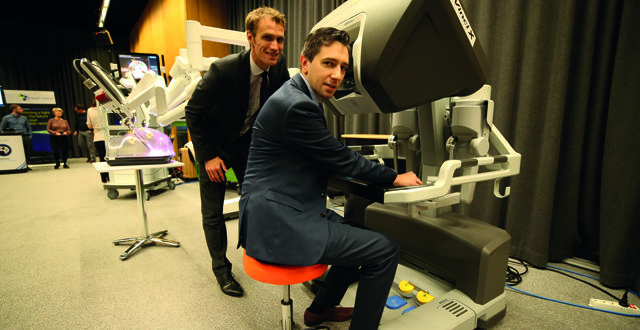 Listing the benefits that information technology can bring to healthcare is a challenge. The challenge lies not in the dearth of benefits, of course, but in their dizzying multiplicity. The increasing convergence of ICT and healthcare is so vast and diverse, it is difficult to know where to begin.
Yet this is precisely what the HSE and eHealth Ireland attempted to do with the recent Innovation Showcase at the Printworks in Dublin Castle. The Showcase was a special day of exhibitions, presentations and a series of workshops to reveal highlights of eHealth projects in Ireland, held as part of this year's Health Innovation Week, which ran from 20 to 25 October.
By highlighting individual eHealth projects, the HSE and eHealth Ireland wished to show the concrete and particular ways patients and the health service can benefit from technological innovation. Futuristic innovations on display for attendees to see and interact with included Samsung virtual reality technologies, and the 'Da Vinci Robot', which is designed to facilitate complex surgery using a minimally-invasive approach. The finalists of the eHealth Digital Natives Competition, which was open to primary and secondary school children, also had the opportunity to present their ideas for the next evolutionary leap in digital healthcare.
Outgoing HSE Chief Information Officer Mr Richard Corbridge told the Medical Independent (MI) that the main point behind the Innovation Showcase and Innovation Week as a whole was "to give everybody in Ireland an understanding of what digital can do to healthcare".
"The reason I think we have to do that is because we have to get the citizen, the taxpayer, the population to realise that investing in IT in healthcare is how we will make our healthcare system the right healthcare system. It is how we will make it safe; it is how we will make it efficient. Rather than us constantly putting more news out there, more case studies, we wanted people to come and have a look and come and have a touch and feel of what technology looks like in healthcare… now is the time to say 'a lot has happened — let's understand all the different projects and how they fit together' so that going forward, we can see how we build on those foundations and how we put those things in place," he commented.
An IT solution to managing waiting lists
One of the projects on display was swiftQueue, an online appointments delivery system founded in Ireland. Established in 2011, swiftQueue works with a range of hospital and clinics across the HSE and the NHS in the UK to improve the process of making appointments and thereby potentially better managing waiting lists.
"It is an online platform for co-ordinating healthcare," swiftQueue CEO Mr Brendan Casey told MI.
"We are integrated within the systems within Ireland. So you make a GP referral, if you want to book a blood test appointment online. We have the infrastructure in place to provide that access for patients, so they can see their appointment in real time that they can manage in terms of when they attend and then we can deliver sufficient analysis around what are the best options for clinics to run more efficiently and be much more effective. It reduces the cost of administration for the outpatient appointments and for the management of clinics because everything is available digitally and it is being done in real time."
Mr Casey described a recent swiftQueue initiative for oncology patients.
"Oncology patients have to attend multiple appointments on a given day," he said.
"What we can do, we can co-ordinate all their visits throughout the hospital. Every department is ready, so if you come in, they are ready for you at each stage along the way. It sorts out any of the miscommunication, any of the stress that is involved in a hospital visit."
This year, swiftQueue is on track to arrange five million appointments. It has worked with all the major Dublin hospitals, expanded into the UK and its first US-based pilot was launched in California last month.
Next year, swiftQueue will also be integrated with the HSE's national patient portal, which was also on display at the Showcase.
"We have a scheduling system built-in; we have an integration with swiftQueue. The scheduling piece is to allow a user to go in and book an appointment in a clinic, and they could even amend or cancel that appointment," developer for the patient portal project with eHealth Ireland Mr Alan McGrane told MI.
"We envisage that will help reduce waiting list times because 'no-shows' is one of the biggest factors for long waiting lists. So if we allow the patient to cancel or amend an appointment, then someone else can come in and take that place. We really see this as bringing a lot of value to the Irish citizen."
The portal, which will be accessible through a person's MyGov ID, will firstly be available for maternity care, but will gradually be expanded to comprise all areas of the health service.
"You could see a general referral or a pigmented lesion referral — any referral that has been processed between GPs and hospitals. That data should be available to the citizen and that is what we are working hard to bring to them," according to Mr McGrane.
Pictured is Mr Richard Corbridge, outgoing HSE Chief Information Officer; Minister for Health Simon Harris and Ms Jane Carolan, HSE National Director for Health Business Services and Interim CIO
Virtual reality
Virtual reality (VR) is one of the most exciting technological advances over the last number of years. The applications of VR technologies to healthcare range are varied, ranging from novel treatment pilots, to improved training for medical students. Ms Cathy O'Flaherty, Business Development Executive for Samsung Ireland, said, for example, VR can potentially be of great benefit for patients who have been in hospital for a long time.
"So for cancer patients, or someone who is stuck long term in hospital, they can transport themselves to anywhere in the world," Ms O'Flaherty said.
"You might have someone with spinal injuries who can't move; now they can try a roller coaster. These are the things people are actually able to do now."
Research is ongoing regarding VR's ability to treat conditions as diverse as strabismus, to opioid dependence and chronic pain. The RCSI is also assessing VR technology in delivering surgical training to its students. Technology Manager for Surgical training in the RCSI Mr Donncha Ryan told MI that the College has filmed surgeries in 360 degrees, having linked with VR platforms such as the Samsung Gear VR and Google Cardboard.
"When you put on the headset, you can look around as if you were in the theatre," according to Mr Ryan.
He said that VR has yet to be fully integrated into the learning curriculum and is still being assessed.
"It is difficult for everybody to use them and I would say also you have a limited amount of time with the VR — you can't be in it for hours on end; it doesn't lend itself well to that," Mr Ryan explained.
"But it is very good at giving somebody the experience of something they wouldn't ordinarily be able to experience. There are obviously a lot of steps to go through to get into an operating theatre and experience an operation. So this provides a very good opportunity where you can look around — you are not just looking at focal points you have been told to look at — compared to the 2D, you can look around as if you were there."
Treating alcohol addiction
An interesting initiative from the UK displayed at the Showcase was 'Lower Your Drinking'. This is a fully-automated digital solution that facilitates a preventative approach to alcohol-related harm on a population-wide scale. The initiative has been developed by the Breaking Free Group, creators of a pioneering digital health platform targeting addictive behaviours. Founder and Managing Director of Breaking Free Dr Jonathan Ward told MI that the system, which was commissioned in the NHS in England and will be launching in December, offers a range of evidence-based interventions for people who want to decrease the amount of alcohol they consume.
"This is about promoting self-management of alcohol and empowering people to actually take control of the issue for themselves," Dr Ward said.
"If they are at lower risk of harm to their health, it gives them positive reinforcement; if they are drinking at a level of increasing risk, it delivers an evidence-based brief intervention and advice, which we know from the research is effective, but it does this seamlessly rather than having to deliver it via a practitioner or a medic. It is about automating the process and driving efficiencies that way.
"Then crucially, for those who are at high risk of harm to their health who could tip into dependence if it isn't addressed, what it delivers is an extended brief intervention in the form of an app, where we have taken the behaviour change techniques we know are effective in the secondary care setting and adapted those to a primary care setting, allowing people to use those techniques for four weeks to reduce their alcohol intake," he said.
One of the techniques allows the person to identify situations in advance where they may be likely to drink too much and allows them to decide in advance what coping method they could use to prevent them from drinking too much. Another helps people fill their time, as often, people drink because they are bored.
These were just some of the project and initiatives on display in an area that is continuing to push the boundaries on what is possible in healthcare delivery and management. See www.eh2030.com for more on Health Innovation Week.