You are reading 1 of 2 free-access articles allowed for 30 days
The benefits of Medical ID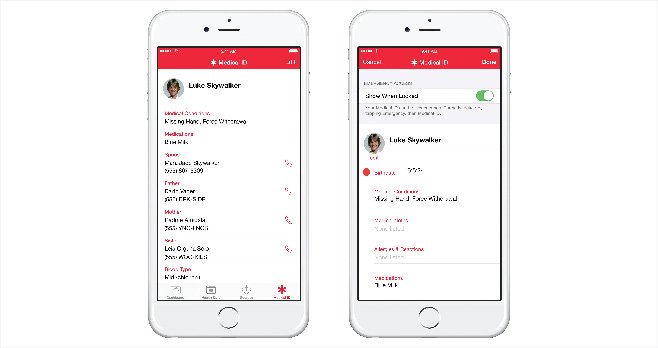 Anyone who has spent time working in an emergency department will acknowledge that treating an unconscious patient is stressful at the best of times but treating such a patient without knowledge of their medical background, medications, or allergies makes the situation even more trying.
In such situations scattered pieces of information are sometimes gleaned from a family member or friend. Oftentimes, however, healthcare professionals are forced to work in the dark, weighing up the risks and benefits of commencing treatment and administering medications without full knowledge of the patient's allergies or past medical history.
In such scenarios access to a complete list of medical conditions, medications, and drug allergies would transform the situation and minimise risk for the patient.
iPhones running at least iOS 8 allow first responders and emergency healthcare professionals to quickly access such data through an inbuilt app called Medical ID.
Here is a step-by-step guide to setting up your own Medical ID and details of how to access a patient's information in an emergency.
How to input your medical details
To get started launch the Health app, tap the medical ID icon at the bottom right of the screen and choose Create Medical ID. Here you can insert or update your name, photo, date of birth, list of medical conditions, allergies, and medications. Fields are available to enter detailed medical notes such as a short summary of previous surgeries or medical conditions. Another important feature is the ability to enter multiple emergency contacts, which can then be dialled directly from the phone. The Medical ID also allows users to enter their height, weight, and blood type. Another welcome feature is the ability to enter your organ donor preference. When finished adding information just tap Done at the top of the screen to save your changes.
After this information has been entered you can always return to edit it at a later stage or if you change your mind about having it available it can always be deleted by tapping on Delete Medical ID at the bottom of the editing page.
How to access the iPhone Medical ID
Accessing the data is straightforward. First open the lock screen on your iPhone where you usually enter your security code. Tap Emergency in the bottom left hand corner of this lock screen. This allows those without your security code to make an emergency phone call. Then tap Medical ID, which will bring up a screen showing the details that you previously entered.
Privacy issues
Will this function allow your inquisitive co-worker to snoop through your sensitive medical data? Unfortunately, yes. The concept behind the Medical ID is to allow quick and easy access to healthcare professionals in the event of an emergency. Those with less honourable intent will have similar unfettered access to your medical information.
However, if you predict a situation where a nosy parker may decide to take a peak you can always temporarily disable the Medical ID by entering the health app, tapping Edit and disabling the Show when locked option.
Although ambulance staff and ED nurses and doctors are becoming increasingly familiar with this feature, unless the owner has spent a few minutes inputting their information this powerful tool cannot be utalised.
Healthcare professionals should have some knowledge of how to access a patient's Medical ID. We should also consider encouraging our patients to input this important data so that it can be accessed in an emergency.
Dr Kieran Coleman is a GP registrar working in the West of Ireland and is co-founder of the medical app development company Hospital Contact Ltd. www.hospitalcontact.com
Ion Air LP
Vinyl is back and I do not mean the show that is currently on Sky. In fact most people in the know would say vinyl never went away!
So dig out the records and connect the past to the present with the Air LP.
Air LP is a full-featured turntable that gets the best from your records and gives you endless opportunities for enjoyment.
It plays 33 1/3, 45 and 78 RPM records. A quiet belt-drive system combines with auto-stop for convenient operation.
A 1/8-inch (3.5mm) aux input lets you connect other equipment and also wirelessly transmit that sound to the Bluetooth speaker.
Air LP comes with our EZ vinyl/tape converter software that converts records to digital files when you connect Air LP to any computer with the included USB cable.
A hinged protective dust cover completes the package.
€129.00 @ www.thegadgetstore.ie and @ Dundrum Town Centre
Samurai Chef's Knife
It is time to prove you are a legend in the kitchen and add some culture to your cooking with the Samurai Kitchen Chef's Knife. Displayed on a classic vertical samurai stand and protected in a shiny black aluminium sheath, you really will look the master of the kitchen.
This knife is perfect for the biggest of food preparation jobs and because it is a Samurai Chef's Knife, you can slice and dice just like a fully-fledged, professional Samurai!
The knife has a half tang stainless steel blade.
€19.95 @ www.thegadgetstore.ie and @ Dundrum Town Centre
Kiss Lips Power Bank
If you have ever had your phone run out of battery at just the wrong time then you can kiss that torment goodbye when you have one of these close by. The Kiss Lips Powerbank is a whopper, it has a capacity of 4,000 mAH that can charge an iPhone 6 to just under two full charges. Of course, it is rechargeable and can be used again and again. The charger works with all iPhones and Android smartphones and it comes in a stylish presentation box. Perhaps a beautiful gift for someone who loves both style and their smartphone, and maybe you!
€29.95 @ www.thegadgetstore.ie and @ Dundrum Town Centre
Sound Bluetooth Sports Earbuds
Never have those annoying cables from your earphones dangle in front of you and get in the way as you do your workout again.
We always wondered when wireless ear devices would come out and they are finally here.
Smartphone technology has changed so much including the explosion of Bluetooth and related devices.
One of the devices we really covet are these Bluetooth Sports Earbuds, as not only are they super practical, but also super cool.
You can connect them to your device as easy as pie and listen to all your favourite tunes whether you are on the run, cycling or at the gym.
The sound is fantastic and best of all, no more cables in the way.
And there is one more thing, they come with a built in mic and controller so you can not only control your music from it, but you can also answer calls as you run or work out. We think these will definitely become one of your favourite accessories for your smartphone.
€39.95 @ @ www.thegadgetstore.ie and @ Dundrum Town Centre