You are reading 1 of 2 free-access articles allowed for 30 days
The Belkin Wi-Fi enabled WeMo Switch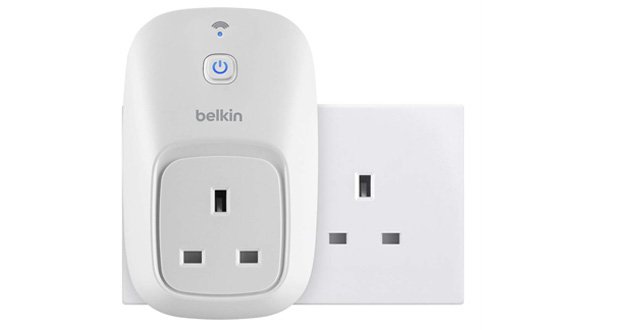 The Belkin Wi-Fi enabled WeMo Switch lets you turn electronic devices on or off from anywhere. The WeMo Switch uses your existing home Wi-Fi network to provide wireless control of TVs, lamps, stereos, heaters, fans and more.
Turn your electronics on or off from anywhere over Wi-Fi, 3G or 4G
The Belkin WeMo Switch works with the free WeMo App to give you wireless control of your home appliances and electronics. Whether you want to turn on a light from your kitchen, front yard, or office, the WeMo Switch has you covered. The Switch also operates over mobile Internet, which means you can control home devices from anywhere you have an Internet, 3G or 4G connection.
Do more with the WeMo app
The free WeMo app makes it easy to set schedules for appliances and electronics in your home. Use your smartphone or tablet to programme a fan to turn on or off at a certain time of day, at sunrise or sunset, all over your existing 3G/4G /Wi-Fi connection.
FEATURES
Operates over Wi-Fi and mobile internet, at home and away
You've already got everything you need: WeMo works with your existing Wi-Fi router and any smart device running Android 4.0 or later and iOS 5 or higher (iPod touch, iPhone, iPad)
Put your electronic devices on a schedule
Modular system. You can add additional WeMo Switches easily at any time
Control as much or as little of your home as you want to
Plugs into any standard 230V wall socket.
Intuitive, easy set-up. Easy to use
Free WeMo app for Android and iOS
Two-year limited warranty
Wireless standard: 802.11n 2.4GHz 1×1
Operating frequencies: 2412-2472 MHz
EIRP (measured max average): 17.92dBm
Antenna type: Printed
Antenna gain: 2.45 dBi
Modular system allow for multiple configurations
WeMo is completely modular, allowing you to control as much or as little of your home as you like. You can add multiple switches to your home and turn them all on at once or programme each one to turn on or off at certain times.
Easy set-up
To get started, simply download the free WeMo App from the Google Play store or the Apple App store to your smartphone or tablet. Next, plug the WeMo Switch into an outlet in your home and plug any device or appliance into the switch. Connect the WeMo Switch to your home Wi-Fi network and follow the on-screen instructions to complete the installation. Now you can turn your home electronics/appliances on or off from anywhere.
Available to order at Right-Click for €69.99.
Nova Lava Lamp
The enduring lava lamp never seems to lose its appeal, no matter how long they have been around.
Ever since the '60s, they have been mesmerising people and adding to our décor, creating the mood for parties or simple nights in.
There is almost no age limit on the lava lamp — kids love them for their bedrooms and adults for their lounges.
The Nova Lava Lamp is a quality lamp at an affordable price and looks fantastic when the lava gets moving around the glass enclosure.
So if you want to create a mood for a night in, or a feature in a bedroom, the Nova Lava Lamp fits the bill.
It is sleek and looks great and will continue to endure for many years to come.
€29.95 @ www.thegadgetstore.ie
Newton's Cradle
Sir Isaac Newton was described in his day as a 'natural philosopher' who is widely recognised as one of the most influential scientists of all time.
One of the many things he is remembered for is the humble but intriguing Newton's Cradle.
This is one of the most recognisable desktop gadgets in the world and has never lost its appeal among office workers everywhere at all levels.
This executive gadget is a fine example, and considering its size, is very good value.
As relaxing as it is fascinating, Newton's Cradle displays the wonders of the forces of physics and how they interact with each other.
This classic desktop gadget makes for a perfect gift or simply as a treat for yourself.
€19.95 @ www.thegadgetstore.ie
The Handyman Book
This inventive and slightly deceptive gadget is a counter-balance to the millions of pages of DIY instructional material and websites with advice on how to complete household tasks. The Handyman Book is no ordinary book — in fact, it's not a book at all.
It features no information and no pages at all — rather, it is a toolbox disguised as a book, with tools ranging from a multi-headed screwdriver to a socket set and pliers.
It contains all the tools anyone will ever need to get those little — and sometimes bigger — DIY jobs done around the house and stores them neatly when finished.
€29.99 @ www.thegadgetstore.ie
The Grillslinger Original
As the summer approaches, barbecue fans will soon need to equip themselves with all the tools they need to navigate the season.
If they also like to look good while they barbecue, they will most probably enjoy The Grillslinger Original. The Grillslinger really lives up to its name, with a double holster and precision tools for performing fast BBQ moves to cook your outdoor meals to perfection. The tools are all made to a high quality and the holsters are detachable for easy washing in the dishwasher. It's barbecuing made fun and easy.
€79.95 @ www.thegadgetstore.ie