You are reading 1 of 2 free-access articles allowed for 30 days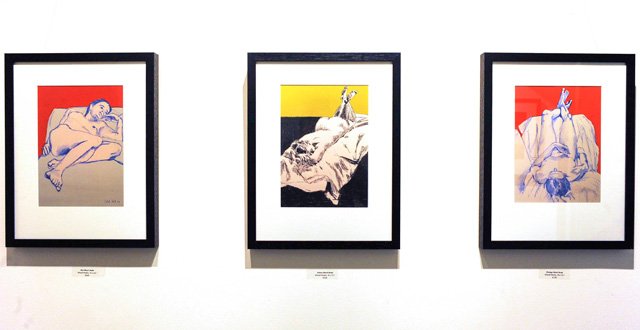 For some, medicine is as much art as it is science. Consultant Medical Oncologist at the Bon Secours Hospital in Cork, Dr Conleth Murphy, is well positioned to give his perspective on this statement as both doctor and artist. His work was recently exhibited in The Jennings Gallery in University College Cork (UCC).
While in some ways Dr Murphy views art as an escape from the frantic life of a hospital doctor, he does not consider the two areas as mutually exclusive. The regular art class that he takes has provided an important balance to his working life. It has even, in certain respects, helped his clinical skills.

Dr Conleth Murphy
"Half the time I'd feel like giving the class a miss, but I'm always glad when I go down," Dr Murphy tells the Medical Independent (MI). "It is absolutely using the complete opposite side of the brain. You are, all day, thinking about things, trying to figure the best option for someone whose cancer is progressing, thinking about potential side-effects, weighing-up risks and benefits. So you are doing a lot of thinking work and it is great to go to the art class and do a physical thing like holding a pencil, or holding a piece of charcoal in your hand and trying to capture the physical representation of someone in front of you.
Clinical skills
"But I think it helps me as well," he adds. "I think it helps with clinical skills because you have to be very, very observant as you have to put down on paper what you actually see rather than what you assume to be there. So you know the way when people draw a hand, people would always draw the thumb and the four fingers, even though when you look at someone's hand you might only be able to see two of the fingers and the thumb at maybe an odd angle if you focus on it. When you are drawing it, that is what you try to capture."
In school, art was such a passion for Dr Murphy, who hails from Roscommon, that he did the subject for the Leaving Cert, even though it was not on the curriculum of the local Christian Brothers School. Along with his twin brother Rory, he had to attend art classes in the nearby Convent of Mercy School.
"Really, I had a fantastic teacher in secondary school, who really encouraged it and even though I thought about going into medicine, I often thought about doing something like architecture or graphic design. All of us have the capacity to work in different areas; we shouldn't shut off one area of ourselves. Just because I did medicine doesn't mean that I wouldn't have been just as happy doing something else."
Dr Murphy went on to study medicine in NUI Galway. Although the thought of rekindling his artistic ambitions never died, the demands of college life did not allow for it. Three years ago, however, two nurses that he worked with in the Bon Secours talked to him about joining a life-drawing class run through the Cork Institute of Technology. Dr Murphy found the course "fantastic". After it ended, he joined another class in the Crawford Institute of Art and Design.

Dr Murphy's painting of his wife's eye
"It was a little bit like riding a bicycle, to be honest. You have to be taught about the technicalities of it again. You kind of forget some of the technicalities, but some of the basic underlying stuff is there," reflects Dr Murphy. "I definitely feel like I've come on over the past number of years. But I am still very much an enthusiastic amateur."
Amateur or not, the opportunity of mounting a solo exhibition in The Jennings Gallery proved too tempting to refuse. The gallery was opened in order to promote visual literacy among the staff, students and graduates of UCC's College of Medicine and Health.
In 2014, Dr Murphy's work was also included in a group exhibition in the gallery. Embracing both the aims of the gallery, and his own career, he felt it was appropriate that his paintings should have a medical focus. Two of the paintings in the exhibition were of his wife Maebh's brain, by way of an MRI scan.
The images consisted of watercolour and ink on paper and acetate. For the black and white image, an MRI image printed onto paper is combined with a watercolour drawing of Maebh's face and layered with a further MRI image on acetate. The red image consisted of a watercolour 'colour map' of the MRI image, overlain with a profile of his wife's face in red ink on acetate. The images were painted to reflect different aspects of his wife's character.
"Subsequently, when I was getting together the work for the solo exhibition, I decided I would continue with the medical theme," Dr Murphy says.
"I really loved doing the life-drawing pieces, but the mixed media, the medical-influenced pieces, get a great reaction because they are a little bit unusual. I suppose it shows if you are a medic, you are not automatically completely culturally illiterate! Occasionally it is true, medics can be culturally illiterate, but sometimes we can have other facets as well."
Solo exhibition
In the solo exhibition, which consists of 48 pieces in total, one image consists of a painting of his wife's eye.
"I painted a picture of her retina and I overlaid it with an image, so it is almost like being an ophthalmologist looking into the back of the eye. Some of the diagnostic images we use, such as a pathology slide, or a MRI scan, are really beautiful in their own right."
In the painting, the realistic rendering of the retina is neatly contrasted with the knowing artifice in the drawing of the iris and eye.
Another painting shows the use of a scalp cooler to prevent chemotherapy-induced hair loss. It is the smiling face of a woman roughly sketched and has a bright purple background that mirrors her smeared eye shadow and lipstick, which gives the work a cartoonish but vivacious glow, leaving the impression of a life-affirming defiance in the midst of suffering.
"It was a big relief completing it, because when I said 'yes' to it about a year ago, 2015 seemed like a really long way away, but then it came up quickly. So it was quite an action-packed couple of months beforehand trying to get time to work on the art in the evening time after the kids had gone to bed or at the weekend. It was a relief getting it done. But it was very enjoyable actually; it was very enjoyable doing it. Doing an art project in the evening is a great alternative to sitting down and watching TV."
Dr Murphy says he appreciated the support of friends and colleagues on the opening night. He has a special word of praise for Prof Tony O'Brien from Marymount Hospice, who gave a speech to mark the occasion.
"He spoke a lot about the importance of art in healing, and he spoke about a young man who was a patient of his in the hospice who was dying, and who used poetry as a way to come to terms with his imminent death. He read out one of his poems at the end of his speech, which really was a fantastic speech," says Dr Murphy.
Art can be a vital outlet for both patients and doctors, he finds. For medical students and doctors, it can also help to build important skills. "And for me it can be an important outlet for allowing me to switch off the part of the brain that is continuously turning over and turning over, and worrying."
In Dr Murphy's opinion, the aims of The Jennings Gallery are of great benefit to doctors and medical students.
"They teach students, through the appreciation of artworks, about certain clinical skills like diagnostics, picking out details, which are all very important. When we are seeing a patient in the emergency department or we are seeing a patient with a particular problem, it is often about spotting patterns of symptoms and signs, or about piecing things together, but it also teaches you empathy," he says. "So if you are looking at a painting and you are trying to figure out what are the feelings of the people represented in the painting or what the artist is trying to get across, it is also teaching you about empathy, and they are very important skills for students and doctors."
Oncology
As to his medical career, Dr Murphy decided upon oncology, as he felt it was the most interesting medical specialty. After his studies in Galway, and the completion of his SpR scheme, Dr Murphy did a Fellowship programme in medical oncology in Memorial Sloan Kettering Cancer Centre, New York, before returning to Ireland five years ago, when he took up his current position in the Bon Secours, Cork.
"I always thought that medical oncology was the most fascinating of the disciplines," Dr Murphy says. "It was the first SHO job that I did and I suppose that has an influence on it. "And I worked with fantastic mentors. When I was working as a SHO in St James's, I worked with Prof Peter Daly and Prof John Kennedy and they were a fantastic influence.
"I loved oncology right from the start. It is always rapidly-expanding as a discipline; it is very much evidence-based, so all of the treatment decisions that we make are based on new and emerging evidence of the highest quality. But it is not a fossilised or slow-moving discipline. It moves forward at a good pace. There are fantastic patients that we work with as well and we have some hard stories, but we have some great stories, and it is always interesting."
Cancer services in Ireland have made great strides over the past number of years, according to Dr Murphy. "Decades ago, there were three medical oncologists in the country, whereas now there are approximately 35. So that's great progress."
However, he says Ireland is under-served in respect of the number of consultant medical oncologists, so there is huge room for improvement.
"Ireland is still falling down the league tables in terms of survival for a number of cancers compared with other countries, but we also have to reflect on the positive steps as well. One of the things that strikes me after working in a place like Memorial Sloan Kettering, and working in Ireland, is that all of our oncologists are extremely well-trained and there is nobody working here who is not as good as anybody working in the major international cancer centres. One of the things we have going for us is that we have really smart people working with us in medical oncology. Sometimes we don't have the infrastructure to support that, but we certainly have a strong workforce."

Dr Murphy's painting based on his wife Maebh's brain scan
While the National Cancer Control Programme (NCCP) has helped in terms of improving services, Dr Murphy feels that some elements of the programme are "cumbersome", particularly with regard to the approval of new medication.
"In terms of the National Cancer Control Programme, I know that it came about at a time when there were huge financial constraints in the country and I recognise the fact that you have to take into account that there are competing issues, which require financial input," Dr Murphy says.
"I do think that at times it can be cumbersome. I think the idea is good in having appropriate review of new medications and considering their impact, both positive and negative, before adopting them into practice. I think the delay sometimes between something being proven and being available for patients in the clinic can be very frustratingly long and it has been difficult to see patients who would have been ideally suited for a particular medication losing their opportunity to go on that medication because of delays in approval. I saw it particularly in relation to a prostate cancer drug [abiraterone], which was established and proven to be safe, but because of the delays in the approval process through the NCCP, I saw a number of patients who would have been suitable for that drug, yet were not able to access it. That is extremely frustrating. If the approval process can be streamlined as much as possible, that would be good for everyone."
Another frustration of Dr Murphy's is the relative neglect of the private sector when it comes to cancer care, or rather the perception that the only hubs of excellence are the designated cancer centres located within the public system.
Dr Murphy comments: "We would pride ourselves very much on maintaining meticulous standards of cancer care in our hospital and we would always try to meet and indeed surpass the established KPIs, which have been established through the National Cancer Control Programme. So I think you can have a designated centre of excellence and you can have a centre of excellence, and so long as patients are receiving excellent care, that is the most important thing."
Lecturer
In addition to his position with Bon Secours, Dr Murphy is also a Senior Lecturer in Clinical Education at the UCC School of Medicine. He had "jumped" at the opportunity when asked.
"I've always enjoyed teaching through my postgraduate career," he says. "I always found it helpful and a way to keep my clinical skills sharp because some of the students coming through are fantastic. In the last year or two, the School of Medicine in UCC has been expanding their teaching, with increased student numbers and they were looking for people to step forward for the title of Senior Lecturer in Clinical Education.
"That involves being more involved in the School of Medicine from the perspective of delivering teaching to students as well as curriculum design. I had a very good working relationship with my colleague Dr Brian Bird, who is the other medical oncologist here, and we decided to put ourselves forward for that job in a job-sharing capacity and applied for it, and we interviewed for it last year and we were successful."
The role entails co-ordinating all of the UCC undergraduate teaching facilities at their site, where they are visited by third- and final-year medical students. Dr Murphy believes that medical oncology is a perfect realm for learning, as it is such a varied discipline. He adds that many colleagues from different disciplines in the hospital are also actively involved in teaching.
Dr Murphy says the curriculum has progressed to a great extent since his days as an undergraduate.
"I think the developments now are just phenomenal. One of the things that really impresses me is the skills lab that they have in UCC, where they have various simulations of wards," he says. "They are constantly developing new simulation tools to practice various skills and scenarios in a safe setting where there is no risk to an actual patient. I think it is fantastic and I think it is the future of medical training. I also think that UCC has quite a strong focus on bringing in elements of other areas into teaching medicine. It is great that we are not trying to create people who just spout knowledge that they have learned off the top of their head and have no interpersonal skills, which is a criticism of doctors in the past and thankfully much less seen today. And I think the focus on interpersonal skills is very important."
Graduate students he has encountered also bring a huge amount of life experience, he has noted.
"Those students are always highly, highly impressive and they have always a lot of life skills under their belt in the two or three years they have done another degree and it really shines through. They are really self-starters. In medicine now, it is all about continuous learning."
An important element of being a clinical lecturer, according to Dr Murphy, is making students feel part of the team.
"It is important to make them feel a sense of responsibility when they are passing on information to me on the ward rounds, for example," he says. "I think that's the way that people really learn, when they feel they are an active part of the team. It is a challenge and it doesn't always work because all of us are always under pressure."
Small details
Returning to the relationship between art and medicine, Dr Murphy says that the act of observation and noticing small details is an essential element of both disciplines.
"When I am teaching students, I always talk to them about seeing the person who is in front of them when they are examining a patient. If I ask somebody to examine somebody's hand, I hate when they start talking about the absence of rare signs that we hardly ever see, signs like Janeway lesions or Osler's node," he says. "I would much rather if a student says 'Mrs X appears to have lost weight because her wedding ring is loose,' so that I know they are actually looking at the person in front of them and are commenting on that person rather than going through a list of rare and wonderful signs in their head. For me, [art] helps me to do that; it is a focus on what is right in front of me. I have to focus on somebody in the life-drawing class; it makes me see in front of me rather than what I am expecting to see."
The second of this three-part interview series on doctors and the arts will appear on 9 July