You are reading 1 of 2 free-access articles allowed for 30 days
Terrorism, onanism and 50 shades of green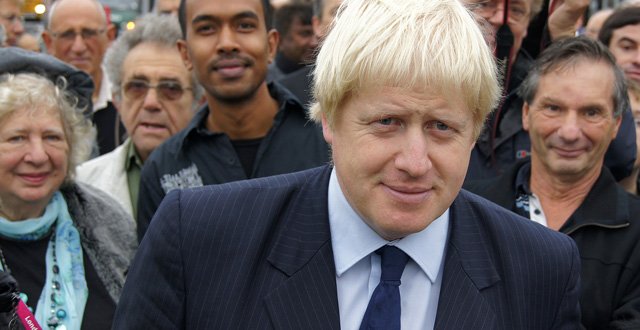 Lord Mayor of London Boris Johnson was never one to mince his words and now he has weighed-in with a typically forthright statement on extremist Muslim jihadist bombers.
Pretty much the whole world is of one mind in condemning the sickening, savage acts of brutality perpetrated recently by those claiming to act in the name of Islam. But Boris has his own take on the reasons certain people become jihadists.
"If you look at all the psychological profiling about bombers, they typically look at porn," Johnson told British press. "They are literally w*****s. Severe onanists."
He goes on: "They are tortured. They will be very badly adjusted in their relations with women and that is a symptom of their feeling of being failures and that the world is against them."
He goes on: "They are rejected by women; they are not making it with girls and so they turn to other forms of spiritual comfort — which of course is no comfort."
Meanwhile, back in our own little corner of the world, it's a case of 'down with this sort of thing' in Buncrana, Co Donegal, where some people are not at all tickled by the cinema release of 50 Shades of Grey.
Local 'Christian campaigner' Mary Doherty told the press of her displeasure with the flick. "People do things out of curiosity [you're right there, Ted] and they will see this and will think it is acceptable and okay and there is nothing wrong with this." She went on to describe the content as "mumsy porn".
She added: "Why go to the cinema to watch other people have sex? It's perverted. If I go to the cinema, I want to be entertained. Not only that, but it promotes violence against women… what's the point of all those groups protesting violence and prostitution if they're just going to release this? It's harmful."
Previous reports had suggested that the cinema, which is located in a Church-owned community hall, had bowed to pressure not to screen the film. The truth is more simple, as Buncrana Cinema said in a statement: "The real reason we aren't showing 50 Shades is because the distributor didn't give it to us… anything else you hear is made up."
Expect a steep drop in the numbers of Buncrana jihadists.
Folding on the water charges
Wherever you stand on the water charges, you have to admire some people's ability to use the controversy to their advantage and make a stand at the same time.
The Charleville Lodge Hotel in Dublin is offering a 50 per cent discount to any guests who hand in their water tax registration form — folded-up as a paper airplane.
The hotel has posted on Facebook: "If you present your Irish Water application form on check-in at our hotel in the form of a paper airplane, we will give you a 50 per cent discount on your room rate. Yes, I said 50 per cent!"
Specially for the numerically-challenged, the post continues: "So if your bill comes to €200, you will get your €100 reward anyway.
"You need to be imaginative with your airplane though. I don't want any lame attempts!"
A certain vintage
Congratulations to Scotland's oldest woman, Jessie Gallan, who has just turned 109 years old. As always, people who survive to a ripe old age are asked the secret of their longevity. Jessie's answer chimes with what many women have claimed all along — for a long and healthy life, avoid men.
"My secret to long life has been staying away from men," says Jessie. "They're just more trouble than they're worth. I also made sure that I got plenty of exercise, eat a nice warm bowl of porridge every morning and have never gotten married.
"I always worked hard and seldom would I ever take a holiday. I left home when I was 13 and began a job milking cows. I always had good jobs with very nice people. It's amazing to see how completely different the world is now from the one I grew up in."
But Jessie has some way to go to match French lady Ms Jeanne Calment, who died in 1997, aged 122 and who was officially the oldest person in the world.
Jeanne was born 14 years before the Eiffel Tower was build and one year before Bell patented the telephone. She gave up smoking when she passed 100 years old, not because of health concerns, but because she could no longer see well enough to light up.
But as her eyesight and hearing failed, her wit remained razor sharp. She once announced to a press conference: "I've only ever had one wrinkle and I'm sitting on it."
She attributed her longevity to activity, laughter and having "a stomach like an ostrich". She also quipped that she lived so long because "God must have forgotten me". Oh, and she ate two pounds of chocolate a week, drank port wine and rode a bicycle until she was 100 years old.
Public Health Researcher Jean-Marie Robine stated: "I think she was someone who, constitutionally and biologically speaking, was immune to stress."
But my favourite part of Jeanne's story involves a deal she made with lawyer Andre-Francois Raffray, who bought her apartment on a contingency contract when she was 90 years old.
He agreed to pay her roughly €500 a month until she died, at which point the apartment would become his.
Mr Raffray died age 77, at which point he had paid her roughly €157,000 — double the property's value —and his family was still paying out when Jeanne died.
Pass the port wine and chocolate.