You are reading 1 of 2 free-access articles allowed for 30 days
Surviving the IMO AGM 2016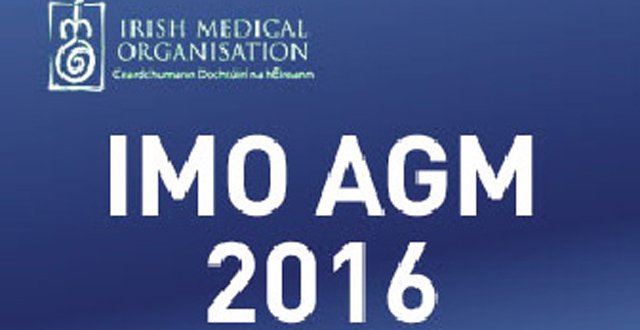 Priscilla, Medical Independent (MI) Editor emails me and asks: "Why not write about the IMO AGM?" Slight problem: The deadline falls just after what I expect will be three strenuous days – and nights.
As I drive to Sligo, Dr Peadar Gilligan, IMO Consultant Chair, is on the radio speaking with great authority.
Minister for Health Leo Varadkar couldn't get to the AGM, but we had our (doctor) politicians: Dr Michael Harty, TD, was there and Dr Martin Daly and Dr Mick Molloy who are running for the Seanad.
Dr Ronan Glynn and Noel Whelan, lawyer and columnist, debated politics and healthcare. Despite very different viewpoints, both said it's very complex. Yes, if health was simple, it would have been fixed years ago.
Mr Whelan also said health has a serious problem without a strong government. But I wonder. A strong Fianna Fáil/PD government tried to privatise large chunks of the health service through the co-located private hospitals. A strong Fine Gael/Labour government wanted universal health insurance without explaining how it could work.
Maybe we'll try weak government for a change.
The last time I heard Prof Allyson Pollock speak was years ago in Liberty Hall, when she warned us that the Irish health system could be 'cracked open' by commercial interests. It was the time of the co-location project, and US corporations were waiting for the government to outsource other bits of the health service, like laboratory and radiology.
One brave doctor is up at 6am to go surfing first. Another wonders if she can practise the Uileann pipes in her hotel room
But when cervical smears were sent to the US, consultants in Sligo noted that the US pathologists were not on the Irish Medical Register. This gap in clinical governance was pointed out at an IMO AGM. Outsourcing overseas stopped.
Then the financial world fell apart and the co-location project failed too.
From Prof Pollock's talk at the AGM this year, it seems the UK has suffered instead. I was astonished to hear that the NHS in England has been abolished by Act of Parliament. And I didn't know that NHS GPs are handing back the keys of their practices.
Irish GPs can't do that – they own their premises. Instead I've heard of GPs who decided to upgrade to primary care centres, encouraged by government policy, and now risk losing their homes to the banks.
The AGM motions had the usual mixture of debates across every aspect of health. I thought I was wasting my time speaking about trolleys yet again, but some of my comments were on Twitter. Nice.
Remember: Just one trolley patient means a flood; an overflow from full hospital wards.
There was an update from lawyers on the IMO consultants' legal case. (It doesn't affect me as I didn't take the 2008 contract.) And a discussion about a new contract, as the previous one was based around the co-location project.
I find that really funny. During the 2008 Consultant Contract talks, the employer side wouldn't let us even mention co-located private hospitals.
Sligo was a sort of pilgrimage for me. I visited Streedagh Strand where ships of the Spanish Armada were wrecked and watched a lone surfer. I drove around the Gleniff Horseshoe in all its wild beauty, listening to the sheep calling to one another. I used to stay near there with my husband Tom.
Back in the bar, there was the usual mix of GPs and consultants, NCHDs, public health doctors, journalists, and IMO staff.
Ex-IMO President Ray Walley was there, a relieved but happy man. New IMO President Dr John Duddy was there too and impressive.
John's partner Aoife Spillane-Hicks told me she "worked in theatre". I thought she meant "operating theatre". No – real theatre! So we had a fascinating discussion about directing Shakespeare.
I have my own theatre interest. My stepdaughter Annie, an AGM regular, couldn't get to Sligo as she was stage-managing a show in Dublin.
I had late night and early morning conversations about fashion and Irish history and about Captain Francisco de Cuéllar who wrote about being shipwrecked on Streedagh in 1588.
Over an excellent dinner in down-town Sligo, heated discussions broke out about the men and women of Easter 1916: Were they extraordinarily brave or wrong-headed? It was three-to-one for the rebels. Personally, I'm proud of my relatives who were in the GPO.
Then up for educational sessions from 8am. One brave doctor was up at 6am to go surfing first. Another wondered if she could practice the Uileann pipes in her hotel room.
There was plenty of variety: Telemedicine, whistle-blowing, stress and bullying, and commercialism in medicine. All run by IMO staff looking remarkably fresh through three long days and nights.
As I drive back from Sligo, Dr Duddy is on the radio speaking with great authority.
All in all, a typical IMO AGM. All I have to do now is make that deadline.