You are reading 1 of 2 free-access articles allowed for 30 days
Strike two: Pondering the picket line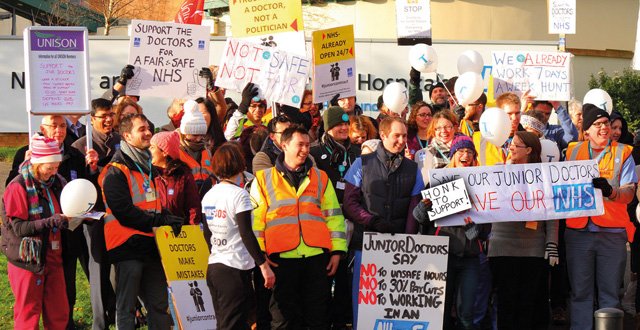 The BBC has described the current dispute between English junior doctors and the UK's Conservative government as the "most bitter breakdown in relations between the government and medical profession since the NHS was created".
The Conservative government insists it will impose a new contract on junior doctors that will improve public services and in the end, financially benefit doctors.
However, the British Medical Association (BMA) ferociously disagrees and the union's junior doctor membership is backing this stance to the hilt.
Already in January and February, English junior doctors engaged in two separate 24-hour strike actions, while just last week (9 March) a 48-hour strike took place and led to the cancellation of a reported 5,000 operations.
Polling before the latest strike action showed that the doctors had won the support of much of the general public for their struggle, despite the inconvenience caused.
At time of going to print, the BMA plans two more stoppages for next month, which will constitute a significant escalation of the dispute, with the planned strikes also lasting 48 hours (6 April, 26 April). However, the BMA has said that, once again, emergency cover will be provided. Even if these actions are called off at the last moment because of any negotiated breakthrough the bitter legacy of this clash will remain.
The reasons for the dispute will ring bells in the heads of many doctors here in Ireland, with new contracts and long working hours among the sticking points. The current NHS contract dates from the 1990s and the government led by Health Minister Jeremy Hunt plans to change what constitutes normal working hours to include Saturdays and later on weekdays.
In total, there are 55,000 junior doctors in England; the BMA has just over 37,700 members, 98 per cent of whom voted to strike.
The Department of Health in England has said: "Further strike action is completely unnecessary and will mean tens of thousands more patients face cancelled operations — over a contract that was 90 per cent agreed with the BMA.
"We urge junior doctors to look at the detail of the contract and the clear benefits it brings."
In contrast, Dr Johann Malawana, who chairs the BMA's junior doctor committee, told The Guardian: "If the government wants more seven-day services then, quite simply, it needs more doctors, nurses and support staff, and the extra investment necessary to deliver them.
"Rather than address these issues head-on, the government wants to introduce a contract that is unfair and in which junior doctors have no confidence."
Irish perspective
The sight of young doctors on the picket lines will bring back recent memories to many working in Irish medicine. NCHDs in Ireland took to the streets and the picket lines in October 2013 over long working hours and failure to implement the European Working Time Directive (EWTD).
Medical Independent (MI) columnist Dr Anthony O'Connor has a unique perspective on the NHS strike. Currently working in England as a consultant gastroenterologist, back in 2013, when he was an NCHD, Dr O'Connor was one of the leading voices in highlighting the plight of NCHDs working long hours. Does he see any points of comparison in the Irish and English NCHD situations?
"There's a similarity in the sense of solidarity across the profession, the support from the public and the real sense of injustice," Dr O'Connor tells MI.
"Where it's different is in expectations. There's a deep cultural anxiety in the UK about any union taking the government on in a strike that stems back to the miners' strike, where Thatcher's government used pretty brutal tactics.
"People do genuinely care about the NHS as an institution, staff, patients and public, whereas since its inception, the HSE has been reviled, rightly or wrongly.
"I don't think most of the juniors think they can win anymore, not with the Tories and they're going to do what ours did and head off to greener pastures, but not without making a noise about it."
Dr John Duddy, Chair of the IMO's NCHD Committee, was heavily involved in the historic NCHD strike back in 2013. As a young doctor, he is keeping a very close eye on ongoing developments in England.

Dr John Duddy
"It is a pretty bad state of affairs when doctors feel they have to go on strike because of their contract," he tells MI.
"I think it says a lot about the level of distrust that has come into the situation, when they are not even talking to one another now. There was an editorial in the BMJ this week where Jeremy Hunt's position is being described as either a display of political arrogance or a deliberate attempt to destablise the NHS.
"I think it's actually both. There is a Tory policy that wants to undermine the NHS and undermine the public's confidence in it and it is part of that overarching strategy."
But it is not only the political debates that Dr Duddy has been watching; he has also been talking to doctors on the ground.
"From having contact with Irish friends who work over in the NHS, it has certainly been massively demoralising for medical staff over there to be treated in this fashion, when they [government] won't come and talk to them and then they misrepresent their position and research regarding weekend mortality.
"Given that entrenched positions have been taken by both sides, it is difficult to see any negotiated settlement coming out of it."
Dr Duddy says in terms of English junior doctors and NCHDs here in Ireland, "the similarities are around the overall morale among the workforce.
"That is to do with the very heavy workloads NCHDs or junior doctors, as they call them over there, have. The public health system over there has been subject to austerity, just as it has been here.
"In terms of working hours, I do a lot of training courses in the UK.
"Meeting UK trainees [and talking about] the hours they do, even though there has been progress here, they are amazed to hear that we would do 24-hour shifts or during our career would have done a 36-hour shift. That just isn't on the agenda for them over there.
"But I think it is quite surprising that the government over there is trying to introduce a contract that will actually result in junior doctors working more hours in breach of the EWTD."
Recently, the UK's General Medical Council (GMC) made a statement on the junior doctor dispute, voicing its concerns over morale among junior doctors and its knock-on effect on patient safety.
Does the Chief Executive of the Irish Medical Council foresee a role in Kingram House making such statements about similar issues in the Irish health sector?
"Well, you could argue that research that we've done, such as Your Training Counts, has already done that to some extent," Mr Bill Prasifka tells MI in a interview (see pages 4-5 for full interview).
"We have identified that particularly junior doctors, they have problems with bullying, with lack of feedback, with poor induction, and again we have expressed concern.
"Now… those same reports note that trainee doctors consider that the standard of care that they are delivering is high; however, obviously we would have concern that if these issues continue, there is poor morale, poor induction, poor feedback, bullying — you will have a knock-on effect," he says.
"I will say this — we have a growing research function within the organisation and it would be only appropriate that over time, as we have additional resources, that we can roll that out to other areas of practice as well."
Northern Ireland
While the current action only directly impacts on junior doctors in England, doctors in Northern Ireland work in the same NHS system and are carefully watching what unfolds.
"Junior doctors in Northern Ireland are in a different position to their colleagues in England, as no threat to impose the contract has been made in Northern Ireland," Dr Conan Castles, Chair of BMA Northern Ireland's Junior Doctors Committee, tells MI.
"However, uncertainty over what was going to happen in Northern Ireland has concerned junior doctors here and they have watched what has happened in England with dismay."
This unease with developments in England is reflected in the thoughts of other doctors in the North that MI contacted for this article.
"When considering the junior doctors' strike in England, in one sense junior doctors in the North of Ireland are outside looking in," says Dr Michael Moran. Dr Moran is currently running for the BMA Council in upcoming elections. He is an ENT/head and neck surgery registrar.

Dr Michael Moran
"But worryingly, based on past experience, it is likely that whatever changes are brought in England will transfer across to NI in due course," he tells MI.
"We work in the same health system, rely on funding streams for public services from Westminster, and haven't seen a strong enough rejection of the proposed contract changes from our Health Minister, Simon Hamilton."
Political uncertainty across the border also leaves NCHDs feeling uncertain about any possible new contract.
"Another localised problem in NI is the upcoming NI assembly elections, and there is a feeling among junior doctors that no definitive action will be taken before May, as the health portfolio will almost certainly transfer to a new minister and the safe option is to sit tight," says Dr Moran.
"Some doctors cannot and will not wait, and the current posts for August are being allocated at the minute. We have already seen an exodus of some of our brightest and best to other countries, most notably Scotland and Wales, where the contract changes were rejected within days, in favour of maintaining the current system."
According to the BMA, on 11 February 2016, Minister Hamilton told the BBC: "I don't want to impose a contract. Right from the start I've been saying that the best solution here is a negotiated solution and that's what I want to see happen and I'm disappointed that it hasn't happened. I want to work with the BMA and junior doctor representatives in Northern Ireland to find the solution that is right for Northern Ireland."
The union leadership in the North is hoping that this promise will be stuck to.
"BMA NI worked hard over the past few months to represent members' views to the Minister via meetings with the Department of Health, Social Services and Public Safety (DHSSPS), attending party conferences and in face-to-face meetings, and we were pleased to see this work pay off," says Dr Castles.
"We agree with the Minister's statement that an imposed contract would be the worst possible outcome for Northern Ireland. We will continue to represent members' views to the Minister and will work with him to achieve of goal of ensuring the best contract we can for the doctors we represent and the patients we look after."
What did the Irish NCHD strike achieve?
The media images of junior doctors on the picket lines in England have brought back memories of similar pictures of NCHDs on strike in Ireland in 2013.
Nearly two-and-a-half years since that action, what is its legacy? "I certainly think at that time it was a success. I mean, we had overwhelming public support at the time, just as the doctors have in England now," says Dr Duddy.
"There are similarities in terms of political spin, when back in 2013 the HSE misrepresented the IMO position, just as Jeremy Hunt has misrepresented the BMA's position. In fairness, the general public seems to be able to see through that type of spin. The general public does not want to be looked after by overworked, tired doctors who are not being paid well."
But the 2013 NCHD action was about long working hours and the EWTD — did it improve that situation for young doctors in Ireland?
"In terms of the legacy of the industrial action, we can see that in the still-ongoing work regarding EWTD compliance, the verification process," says Dr Duddy.
"There is probably not the same amount of emotional investment in it from NCHDs because that whole enthusiasm that was generated at the time naturally dissipates over time because it is not seen as an acute issue.
"The idea of attending meetings on a monthly basis isn't as exciting as going out on the streets with placards, but that process is still ongoing. I've been attending these meetings myself with the IMO, HSE and local hospital management.
"Hospitals are still being pushed to meet the EWTD's requirements and I think that is probably the lasting legacy of the industrial action. So the HSE, the Department of Health and the hospitals have not been allowed to take their 'foot off the gas' in terms of reducing doctors' working hours and I think that is one of the lasting legacies of it."
Also reminiscing on the NCHD strike, Dr O'Connor thinks its influence on consultants and GPs could be greater than on young doctors.
"How important was the Irish strike? I think it was possibly more important across the profession ultimately than it was for NCHDs," he says.
"I think after that action the consultants finally 'grew a pair of balls' about the new entrant pay-cut and the GPs rose up as well. Did it make much of a difference for NCHDs? I'd like to think it did."
But despite some critics, Dr O'Connor believes the central cause of the strike (long working hours) remains a just one.
"Personally, I get a slew of snide remarks about it from peers who are now consultants at home about it having ruined things," he says. "But I would stand over the contention that it is morally and ethically indefensible to force a human being to work under those circumstances for more than 24 hours in a row."
Across the border, Dr Moran says the experience in the Republic has not had much impact on the issues there.
"To be honest, I don't think that the 2013 NCHD strike did get much attention from doctors in the North, and that is regrettable," says Dr Moran.
"Similar to the current dispute affecting England and NI, the notable principle behind the strike is improved working conditions and patient safety, as in both scenarios financial losses/gains were put aside.
"There is still much trust in the medical profession, and in situations like these, the role of the doctor as a patient advocate comes to the fore."
Distant colleagues: Solidarity across the water and on social media
Despite not being directly involved, doctors in Northern Ireland have shown solidarity with their NHS colleagues in England.
"They overwhelmingly support their colleagues in England and have shown their solidarity on social media and via a public rally in Belfast," Dr Castles tells MI.
"Members of the Northern Ireland Junior Doctors Committee sit on the UK Junior Doctors Committee and are involved in the discussions about the imposition in England, and our committee supports what the committee there have decided to do."
Dr Moran says there are as yet no similar moves towards strike action in NI, however.
"Essentially, unless the contract is going to be imposed as it is in England, we would have no mandate to strike. We are one profession however, and feel a very strong sense of solidarity for doctors across the NHS."
Just like during the Irish NCHD strike in 2013, social media has played a significant role in the junior doctors' strike in England.
Junior doctors have taken to Twitter and Facebook to voice their extreme displeasure in often-humorous ways at the Tory Health Minister Jeremy Hunt.
Also, social media has played a role in organisation and solidarity.
In October, a small group of doctors organised a rally in Belfast to raise public awareness of the issue and show a strong sign of unambiguous support for English doctors.
"The rally was attended by over 1,500 people and was covered by local and national TV news. It must be understood that the main concerns regarding the contract relate to risks to patient safety and healthcare quality. Safeguards from excessive working hours would be removed and this will lead to an even more tired, demotivated workforce," Dr Moran tells MI.
"Since the Belfast rally, we have kept up the momentum by joining movements such as the #MeettheDrs campaign, where groups of junior doctors take to the streets to educate the public on why the new junior doctors' contract is really everyone's concern, and at the same time gathering signatures for a petition to the British Government.
"We remain in close contact with the key players in the English campaign and have been informing our own media contacts and members of the public as the issues evolve."