You are reading 1 of 2 free-access articles allowed for 30 days
Stress and burnout rife among Irish interns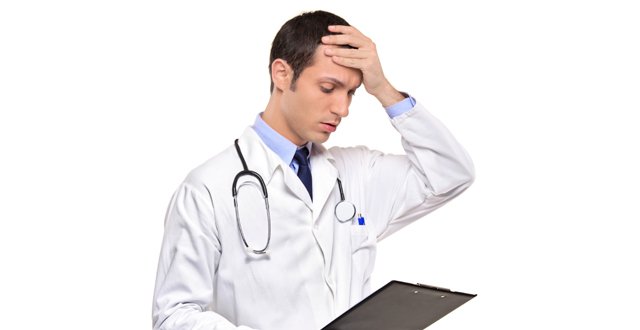 Burnout and stress are significant problems among intern doctors in Irish hospitals, a new study confirms.
The study, carried out by researchers from the RCSI and the Dublin North East/RCSI Intern Training Network, reports that just over half of all the interns surveyed intend on leaving Ireland purely as a result of their negative experience as an intern.
Study details
The researchers surveyed interns in their Hospital Group to evaluate rates of stress and burnout, as well as identify the causative factors and propose potential solutions to these.
A hundred and one interns working in four different hospitals over a two-year period participateed in the anonymous survey. Fifty-six of the respondents were female, 76.2 per cent were Irish citizens and the mean age was 28 years (range: 23-43 years).
With 1,588 doctors undergoing their intern year in the time-frame of this study, the survey represents 6.3 per cent of the intern population in 2013 and 2014. "While this may seem low, to our knowledge, this is the largest study conducted that measures both burnout and stress in interns in the Irish healthcare system," the study authors note.
The survey assessed aspects of mental health using the burnout scale, Maslach Burnout Inventory (MBI) and the stress scale and 12-item General Health Questionnaire (GHQ-12).
Interns were also asked to rate a variety of workplace factors on a Likert scale, based on the degree of stress caused. Finally, they were surveyed on their awareness of support services available to them.
Results
The results showed that 37 per cent of interns met the criteria for psychological distress, while high levels of emotional exhaustion, high depersonalisation and a low sense of personal accomplishment were reported in 55.4, 51.5 and 41.6 per cent of respondents, respectively.
In terms of challenges faced frequently by the surveyed interns, financial worries and overtime pay disputes ranked highest, with 72 per cent reporting high or very high stress resulting from this. Work overload, lack of support and fear of medico-legal consequences similarly scored highly, with 67, 59 and 60 per cent of the interns reporting high or very high levels of stress due to each of these factors, respectively.
A majority of interns felt chronically fatigued and sleep-deprived (56 per cent), and 47 per cent reported bullying, intimidation and manipulation in the workplace.
Future career uncertainty was a significant stressor in 43 per cent of participants.
"Long hours and a lack of work-life balance were seen to be significant stressors among our interns. It is important to remember that this survey was conducted both before and during the implementation of the European Working Time Directive (EWTD) and further movements towards compliance may result in reduced rates of stress and burnout in interns in Irish hospitals," the study authors commented.
The vast majority (84 per cent) of the surveyed interns were unaware of support services available for them in their hospital. Only 2 per cent of all interns reported having availed of support services that were in place.
Leaving Ireland
"Alarmingly, most interns reported to be considering leaving Ireland to work in another healthcare system because of their experiences working in an Irish hospital," the study authors pointed out.
More than half (51.5 per cent) of all the interns surveyed indicated that they intended to leave Ireland upon completing internship purely as a result of their negative experience as an intern, with a further 19.8 per cent considering leaving Ireland, leaving only 28.7 per cent with plans to remain in Ireland.
The study authors said it is evident that workplace stress and burnout are "very real and very serious problems" in the Irish public hospital setting, which can have devastating effects on physician wellbeing and patient care.
"A problem is clear when only 4.3 per cent of interns begin their year with symptoms of burnout, compared to 55.3 per cent when they conclude their internship," they wrote.
Ensuring better preparation for clinical practice and awareness of support services is vital to tackle this issue, the study, which was published in the latest online edition of the Irish Journal of Medical Science, concluded.
Solutions
Commenting on the study findings, IMO NCHD Committee member Dr John Duddy, who is a Neurosurgery SpR in Cork University Hospital, said he was "not surprised at the results", which tally with other recent studies of the experiences of trainee doctors in Ireland.
"However, the fact that these doctors are only in their first year of practising medicine and experiencing this level of burnout and stress is quite worrying."
Dr Duddy cited a recent US study looking at solutions to deal with the issue, and said it found that a sense of accomplishment and achievement in their job is very important for interns, and thus allowing them to treat patients and approving the resources needed for this is key.
He pointed out that in Ireland, interns carry out the bulk of clerical work in hospitals, "so all that work needs to be done by other grades to allow interns to do what they have actually studied for — to practise medicine and to spend more time with patients".