You are reading 1 of 2 free-access articles allowed for 30 days
St James's writes-off €5 million in bad debt in just two years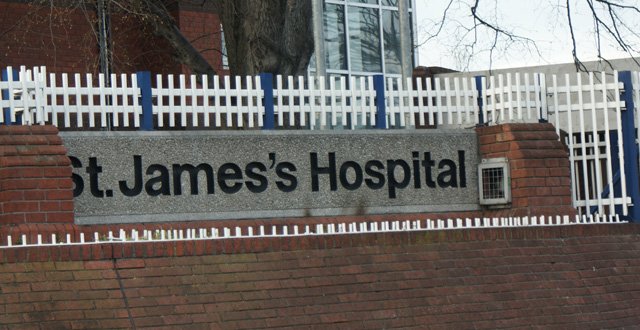 The hospital recorded almost €1 million in bad debts last year, which was a substantial decrease on the €4.4 million in bad debts recorded in 2015, its financial statements for 2016 show.
The hospital's patient income increased from €57 million in 2015 to €59 million in 2016, while income from the hospital car park rose from €1.8 million in 2015 to €2 million in 2016.
The statements show that legal expenses incurred by the hospital jumped dramatically, from €149,000 in 2015 to €682,000 in 2016.
The hospital spent €257 million on staff pay last year, com­pared to €254 million in 2015.
A breakdown of staff payments shows that nursing staff were paid €84 million, Medical/Dental I (NCHDs) and Med­ical/Dental II (consultants) were paid €27 million and €31 million respectively, while management/administration staff were paid €25 million in 2016.
The hospital spent €28 million on drugs and medicines last year, up from €26 million in 2015.
Some €540,000 was spent on the transport of patients in 2016, which is a huge increase on 2015 figures, where the to­tal was €314,000.
The amount spent by the hospital on travel and subsistence also increased, from €304,000 in 2015 to €364,000 in 2016.
Monies spent on vehicles purchased last year amounted to €190,000, up from €126,000 in 2015.
Meanwhile, St James's breached procurement guidelines for two contracts totalling more than €620,000 last year, a review of internal financial controls, published within the fi­nancial statements for 2016, has found.
Exact details on how the breaches occurred and what the contracts related to are not included in the statements.
The hospital operates a number of contracts in areas such as laboratory, medical equipment, computer and office supplies.
"During the review, it was evident that two contracts to­talling €621,148 were in breach of procurement guidelines; this breach highlights an area that is already under review by the Finance Department with extra resources and a more ro­bust mechanism, which will be system-driven, to flag the con­tracts that are due to expire, for which significant progress was made in 2016," the financial statements read.
The statement was signed by St James's Hospital Board Chairman Mr Paul Donnelly in June.