You are reading 1 of 2 free-access articles allowed for 30 days
Sports Surgery Clinic's 5th Annual Sports Medicine Conference 'Concussion — Diagnosis and Rehabilit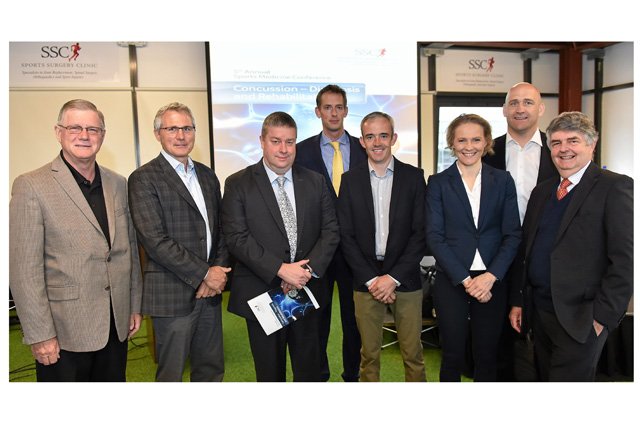 Ruby Walsh during his welcome address

Enda King, Head of Performance Rehabilitation, SSC; Ruby Walsh; and Colm Fuller, Lead Musculoskeletal Physiotherapist, SSC
Dr Andy Franklyn-Miller, Director of Research and Rehabilitation, SSC; Dr Simon Kemp, Head of Sports Medicine, RFU; and Prof Paul McCrory, Chairman of the Sports Surgery Clinic Research Foundation
Dr Eanna Falvey, Director of Sports Medicine, SSC, and Team Doctor, IRFU; Bob Stewart, Head of Medical Services, Gloucester Rugby; Prav Mathema, National Medical Manager to the Welsh Rugby Union; and Dr Nigel Jones, Team Doctor, England Rugby Union
Prof Paul McCrory; Mr Ray Moran, Medical Director, SSC; and Dr Andy Franklyn-Miller
The Sports Surgery Clinic hosted its fifth Annual Sports Medicine Conference earlier this month, focusing on 'Concussion: Diagnosis and Rehabilitation', at which a new way of managing the symptoms of concussion was presented.
The main aim of the conference was to discuss the latest concussion research, which will inform and aid in the creation of a pathway for patients who have suffered concussion, which can be adopted internationally as best practice in the management of the condition for both elite sportspeople and the general population.
The 'Post-Concussion Rehabilitation Pathway' — a new process which is being developed by Prof Paul McCrory, Chairman of the Sports Surgery Clinic Research Foundation, and Consultant Neurologist, Internist and Sports and Exercise Physician, Florey Institute of Neuroscience and Mental Health, Melbourne, Australia, with the Sports Medicine Service at Sports Surgery Clinic in Dublin, led by Research Director Dr Andy Franklyn-Miller — was presented.
"The most commonly-reported symptoms of concussion are headache, balance disturbance, confusion, dizziness and nausea, and memory and concentration issues also feature. Although a standardised period of rest is the current guideline, this does not always reliably allow the full resolution of symptoms. The SSC Rehabilitation pathway will address exercise, sleep, mood, balance, vision and concentration in anyone from recreational to elite, to guide the recovery process," Dr Franklyn-Miller commented.
According to Prof McCrory: "The focus in public debate about the issue of concussion to date has been on the recognition of players with concussion on the field and potential severity of concussion within sport, and successful campaigns from sporting bodies, including the GAA and IRFU in Ireland, have highlighted the need to 'recognise and remove'. What we are saying today is that research into recording both the baseline and subsequent post-concussion injury rehabilitation data will improve our knowledge and inform the development of a care pathway that can be used internationally."
The Sports Surgery Clinic Research Foundation will work with patients who have sustained a concussion. Patients will undergo a comprehensive assessment with a sports physician and the rehabilitation teams, who will record medical history, balance, eye movement control, and conduct exercise testing, neuro-cognitive testing and MRI imaging.
This will allow a complete assessment of symptoms and graduated intervention, resulting in a safe, supervised and evidence-based pathway of treatment. Research studies will then be developed using the baseline screening data and rehabilitation data to further improve the information known about this process.
Attended by a number of international sports medicine experts, the conference was addressed by speakers such as Prof Willem Meeuwisse, Sports Medicine Centre and Co-Chair, Sport Injury Prevention Research Centre, Faculty of Kinesiology, University of Calgary, and Dr Michael Turner, Medical Director of the National Concussion and Head Injury Centre, London, who presented on a targeted approach to concussion rehabilitation and long-term monitoring of retired athletes.
The Concussion Position Statement of the GAA was outlined by Ger Ryan, Chairman, GAA Medical, Scientific and Welfare Committee, and National Hunt Jockey Champion Ruby Walsh officially opened the conference by talking about concussion from the perspective of a jockey.
Visit www.sportssurgeryclinic.com for more information.