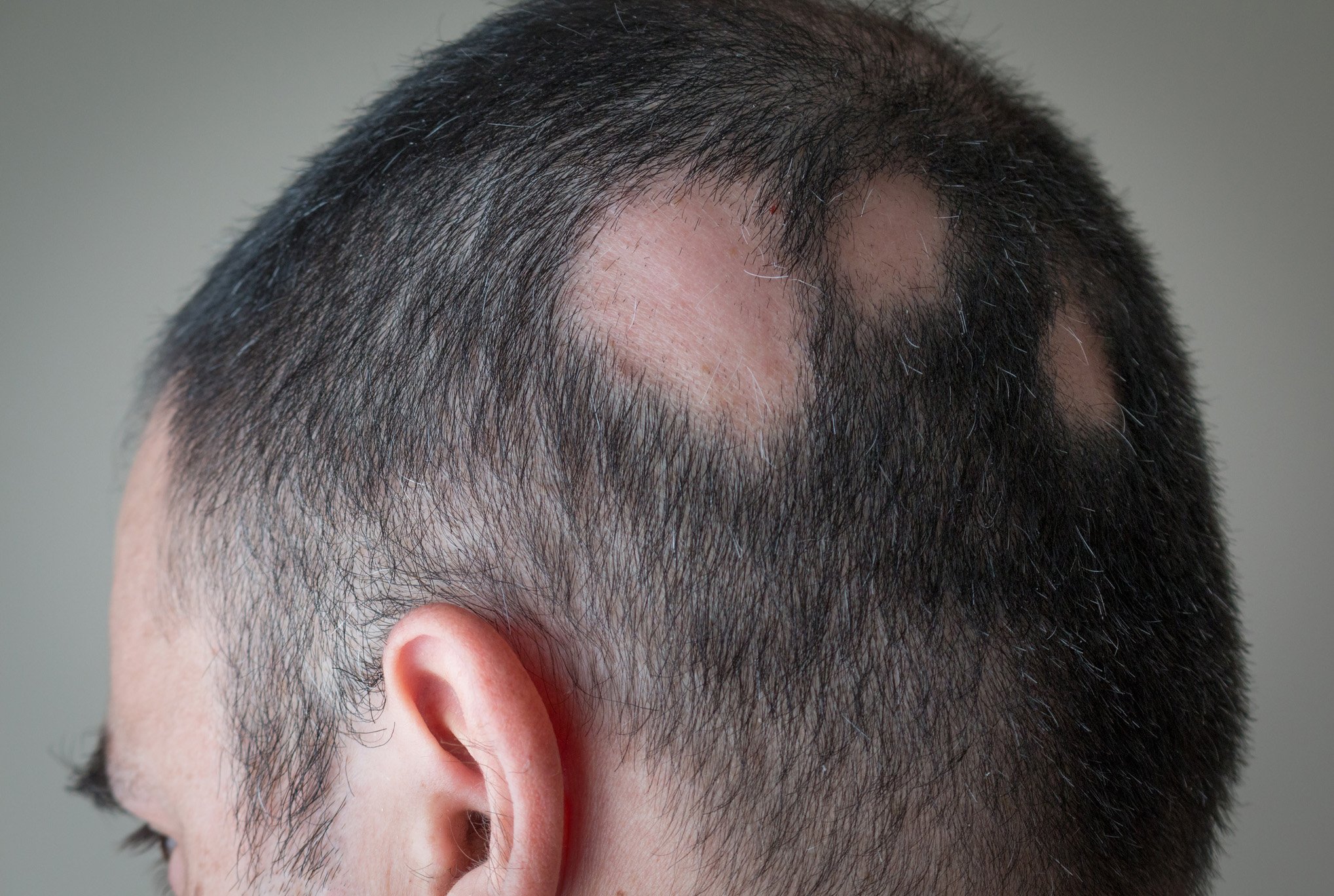 Alopecia areata
The hair and nails symposium on the second day of the PCDSI conference opened with a talk from Dr Ahmed Kazmi on the topic of male and female pattern hair loss.
It was the first of two talks delivered by London-based Dr Kazmi, GP and dermatology specialty doctor, on alopecia.
The first talk provided advice to delegates on accurate diagnosis, treatment options available and on ways to develop an effective approach to the condition.
The most common form of alopecia, Dr Kazmi said, is "pattern hair loss". Some 50 per cent of Caucasian men have the condition by the age of 50, while 50 per cent of women have pattern hair loss at the age of 80.
He highlighted the differences between scarring and non-scarring alopecia. For instance, scarring alopecia is rare and includes loss of the hair follicle with no potential for regrowth. In contrast, scarring alopecia is common, the hair follicle is present and there is usually potential for regrowth.
The condition is associated with significant psychosexual and psychosocial effects, Dr Kazmi advised, which is why holistic care is important for patients.
Patients must be advised that there is no cure (aside from hair transplantation) and healthcare professionals must ensure appropriate education and support is provided to patients, due to the psychological comorbidities associated with pattern hair loss.
Dr Kazmi recommended patients avoid using damaging hair treatments and products. He also stressed the importance of an adequate diet, particularly protein.
Doctors should avoid over-investigating the condition, but he said blood tests can be considered, as well as hormone studies, if clinically relevant.
Pattern hair loss is also associated with cardiovascular problems, which is why cholesterol and other tests associated with the heart are advised, he said.
Advice on camouflage options available, such as wigs, should be given to patients, and any coexisting scalp conditions treated.
Medications available include minoxidil foam, which helps keep hair in the androgen phase for longer.
But patients should be advised that shedding can occur in the first month of treatment and informed that the product needs to be used for up to 12 months, as response times are slow.
Minoxidil is also available in oral tablet form and is suitable for males and females. Dutasteride can also be used in males and females.
In his second talk, Dr Kazmi looked at the conditions alopecia areata (AA) and telogen effluvium and presented cases on each.
Telogen effluvium, which is commonly associated with a stressful trigger, is usually self-limiting.
While the recovery time averages about nine months, it can be much longer in some cases.
Stressful triggers can include an acute or chronic illness, accident, weight loss, surgical operation, skin disease and medications, among others.
Treatment options for telogen effluvium include minoxidil (topically or orally), diet and lifestyle advice and treating any co-existing scalp conditions, Dr Kazmi concluded.