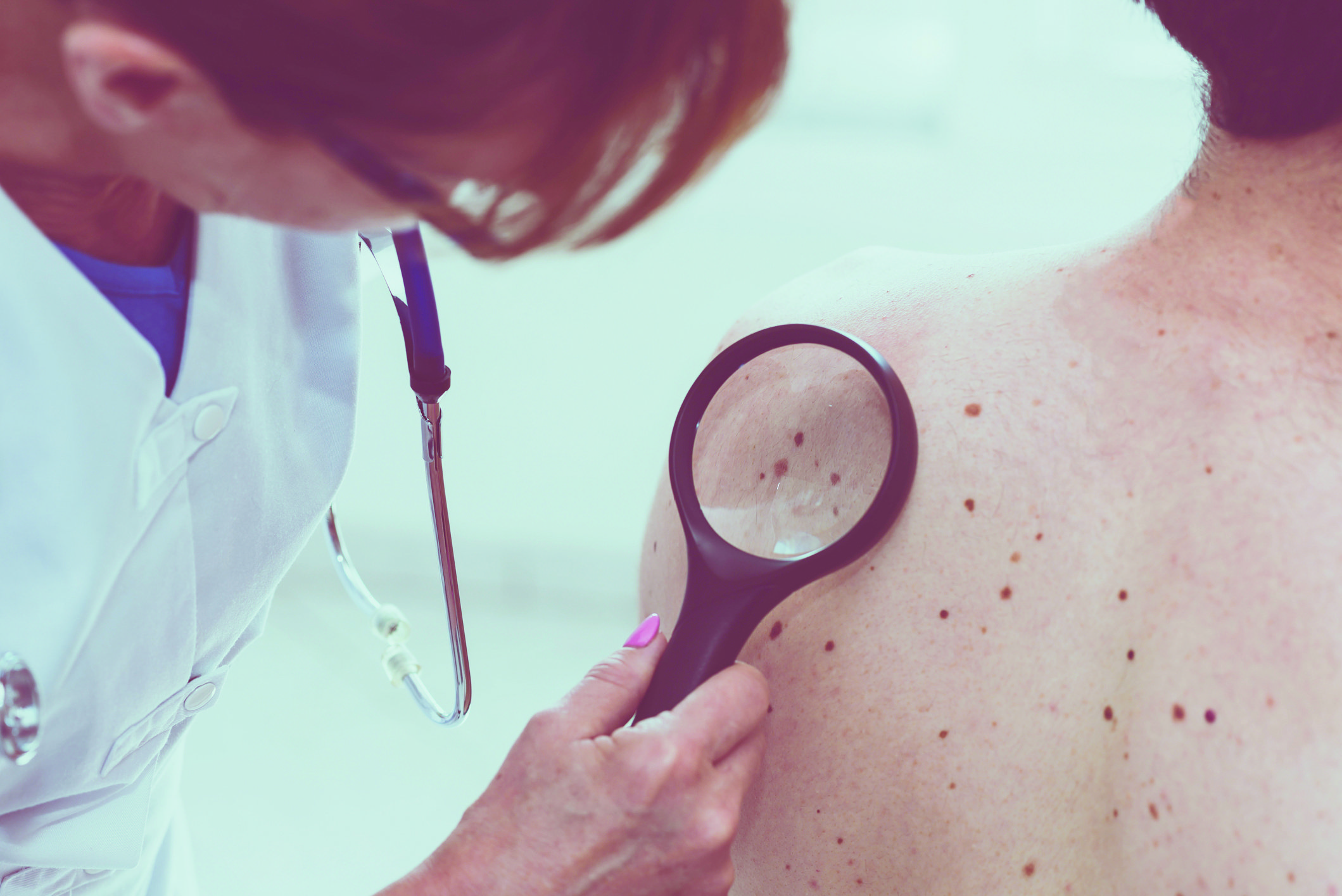 Dermatologist examining the skin on the back of a patient
Niamh Cahill examines a paper highlighting the benefits of a dermato-oncological training programme on the diagnostic skills and quality of referrals for suspicious skin lesions by general practitioners

The Primary Care Dermatology Society of Ireland (PCDSI) looks forward to hosting a webinar this summer on paediatric dermatology, with details to be announced shortly. The Society has held several educational webinars for members on dermatology in the last 12 months, the latest taking place in February on the topic of dermoscopy. At previous Society educational meetings, skin cancer has featured among the numerous dermatology topics discussed by speakers.
Education in this area is important as GPs have a crucial role in recognising suspicious and potentially harmful
lesions and in referring patients for further investigation. Furthermore, the burden of skin cancer in Ireland is alarming and increasing.
Non-melanoma skin cancers (NMSCs) accounted for 27 per cent of all cancers diagnosed in Ireland between 2018-2020, according to the National Cancer Registry of Ireland (NCRI) 2020 Annual Report. An article in the British Journal of Dermatology last year highlighted the significance of GP knowledge in skin cancer following a study on the impact of a dermato-oncological training programme on GPs.
Titled 'The effect of a dermato-oncological training programme on the diagnostic skills and quality of referrals for suspicious skin lesions by general practitioners', the article emphasised the growing prevalence of skin cancer and the major role GPs play in skin cancer care. The aim of this study was to evaluate whether or not a dermato-oncological training programme (DOTP) in The Netherlands for GPs improved their diagnostic skills and quality of referrals.
More than 13,000 skin cancers are diagnosed in Ireland annually. Melanoma skin cancers are the fourth most common cancers in men and women in Ireland. Around 1,200 cases of melanoma skin cancer are diagnosed annually. It caused more than 150 deaths between 2015-2017.
Non-melanoma skin cancers include basal cell carcinomas and squamous cell carcinomas and account for the majority of skin cancer diagnoses. They are less harmful than melanoma skin cancer. The article authors (Marra et al) began their article by outlining the need for better education among GPs about skin cancer.
"Skin cancer (SC) is the most common malignancy worldwide and the incidence rates are rapidly rising, leading to an enormous and growing burden on healthcare systems," warned the authors.
"Most patients with SC initially visit a general practitioner (GP), often followed by referral to a dermatologist. Therefore, GPs play an important part in SC care and optimal recognition and referral are considered of vital importance to optimize efficacy in SC care.
"Previous research identified a rather poor clinical recognition of (pre)malignant skin tumours by GPs, leading to a high rate of potentially unnecessary referrals. As previously suggested, better training of GPs might improve their diagnostic skills, diminish the number of potentially unnecessary referrals and thereby optimise efficacy in SC care."
Training programme
The DOTP was developed in the Nijmegen area of The Netherlands as part of a project titled "Suspicious skin lesions".
The project set about improving skin care delivered by GPs and the transfer of low-risk non-melanoma skin care to primary care. Regional guidelines were drawn up on the diagnostics and treatment of premalignant skin lesions in primary care and when a GP should refer a patient to a dermatologist.
"The two hour long DOTP consisted of: (1) instruction on the project (aims) and guidelines; (2) a mandatory online course on SC (including an examination); and (3) two optional live courses on SC and dermoscopy."
Some 83 GPs completed the programme and, of these, 55 per cent and 25 per cent also finished an optional skin care and dermoscopy course respectively. Referrals from GPs to dermatologists in two local hospitals were examined in two different time periods after course completion.
"For comparison, referrals from both trained and untrained GPs were included, forming a trained cohort and an untrained present cohort. Referrals in these two time periods were included to study the sustainability of the effect of the DOTP over time. In addition, a comparison was made using a historical control group from previous research on GP referrals in the same population (2008–2010), forming an untrained historical cohort."
More than 1,600 referrals were examined and revealed that correct primary diagnoses by GPs were higher in the trained cohort (70 per cent) than in the untrained present cohort (56 per cent) and untrained historical cohort (51 per cent). Furthermore, the study revealed that the percentage of potentially unnecessary referrals were fewer among the trained cohort (62 per cent) than in the untrained present cohort (73 per cent) and the untrained historic cohort (75 per cent).
The study highlighted the significant benefits of the DOTP, revealing that "trained GPs more often mentioned a diagnosis and proper description of lesion(s) in their referral letters, performed more diagnostic procedures (dermoscopy and punch biopsy) before referring a patient to a dermatologist, and diagnosed skin lesions correctly more often (even after correcting for diagnostic procedures performed)".
As well as improving the efficacy of skin cancer care, lowering the number of potentially unnecessary referrals
and optimising referrals, the authors posit that the improvements could lower the amount of time patients spend in secondary care.
Further improvement
But the study also stated there was room for improvement. "Although the trained cohort (TC) referred fewer patients with benign lesions and AKs (actinic keratosis) compared with both untrained cohorts, a major portion of the reason(s) for referral in the TC still comprised these lesion subtypes (45.6 per cent). To enhance further improvement of SC care efficacy, reducing the number of these types of referral is desired and should be studied in more detail."
The authors also drew attention to the number of additional skin lesions found by dermatologists on patients referred for investigation, suggesting that total body skin examinations were not always performed by GPs.
Possible reasons for this could include lack of time to perform full body examinations and lack of patient trust in GPs, noted the authors.
"Next to proper training, using obtained knowledge and technical skills in daily practice on a regular basis seems essential to maintain quality, gain more experience and probably lower the threshold to perform SC treatment in daily practice. Therefore, having a GP with a special focus on SC care in a group practice might help to maintain the effects of training and further enhance treating more low-risk SCs in primary care."
A refresher course could also prove beneficial in maintaining high quality skin cancer care, added the authors.
Dedicated skin cancer primary care centres with specially-trained GPs, in place in Australia for example, could also help improve skin cancer care, they suggested.
The authors concluded that "GPs who followed a dedicated DOTP had better diagnostic skills and quality of referrals than untrained GPs, leading to fewer potentially unnecessary referrals. This might enhance a more efficient use of the limited capacity in secondary dermatological care and consequently lead to lower healthcare costs. Further optimisation of SC care and additional transfer of care from dermatologists to GPs might be accomplished by further development of educational programmes and by appointing specially-trained GPs."