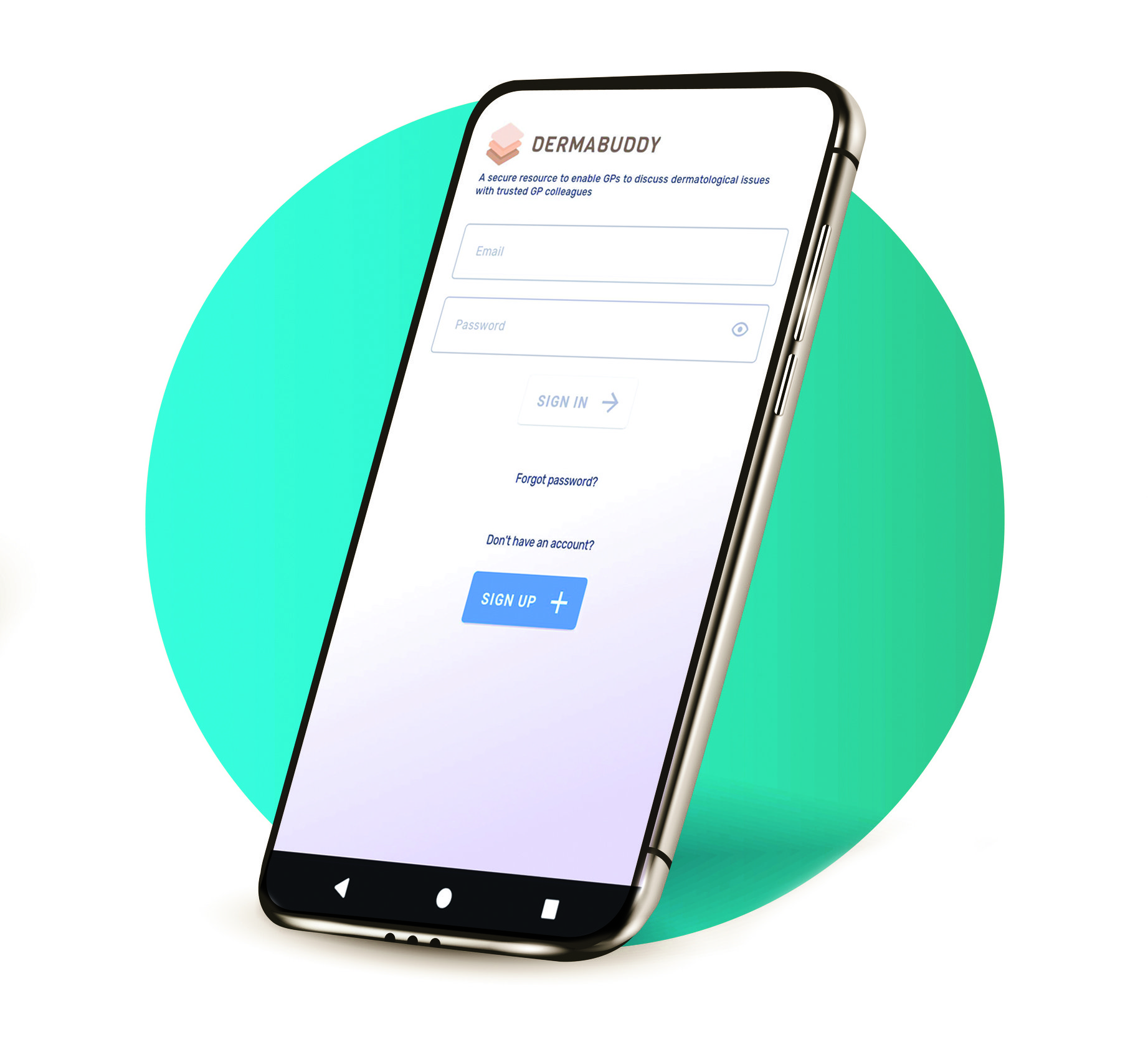 Smartphone frame less blank screen, rotated position. Smartphone from different angles. Mockup generic device. UI/UX smartphones set.
Niamh Cahill speaks to Primary Care Dermatology Society of Ireland (PCDSI) Treasurer Dr Finbar Fitzpatrick about how the Society has successfully gravitated to online meetings in response to Covid-19 and its webinar on dermoscopy later this month
Primary Care Dermatology Society of Ireland webinar series, 2021
There are very few parts of society that Covid-19 has not affected.
Medical education is one of them. Educational meetings are now held online as a result of social distancing restrictions. Online meetings are easier to access and a lot cheaper than in-person meetings, but there are downsides to the lack of physical contact, as we all know.
Like all medical societies, the Primary Care Dermatology Society of Ireland (PCDSI), which this year celebrates its 25th anniversary, has been forced to change how it delivers education in the wake of the pandemic.
The PCDSI last met in Cork city a year ago when a successful three-day annual event was held just weeks before the country ground to a halt as cases of Covid-19 spread rapidly in the community.
The Society, according to GP Dr Finbar Fitzpatrick, PCDSI Treasurer, had next planned to meet in February 2021 in Kilkenny. But as lockdown restrictions continued, and a greater understanding of the virus emerged, it soon became evident that in-person meetings would not take place for some time.
2020 meetings
Because of this, the Society in June ran a half-day webinar titled "Dermatology for Everyday General Practice", in conjunction with the ICGP, on common dermatology presentations in general practice. Topics such as common skin infections, pigmented lesions, acne in primary care and the management of eczema were among some of the subjects discussed.
Between 1,200 and 1,400 GPs logged into the online session, about three times the number usually in attendance at the Society's annual meeting.
A second online meeting took place in November, after organisers conceded that the planned annual meeting in Kilkenny in February was unlikely to
occur due to current restrictions around travel and social distancing and high virus transmission levels in the community.
"Some of the speakers that were due to speak at the annual February meeting spoke in November at the online event," Dr Fitzpatrick told the Medical Independent.
Chaired by PCDSI Chairperson Dr Karen Reidy and former medical director of the ICGP Dr Tony Cox, the meeting began with a discussion on interesting cases from Dermabuddy, presented by Cork GP Dr Paul Ryan. Dermabuddy is an app launched in early 2020, which enables GPs to seek advice from dermatology specialists on cases GPs are concerned about or "cannot quite manage" in primary care, according to Dr Fitzpatrick.
"The public waiting lists for dermatology are very long, so with the patient's consent we put them [cases] up for discussion on the app. There are about 400 GPs on it now," he said. Since the pandemic, public clinics for dermatology have continued to manage patients, many by video or telephone. But waiting lists for care have increased.
In December 2020 more than 45,000 patients were awaiting on outpatient dermatology appointments compared to 44,000 in December 2019.
"There are more video consultations in dermatology going on now both in general practice and with dermatologists," said Dr Fitzpatrick.
He added that follow-up visits and the management of chronic conditions are likely to be the most appropriate use of tele-dermatology going forward.
Furthermore, GPs are learning that in some cases patient photos are better than a video consultation.
"But more specific photos taken in a GP surgery, going on UK evidence, is better than patient taking their own photographs on their phone," said Dr Fitzpatrick.
Cases from the Dermabuddy app were also presented at the June 2020 meeting. According to Dr Fitzpatrick, the mechanism offers valuable insight and assistance to GPs in managing challenging cases at a time when access to routine outpatient dermatology care is under pressure. The app was established by Dr Ryan and GPBuddy. The PCDSI provides the educational input, he said.
Like the June meeting, the November webinar proved to be of great interest among doctors eager to keep up with their professional competence requirements despite the pandemic. Tralee GP Dr David Buckley gave an informative presentation, entitled "Rosacea and other causes of a red face" at the webinar. Limerick GP Dr Jerry Loughnane spoke about Lyme disease and scabies.
UK-based Prof Hywel Williams joined the event with a talk on "how research has changed my management of eczema". Prof Brian Kirby and Dr Blaithin Moriarty, both based at St Vincent's University Hospital, Dublin, gave separate talks on psoriasis and lesion recognition respectively.
Dermatology is a common feature of consultations in general practice, with up to one-fifth of appointments in primary care made up of dermatology complaints.
The PCDSI meeting is usually one of the biggest GP events held in Ireland annually in terms of attendance due to the huge interest in dermatological conditions. The annual meeting is invaluable for GPs, as it serves to enhance skills and knowledge to improve clinical care for patients and foster a working relationship in the management of skin diseases between primary and secondary care.
Set up as a charity, the Society seeks to improve postgraduate education in dermatology for GPs and to enhance their knowledge and skills in the area.
Despite the pandemic, it has managed to continue providing educational bursaries for members to undertake further education. It also continues its charitable endeavours, according to Dr Fitzpatrick.
"We made contributions to the National League of Dermatology Societies again in January, they support education in Africa, in Tanzania specifically."
All of the webinars are being run in conjunction with the ICGP to ensure smooth running of the events from a technological perspective, according to Dr Fitzpatrick.
"The reason we worked with the ICGP was we found they are pretty good on the technology and have a lot of support. We also felt we'd get a broader appeal doing it with the ICGP and certainly we did. We'd usually have 300 or 400 at our meetings and we've had 1,400 at the webinars, which means we've been able to get more education out to more GPs.
"The ICGP have good strong back up teams and their technology runs well. I've been on other educational webinars and the technology breaks down, whereas with the ICGP they have run very smoothly."
Dermoscopy
The third webinar from the Society is scheduled to take place on Thursday 27 February. It will focus on the specialised subject of dermoscopy, with six talks planned in a half-day session. The Society's AGM will occur after the study day.
The session will begin with a presentation from Greek dermatologist Dr Aimilios Lallas on facial pigmented lesions. The next speaker is Prof Harald Kittler, Professor at the Department of Dermatology, Medical University of Vienna, Austria, who will give the first of a two-part talk on pattern analysis in pigmented lesions.
Dr Lallas is back after a short break with another talk, this time on when to worry about lesions in children before Prof Kittler returns for the second part of his talk on pigmented lesions. The final two speakers are Dr Ahmed Kazmi, GP, dermatology specialty doctor, based in London, and Dr Rupert Barry, Consultant Dermatologist at St James's University Hospital, Dublin.
The former will provide listeners with advice on how to use dermoscopes to diagnose hair and scalp problems while the latter will focus on acral lesions
and nails. Members of the PCDSI committee will provide back-up as an educational panel for questions arising from the talks. Dr Reidy will chair the session.
Next webinar
Another upcoming webinar, which is likely to take place in April or May, on more general dermatology topics is planned, but details have yet to be released. Despite the success of online education to date, the Society hopes to hold meetings in person in the future.
"A downside has been the lack of physical contact at meetings. From a GPs point of view, you do get stuff out of that besides the education. In the longer term the physical meeting helps the Society driving forwards; you do need human contact. We hope to have a physical meeting in Kilkenny next year, all going well."