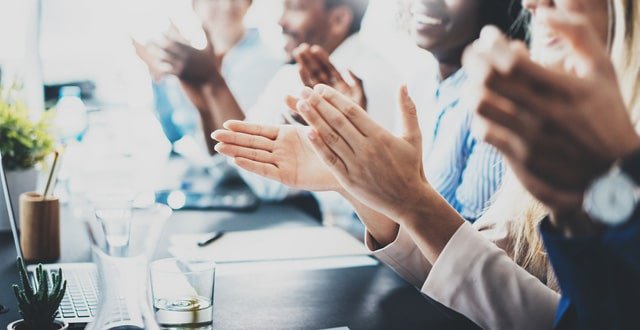 Close up view of business seminar listeners clapping hands. Professional education, work meeting, presentation or coaching concept.Horizontal, blurred background
The conference opens on Thursday 21 February with an Acne and Rosacea Symposium.
Chairperson of the Society Dr Finbar Fitzpatrick said acne and rosacea are among the most common dermatological conditions presenting to general practice.
The PCDSI meeting will feature many prominent national and international speakers including Prof Frank Powell, Consultant Dermatologist at the Mater Misericordiae University Hospital, Dublin. Prof Powell, who has a special interest in rosacea and has authored many publications on the topic, will chair the symposium and speak on 'Rosacea – pathogenesis and clinical presentation'.
There will be a number of overseas speakers including Prof Jerry Tan from Canada, who will present on 'How to get the best from topical therapies and oral antibiotics in acne' and 'Acne and rosacea in patients with skin of colour'.
Another speaker will be Irishman Prof Mark Davis, Professor and Chair of the Department of Dermatology at Mayo Clinic Rochester, Minnesota, US. Prof Davis will speak at the symposium on 'A guide to other causes of a red face', and he will deliver presentations on the Friday and Saturday of the conference ('The skin in connective tissue disease' and 'Case studies of more unusual causes of leg ulceration', respectively).
General topics in dermatology will be discussed on the Friday (22 February), while on Saturday (23 February) there will be parallel sessions aimed at GPs with a special interest in dermatology, and GPs wishing to broaden their knowledge of the area.
The meeting is the key annual event in the PCDSI calendar, with Dr Fitzpatrick pointing out that the Society is volunteer-run and an invaluable source of education for GPs in the area of dermatology.
For full details of the 2019 meeting programme and an opportunity to register, please visit www.pcdsi.com