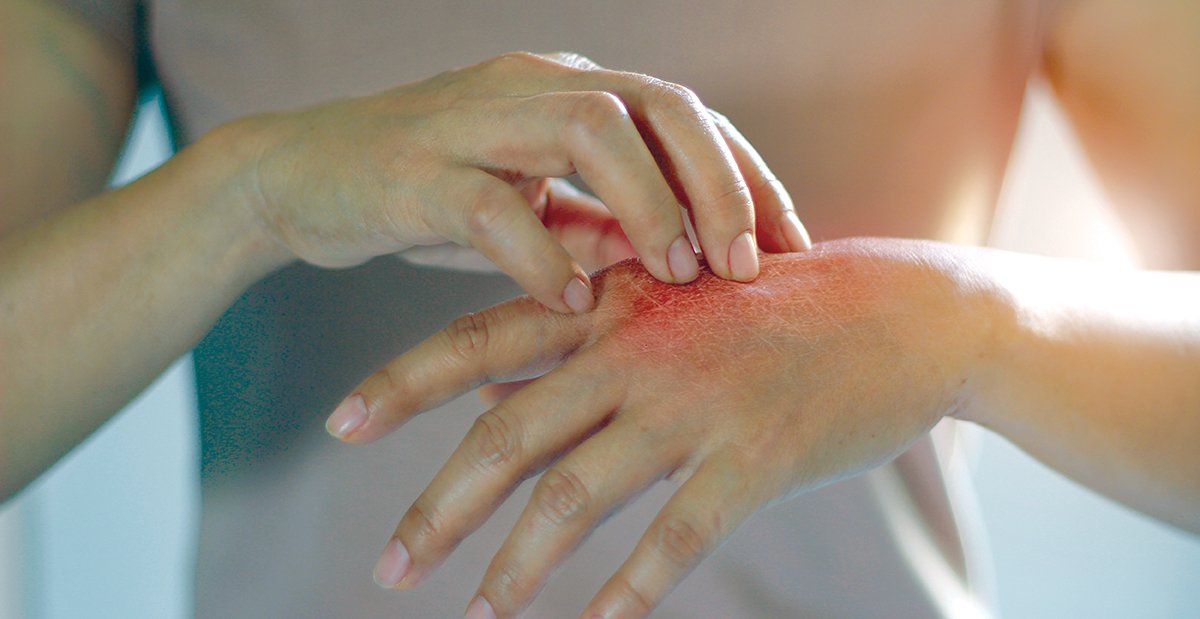 Healthcare and medical concept. Female scratching the itch on her hand, cause of itching from skin diseases, dry skin, allergy, chemical, allergic to detergent or dishwashing liquid and dermatitis, insect bites, burned, drug. Health problem.
The annual three-day scientific meeting of the Primary Care Dermatology Society of Ireland (PCDSI) gets underway in Cork at the end of February. Niamh Cahill speaks to PCDSI chairperson Dr Karen Reidy to preview the meeting
he 23rd annual meeting of the Primary Care Dermatology Society (PCDSI) will take place at the Rochestown Park Hotel, Cork, on 27-29 February, featuring a multitude of educational talks from national and international experts in dermatology.
Last year's meeting saw more than 400 delegates attend and organisers are hoping for similar numbers or an increase this year as the meeting continues to grow in popularity due to the high quality of speakers and presentations.
Dermatology is a common feature of consultations in general practice, with up to one-fifth of appointments in primary care made up of dermatology complaints.
The PCDSI meeting is one of the biggest GP events held in Ireland annually in terms of attendance. Set up as a charity, the society seeks to improve postgraduate education in dermatology for GPs and to enhance their knowledge and skills in the area.
This year, dozens of presentations are planned on topics including malignant melanoma, hand rashes, eczema, viral rashes in children, and acne.
The meeting will start on the Thursday with a symposium on anogenital dermatology and infection, a subject very relevant to general practice, according to PCDSI Chairperson Dr Karen Reidy.
"We have some fantastic speakers involved in the symposium from both Ireland and the UK," Dr Reidy told the Medical Independent (MI).
"GPs will gain great knowledge at the PCDSI 2020 meeting in terms of treating common complaints that present to GPs, such as skin infections, genital warts and skin cancers, but also managing the more chronic skin diseases, such as eczema and psoriasis, and also being aware of less common but significant conditions such as hidradenitis suppurativa, malignant disorders of the genital area and cutaneous signs of infection in the returning traveller."
The symposium will begin with a presentation by Prof Colm O'Mahony, a Consultant Physician based in the UK but originally from Ireland, who will discuss the topic 'genital discharge' and common presentations in general practice.
Prof O'Mahony, who was awarded honorary life fellowship of the British Association for Sexual Health and HIV (BASHH) in 2019, will chair the symposium.
Dr Michelle Murphy, Consultant Dermatologist, Cork, follows with a presentation on folliculitis boils and the less common but challenging-to-manage hidradenitis suppurativa.
Thursday will also see a talk given by Dr Richard Watchorn, Consultant Dermatologist at Imperial College Healthcare NHS Trust, UK, on the management of eczema and psoriasis in the anogenital area, which can be tricky conditions to manage in this part of the body.
UK consultant dermatologist Dr David Paige will examine the diagnosis and treatment of genital rashes in men, while Dr Watchorn, in a separate talk, will look at the diagnosis and management of penile intra-epithelial neoplasia.
Other topics on the day include vulval lesions, genital dermatology in children and syphilis and the skin. Panel discussions and question and answer sessions will be facilitated throughout the day.
"I think this will be a very useful session for general practitioners, as we will be hearing about the common genital presentations, such as genital discharge and warts, and also the less common conditions, such as vulval pigmentation and genital dysaesthesia that may be more difficult to diagnose or manage in this area of the body," said Dr Reidy.
The following day, Friday, two sessions will run in parallel on the subjects of 'hair and nails', and 'getting started on dermoscopy', which will include presentations on benign and malignant lesions.
The session on hair and nails will begin with a talk titled 'Non-scarring alopecia: Male and female pattern hair loss' by Dr Ahmed Kazmi, a GP and dermatology specialty doctor based in London.
Talks on interesting cases in medical dermatology from London and the US are also scheduled to occur during the session, delivered by Dr Sarah Walsh and Prof Mark Davis, respectively.
The session will close with a presentation by Dr Julia Schofield, Consultant Dermatologist, United Lincolnshire Hospitals NHS Trust, UK, and Principal Lecturer, University of Hertfordshire, on hyperhidrosis.
Dr Reidy noted that concurrent talks will run on very interesting and relevant topics for general practitioners, such as an update on atopic eczema and allergic contact dermatitis, nail disease and wound care management and dressings. There will also be a slot where GPs will present interesting cases from their own practices.
The parallel session on dermoscopy will get underway in the morning with an introduction to dermoscopy and choosing a dermatoscope.
Presentations on dermoscopic structures, benign melanocytic naevi and malignant melanoma are just some of the topics that will be covered before the session comes to a close with an examination of interactive case studies.
On Saturday, the final day of the meeting, a packed agenda with 18 presentations will see both 'beginner' and advanced-level talks take place.
Infective skin complaints such as staphylococcal and streptococcal infections, herpes simplex, zoster, viral and fungal rashes in children and Lyme disease are planned for the advanced session.
A presentation titled: 'Am I allergic to that antibiotic? Rashes caused by antibiotics' will be given by Dr Sarah Walsh, Consultant Dermatologist, King's College Hospital, London, UK.
Infectious Diseases and General Medicine Specialist at Mercy University Hospital, Cork, Dr Arthur Jackson, will look at skin signs of infection in the returning traveller later in the session.
The final talk in the advanced session is titled: 'Antibiotic Resistance: Can We Do Better in Primary Care Dermatology Practice?'
This talk will be presented by Cork GP Dr Nuala O'Connor, ICGP Lead Advisor on Antimicrobial Drug Resistance and Infection Control.
Dr O'Connor, who has significant experience in antimicrobial prescribing, will discuss what GPs can do to help reduce antibiotic resistance in the community, said Dr Reidy.
The basic session will cover topics such as hand rashes, practical tips for recognising benign vs malignant lesions, common skin problems that present in the elderly patient, and the management of psoriasis, acne and eczema.
Dr Mary Bennett will highlight interesting dermatology cases from Cork, while UK consultant dermatologist Dr William Phillips will close the session with a presentation titled: 'Skin problems on the lower leg — An interactive case-based discussion.'
Dr Reidy encouraged GPs to book to attend the meeting as soon as possible to avoid disappointment, as accommodation and conference places can become booked-up quickly.
"We have special discounted rates online for advance booking and for members, which can be found at www.pcdsi.com. We look forward to seeing many GPs in Cork for the 2020 PCDSI meeting and hope you enjoy it."
The annual meeting is invaluable for GPs, as it serves to enhance GP skills and knowledge to improve clinical care for patients and foster a working relationship in the management of skin diseases between primary and secondary care.
Further information on the speakers and a copy of the complete agenda for the meeting is available at pcdsi.com.