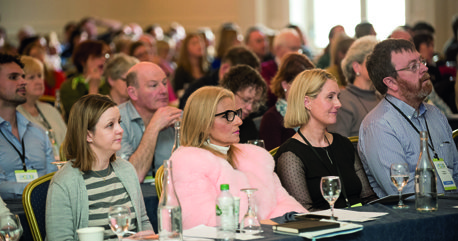 21st Primary Care Dermatology Society of Ireland (PCDSI) Annual Scientific Meeting, Killashee Hotel, Naas, Co Kildare, 30 March-1 April 2017
A wide-ranging meeting on dermatology
Dr Karen Reidy presents a round-up of presentations and discussion points from the recent Primary Care Dermatology Society of Ireland (PCDSI) Annual Scientific Meeting 2017
The 21st Primary Care Dermatology Society of Ireland (PCDSI) Annual Scientific Meeting took place in Killashee Hotel, Naas, Co Kildare, from 30 March-1 April.
The meeting featured national and international experts who delivered presentations on a range of different skin conditions that are often seen by GPs across the country. Topics of talks ranged from melanoma and non-melanoma skin cancer, to paediatric dermatology, photodermatoses and drug eruptions.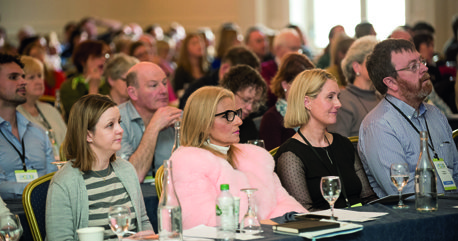 Delegates at the conference
Dermoscopy
The conference commenced with a full day of dermoscopy on Thursday, 30 March, led by renowned experts in the field: Prof Harald Kittler, Professor of Dermatology at the Medical University of Vienna, Austria; Prof Colin Fleming, Consultant Dermatologist and Mohs Surgeon at Ninewells Hospital and Medical School, Dundee, Scotland, who led the advanced dermoscopy session; Dr Patrick Ormond, Consultant Dermatologist and Mohs Micrographic Surgeon in St James's Hospital, Dublin, and the Hermitage Clinic, Dublin, and Dr Rupert Barry, Consultant Dermatologist and Mohs Micrographic Surgeon, also in St James's Hospital, who directed the basic dermoscopy session.
Prof Rino Cerio, Consultant Dermatologist at Barts Health NHS Trust, London, and an expert in dermatopathology, discussed the clinical presentations of actinic keratosis, Bowen's disease and squamous cell carcinoma. He also described the underlying dermatopathology of these conditions giving rise to the clinical appearances seen. He described the spectrum of disease, from actinic keratosis to full-thickness Bowenoid epidermal dysplasia that rarely can result in invasive squamous cell carcinoma.
Dr Sinead Collins, Consultant Dermatologist at Our Lady of Lourdes Hospital, Drogheda, who has a special interest in paediatric dermatology, gave an excellent talk relevant to general practice on 'Topical Steroids — How, Where and When to Use Them'. She highlighted the range of potencies of different topical steroids and their different formulations (ointment, cream, lotion, foam, etc). She recommended using the steroid ladder and becoming familiar with a topical steroid from each class. Dr Collins advised to bear in mind that different areas of the body have different rates of absorption, with the face and genital area having high levels of absorption, requiring care when prescribing topical steroids for these areas. She recommended using the 'Fingertip Unit' to calculate quantities of topical steroids required by patients and to prescribe appropriate amounts based on this. She also advised of the concerns parents have regarding safety of topical steroids and how to address these and use topical steroids safely.
Challenging cases
Dr Johnny Loughnane is a GP in Newcastle West in Limerick with extensive experience in dermatology in primary care and an Assistant Programme Director with the Mid-Western GP Training Scheme. He described some challenging cases presenting to general practice, including a complex case involving a young patient with a sore throat treated with an antibiotic, who presented with signs of Stevens-Johnson syndrome secondary to herpes simplex infection. He also described a case of toxic epidermal necrolysis requiring referral to secondary care and an interesting case of Milker's nodule on the hand caused by a pox virus transmitted from calves.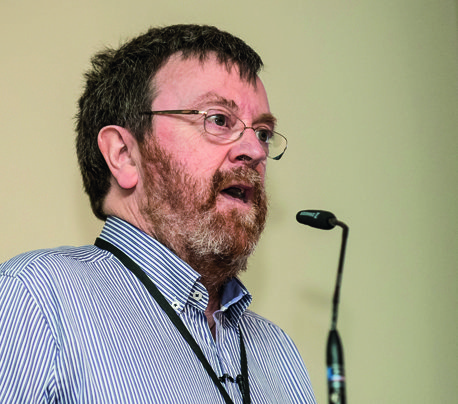 Dr Johnny Loughnane
Dr Lesley Ann Murphy is a Consultant Dermatologist at the South Infirmary Victoria University Hospital, Cork, and Cork University Hospital. She is also a Senior Clinical Lecturer at the School of Medicine, University College Cork. Dr Murphy presented on the 'Child with a Rash and Pyrexia', giving an extensive run-through on the dermatological presentations of some of the viral illnesses seen in children in primary care. She highlighted the 'three Cs' of cough, coryza and conjunctivitis that feature in measles infection and the white Koplik spots found on examination of the buccal mucosa, all the way through to some of the more common viral rashes presenting to primary care, such as the blistering exanthem seen in hand, foot and mouth infection. She also described the less common paediatric presentations of Gianotti Crosti Syndrome and asymmetric periflexural exanthem of childhood.
Dr Nicola Ralph, Consultant Dermatologist in the Mater Misericordiae University Hospital, Dublin, described how psoriasis is more than skin deep. Dr Ralph highlighted the physical, psychological and social impacts of psoriasis on patients and their quality of life. She outlined the various treatment options for patients with psoriasis who are referred to secondary care. She also described recent systemic biologic treatments available for severe psoriasis, such as etanercept, adalimumab, ustekinumab and secukinumab and some newer biologic agents that may become available in the future.
Dr Sarah Walsh, Consultant Dermatologist at King's College Hospital, London, gave a good overview of cutaneous presentations of respiratory diseases in her talk, 'Respiratory Disease and the Skin'. In relation to sarcoidosis, she highlighted some of the less-obvious cutaneous features of sarcoidosis, including sarcoid affecting the medial canthus of the eye, which may present with constant tearing of the eye. Sarcoid may also involve the nasal rim and she advised to enquire about symptoms of nasal stuffiness in these patients to assess for nasopharyngeal involvement. In patients presenting with sarcoid, she also advised to think about pituitary involvement, which can often be missed, and recommended checking testosterone, cortisol, FSH /LH and prolactin.
Haematological diseases
Dr Anthony DuVivier, Consultant Dermatologist at King's College Hospital, London, and renowned author in dermatology, spoke about 'Haematology and the Skin'.
Continuing with his theme of observation, which he had highlighted in a previous talk, Dr DuVivier advised in the setting of patients presenting with excoriations (due to generalised pruritus) or alopecia (due to iron deficiency) to think about an underlying haematological disorder. He also advised that patients who have haematological diseases such as Myelodysplastic syndrome are immunosuppressed and can get skin malignancies, eg, Bowen's disease becoming squamous cell carcinoma. They are also more susceptible to infections such as warts, shingles and herpes simplex infection. He also talked about paraneoplastic phenomena, such as Sweet's syndrome.
Dr Clare Fuller, Consultant Dermatologist at Chelsea and Westminster Hospital NHS Foundation Trust, London, gave a talk on skin infections and infestations affecting immigrant populations. Dr Fuller recommended assessing immigrant patients in the context of diseases of overcrowding, diseases of exposure (during their journey) and diseases of origin. She highlighted that scabies infection can cause downstream effects in the immigrant population, such as post-streptococcal glomerulonephritis related to secondary infection of the skin and recommended checking a urinalysis in immigrant patients presenting with scabies.
Prof Mark Goodfield, Consultant Dermatologist and Senior Clinical Lecturer in Leeds Teaching Hospitals and University of Leeds, UK, presented on managing teenagers with spots. He advised using a scoring system before and during treatment to assess response. For mild-to-moderate acne, there is a good level of evidence to recommend topical adapalene and benzoyl peroxide, with or without a topical antibiotic. He gave practical tips on reducing the irritancy of these topical treatments by applying them sparingly, building up the duration of treatment gradually (eg, initially applying for an hour, then wash off, then increase to two hours, etc) and use of a mild moisturiser. With oral antibiotic treatment for moderate-to-severe papulopustular acne, he suggested looking for a 50-to-60 per cent improvement at 12 weeks' treatment and if this is attained, to continue the antibiotic course for six months. At the end of six months of oral antibiotic treatment, patients should be transferred onto a topical treatment to maintain the response.
Systemic lupus erythematosis
Dr Ruth Murphy, Sheffield-based Consultant Dermatologist, advised of the importance of early detection of connective tissue disease in children during her presentation on this topic. She advised that juvenile systemic lupus erythematosis (SLE) often presents around puberty and skin lesions can be an early presentation of the disease. She highlighted that pancreatitis may complicate juvenile SLE and to think about it in children with known SLE who present with abdominal pain. She advised that children with juvenile dermatomyositis are unlikely to have an associated malignancy but up to 30 per cent can get calcinosis, which can be debilitating.
Dr Eleanor Higgins, Consultant Dermatologist at St John's Institute of Dermatology, London, delivered a presentation on 'How I Use Sunscreen'. She advised looking at both SPF (level of protection against UVB) and UVA star rating (level of protection against UVA) in sunscreens. UVB radiation causes burning, while UVA radiation causes aging, therefore it is important to look for high protection against both. Staying in the shade during peak hours and covering up also constitutes good advice for patients. Sunscreen should be applied 20 minutes before exposure and reapplied every two-to-three hours, with repeat application after swimming. She advised that polymorphic light eruption is often mistaken for sunscreen allergy, while true allergy to the components of sunscreen is rare. A good tip is to advise parents to apply sunscreen to their children's skin in unexposed areas before their holiday so they are confident they are not allergic to the sunscreen.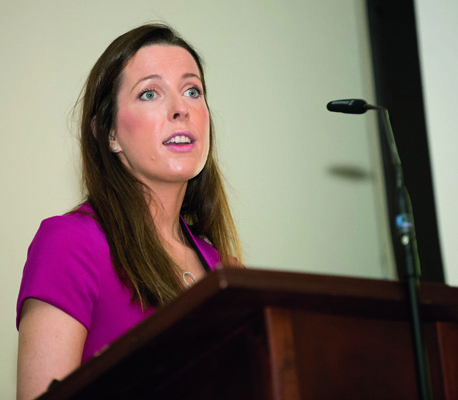 Dr Eleanor Higgins
She also advised that all sunscreen can sting if eczema is flared, therefore adequate treatment of eczema is advised before going away.
Dr Siobhan Twohig is a GP with an interest in dermatology, practising in Ennis and Limerick city. She took delegates through some very interesting cases presenting to primary care, including allergic contact dermatitis to PPD in a henna tattoo in a young boy, management of molluscum contagiosum in general practice and treatment of impetigo. She highlighted the evidence from a Cochrane review on the treatment of impetigo, showing that topical fusidic acid and mupirocin are as effective as oral antibiotics for localised impetigo. She also discussed the management of erythema nodosum in primary care and treatment of common childhood infections such as scabies and hand, foot and mouth.
Lesion recognition
Dr Sinead Field is a Consultant Dermatologist at University Hospital Waterford. She gave a talk on 'Top Tips for Lesion Recognition', highlighting the importance of the history and particularly the following risk factors — sun exposure; sun-bed use; history of sunburn; occupation; living abroad; and family history of skin cancer. She also stressed the importance of examination in good lighting and palpation of lesions, looking for elevation and induration of lesions. Dr Field spoke of the importance of being aware of rapidly-growing pink lesions in fair-skinned people, as it can be a presentation of melanoma (amelanotic). She advised using the ABCDE method in assessment of melanocytic lesions. Dr Field recommended in assessment of crusty lesions that the crust must be removed to assess the base and "see what lives underneath".
Dr Karen Reidy is a GP and Dermatology Registrar in University Hospital Galway. She gave a talk on 'Scaly Rashes of the Hands and Feet', breaking down the differential diagnoses to eczematous rashes, psoriasis and fungal infections, all of which can present with similar clinical appearances. Eczematous rashes include irritant and allergic contact dermatitis, atopic eczema of the hands or feet, pompholyx eczema (also known as vesicular endogenous eczema) and hyperkeratotic eczema. With contact dermatitis of the hands or feet, the history is important in identifying potential irritants and allergens. Palmoplantar psoriasis is usually bilateral and symmetrical. It may present with sharply-demarcated edges and is more often fissured and painful, rather than itchy. Psoriatic nail changes may be present, along with signs of psoriasis in other areas (scalp, extensor areas, umbilicus and groin). Fungal infection is often asymmetrical and is more common on the feet than the hands.
*************************
Speaking to the Medical Independent (MI), Dr Reidy said that the management of hand eczema includes "avoidance of potential irritants and allergens and the use of regular emollients and soap substitutes (where a cream is mixed with water and used to wash instead of soap)".
Protecting the hands in these patients "is also important by wearing gloves (ideally cotton gloves under PVC gloves) at work, particularly if they are doing a lot of wet work", according to Dr Reidy. "Topical steroids may also be needed if the skin is inflamed. If the diagnosis is uncertain or they are poorly responsive to treatment, patients may need referral to secondary care for further assessment and investigations.
"With red and scaly rashes of the hands and feet, the possibility of fungal infection should also be considered, particularly if the rash is asymmetrical. If the clinical presentation suggests a fungal element, it is important to send off skin scrapings before treatment is commenced, as treatment of a tinea infection with a topical steroid alone is likely to alter the appearance of the rash, leading to difficulty in making the diagnosis and inadequate treatment."
Success
According to the Chairman of the PCDSI, Dr Finbar Fitzpatrick, over 260 delegates attended the meeting, which he said was a great success. Dr Fitzpatrick said that the success of the meeting was a testament to the central role of GPs in managing skin conditions.
"Bear in mind, 10 per cent of GPs' workload every day will have a skin disease or a skin component to it," Dr Fitzpatrick told MI.
"For general practitioners who have an interest in dermatology, 20 per cent of their workload will have a skin or dermatology component. There is a tsunami of skin disease in the community and it presents to GPs on a daily basis."
In particular, Dr Fitzpatrick highlighted the increase in the number of skin cancers as an area where GPs can make a significant contribution.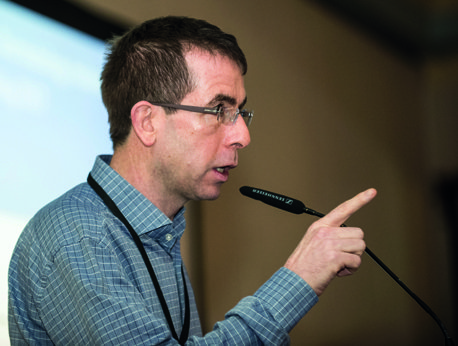 Dr Finbar Fitzpatrick
He said that, with the massive increase in skin cancers and skin disease in general, and the ongoing pressures to develop good healthcare with very limited resources, "it is important there is good communication and a cohesive health service, between dermatologists, general practitioners and other health professionals in the community".
Dr Fitzpatrick said that, if properly resourced and supported, GPs are in a prime position to manage skin conditions. However, he said GPs face particular challenges in their role compared to hospital doctors. Dr Fitzpatrick pointed to one topic referred to in a talk by Dr Sarah Walsh on the subject of drug eruptions.
"This was highlighted throughout the talk today, the fact that GPs see rashes early in their presentation and their clinical history, so often the diagnosis is not as clear-cut as it is by the time they get to secondary care," he said.
"So GPs need to be very aware of all skin diseases and often it can put GPs in a difficult position because the diagnosis isn't fully clear when it presents to GPs, and when they miss things, which might often be easy to miss at that stage in a disease's evolution, it can be difficult for the GP afterwards."
In conclusion, Dr Fitzpatrick thanked all members of the Society's committee for their hard work, which allowed this year's meeting to be such a success.
Additional reporting by Paul Mulholland.
The PCDSI 2018 Annual Scientific Meeting will be held in The Strand Hotel, Limerick, from 8-10 March.