You are reading 1 of 2 free-access articles allowed for 30 days
So a doctor walks into a bar…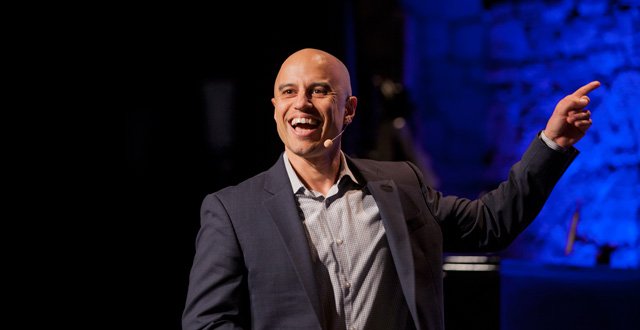 Did you hear the one about the doctor who made health funny?
Dr Zubin Damania, former Stanford hospitalist and award-winning medical educator, has taken it upon himself to do just that. A comedian, singer and songwriter, he is preaching a gospel of a more humane form of medicine for doctors and patients alike. And with his comedy songs getting more than a million views on YouTube, it is message that people are ready to listen to.
Through his alter ego, ZDoggMD, his Internet videos such as 'I'm checking out my nads in the mirror,' which promotes the early detection of testicular cancer while also parodying the Michael Jackson classic, have proved extremely popular and helpful.
His take on Garth Brooks gave rise to I've got friends with low platelets, a song which he says has helped people with thrombocytopaenia feel less alone. However, this is to name only two.
Lady Gaga, Usher and the Kinks — no-one is safe from the ZDoggMD treatment.
"At the moment we are doing an anthem to how much we love and respect and need nurses, to the Macy Gray song, I try. The nurses go on strike and the physician tries to be a nurse and fails miserably," he tells the Medical Independent (MI).
"I think medicine and comedy go very well together," he explains, "but what's very interesting is that the culture of how we train physicians, our hierarchy and this 20th Century cottage industry construct around medicine is very disapproving of humour."
Issues of professionalism and who is the butt of your joke have to be handled sensitively, he adds, but if you get the formula right "it can be very therapeutic, not only for patients, but for physicians as well".
It has also allowed him to reconnect with his love of medicine, something which the stresses and demands of a doctor's life had eroded.
He told the audience at the recent dotMED 2014 conference that when his daughter told him she wanted to be a doctor, his first instinct "was to ground her".
Modern doctors
While the audience at the Smock Alley Theatre laughed at the joke, they knew it reflected a bitter truth about life as a 21st Century doctor. Doing more with less, being pulled simultaneously in several different directions and working in dysfunctional systems have all made a career as a physician increasingly unappealing. As Dr Damania puts it, we are living through the "dehumanisation, demoralisation and commoditisation of physicians".
"That's why nobody wants to do primary care. They all want to specialise and have a lifestyle where they can do what they really love," he explains, "and that's crazy."
For Dr Damania, this process began in medical school, a place he described as "both magical and terrifying". It was here he was told to learn the rules first and then break them. However, as his career progressed, he forgot the second part of that advice.
"Comedy was always a part of who I was and it got a little beaten out of me in residency and training and I needed to reconnect with who I was to get it back," he explains.
"There are healthy and unhealthy manifestations of humour. When I was very burnt-out during my hospital doctor career in Stanford, the humour would manifest as a coping mechanism for the tremendous amount of stress I was under. And the target for that humour would be the residents under my teaching responsibility and sometimes the patient — and that's when it got dysfunctional.
"I think it's more functional when we can laugh at ourselves and the absurdity of the system in a way that produces some achievable goal or helps make our situation better. That's where I think it can be extremely helpful."
Through his alter ego, ZDoggMD, his Internet videos such as 'I'm checking out my nads in the mirror' promote the early detection of testicular cancer
And the US healthcare system provides no end of material.
"Ideas would come to me in work. I do all the editing and shooting myself and my colleague, Dr Harry and I, would collaborate on the weekends. I'll never forget a patient, she was about 60 and she said on seeing me, 'Oh, you're a celebrity' and I thought 'Oh no, our relationship is severed'. But she said: 'You know, it's great to see a physician acting like a normal human being.' That reaction was amazing and inspired me to keep trying to work on that balance. Those were the happier years of my experience because I could vent through comedy."
However, following an offer by a billionaire to fix healthcare in Las Vegas, Dr Damania is putting the lessons of comedy and unorthodoxy into action. Enter Turntable Health, a membership-model primary care system based on the premise that great care starts with a great culture.
At the dotMED 2014 conference, he elaborated on his mission to promote healthcare 3.0, a new vision which marries the sacredness of the traditional doctor-patient relationship (health 1.0) with the advances facilitated by modern health systems (2.0).
"So we say 'Okay, the doctor-patient relationship is sacred; yes, having controls and thinking systemically and holistically is important but we will be evidence-informed rather than evidence-enslaved'. Those grey areas where most patients live — that's where that doctor-patient relationship is allowed to flourish. Give that space and time. Respect it," he says.
Empowerment
"It's a dyad, it's shared decision-making, it's empowerment, and holding each other accountable. That means incorporating humanities, taking that hierarchy and flattening it, and dismantling this factory assembly-line system."
Turntable health, he explains, allows the doctors to spend more time being doctors, with allied health professionals assuming a greater role. One of these is a health coach who helps patients reach crucial health goals through an achievable, supportive programme.
In the end, Dr Damania says everything is a work in progress, although he is happy to say that he has never been more excited to be a physician.
"We have to take those best elements of the existing health systems and develop them into a new system. Turntable health is one suggestion but that must evolve too over time into something better."
For more information on Turntable health, please visit www.turn tablehealth.com.