You are reading 1 of 2 free-access articles allowed for 30 days
Slow and steady wins the race for fitness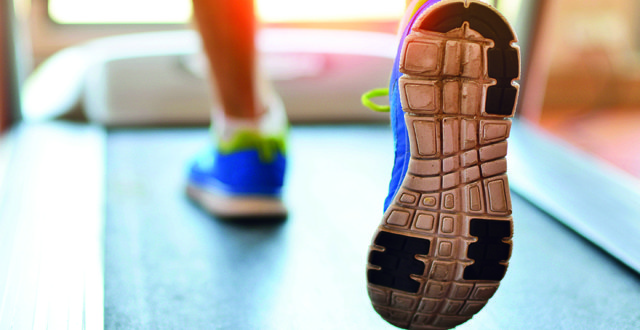 Life is like riding a bicycle; you don't fall off unless you stop pedaling." Claude Pepper.
Exercise. You know you 'should' exercise. But how hard should you push yourself? The formula for max pulse rate is 220 beats per minute (bpm) less your age. For me, that is 220 less 58. I know, I know… you say I look 48 and you would be right… ish. So 162 is my maximum pulse rate. And we are trying to get between 65 and 85 per cent of maximum. So for me, 65 per cent is 105bpm and 85 per cent is 137bpm. So there you have it: If you are as beautiful and young as me, then you should get your heart rate to at least 105 and no more than 137bpm.
Now, this is no problem for me to calculate because after sprinting for 30 seconds, my heart rate is 130 and my chest is making exclamation marks on my consciousness.
I use the local gym treadmill and this machine allows me to see my heart rate at will. I am trying to do 5km because a lot of apps, and even a lot of people, are promoting the 'couch to 5km' idea. One (American) site is talking about doing it in one week! Possibly dangerous.
Recently in the GP surgery, we were having coffee mid-morning and the other GP said she did the local 5km in 34 minutes after "no training". My time is 45 minutes, and I have an Irish jersey from representing us in athletics in Wales. Admittedly, I was 15 years old at the time and the event was not the 5km, but the 100m sprint hurdles. So you can understand that my competitive juices were enraged by the running times of my compatriots. Their times attacked my self-image, my narrative, my I.D.E.N.T.I.T.Y.
To make matters worse, I read an article in the Irish Independent about an Ann Woodlock, who is 78 years old and does the 5km in 28 minutes. Are you joking? She won gold for Ireland in the over-75s women's section of the European Masters Athletics Championships. So you can see my problem. My competitive nature. That same competitiveness is one of my main motivators, for good and for bad. But this motivation needs to be tamed and managed.
I always think of the Sydney City to Surf mini-marathon. A 14km event with 62,000 participants of all ages, some dressed in Batman clothes and others from the army, pushing tanks along the route and also fathers running with kids hanging on from every limb. Such events make millions for charity. But this is not the reason I think of the marathon in Sydney. They used to do the run in the height of summer and I remember a number of deaths that always related to males in their 30s. Not obese grannies or young people. 'Fit' people. In 2009 in Detroit, three male runners died, aged 26, 36 and 65 years. They were 'healthy'.
My point is that men who think of themselves as fit and healthy push themselves beyond the body actually screeching out to them to 'STOP!' Back in my surgery, many of my ordinary patients with a flu or febrile illness like to 'put manners on their illness' by sweating it out with intense gym work or football training rather than listening to their body for a few days. Culture. Usually men and young boys. "Can I have the antibiotic and play football tomorrow doctor?" they ask, as my eyes search the skies for renewed hope in humanity. "It is worse you are trying to make it," I reply, as if I was on a film set for The Quiet Man. "Do you want to end up with pericarditis and wires attached to your chest?" I ask, thinking I am Marcus Welby MD, but without the bedside manner or the sexy motorbike of his partner.
So, thinking of this and wary of my own competitive mini-culture, I try to hold myself back from over-training. Every second day I get on the treadmill and try to find out what rate of walking will get me to a pulse of 100-105bpm. The focus is on my heart rate. Let this be the judge of my walking rate, not some arbitrary distance or some arbitrary speed that applies to the world in general but not me specifically. This is me trying to listen to my body, or at least work with it. And you know, these are the most enjoyable sessions I do. I feel great afterwards. Under-achieving maybe, but alive and sparkling from blood and oxygen getting to every single cell.
Holding myself back, my plan is to slowly catch up with the 78-year-old and perform a mind-boggling 5km run in 30 minutes over the next year, rather than over the next week. Now, that is restraint and self-control. It was worth reading Aesop's Fables about The Tortoise and the Hare after all.