You are reading 1 of 2 free-access articles allowed for 30 days
Shaping the future for ill children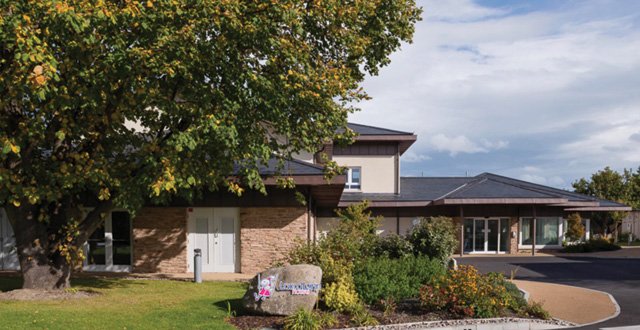 The conference, held in Rome, brought together experts from a wide range of countries to exchange knowledge and experience. Ireland was represented by a team from the LauraLynn Children's Hospice, who shared their knowledge and experience of best practice in paediatric palliative care (PPC), as well as current educational initiatives. These include a scheme to enhance the understanding of paediatric palliative care among medical students and an overview of PPC in Ireland in the European context.
PPC shares some characteristics with old-age medicine. As medical and technical advances continue apace, in common with the older generation, the number of babies, children and young people with life-limiting illnesses has increased significantly and the need to examine the field and adapt has also grown.
While Ireland is among the countries that has a well-developed PPC structure, there are a number of countries across Europe where the development of PPC is in its early stages.

Dr Joanne Balfe
Irish consultant paediatrician Dr Joanne Balfe delivered a talk to the Congress entitled: 'An Exploration of Medical Students' Understanding of Paediatric Palliative Care and the Educational Value of a Short Teaching Programme in a Children's Hospice.'
She tells the Medical Independent (MI) about both the potential and challenges facing PPC in the LauraLynn Children's Hospice and Ireland generally.
Dr Balfe's training is in neurodisability, she explains, while outlining how she first became interested in PPC: "My interest is in children with complex disability and exceptional healthcare needs and a lot of those children would be life-limited and would have palliative care needs."
High medical needs
Dr Balfe trained in the UK and on her return to Ireland, she began working in the LauraLynn Hospice in 2008. "This often involved working with children who have very high medical needs and severe disabilities," she tells MI.
"I thought it was a very interesting group of children, but also whom I thought, and still think, can sometimes be poorly served within paediatric practice. They need paediatricians who really understand their disabilities… for me, just working with those children and their families got me interested, so I started attending palliative care conferences."
She describes this group of patients as "very special" and explains that "sometimes people don't think about this group of kids with incredibly complex needs who are living at home with their families".
During her presentation, Dr Balfe pointed out to attendees in Rome that acute hospitals provide inadequate exposure to children with life-limiting conditions and complex medical needs. She noted that PPC is rarely included in undergraduate programmes and therefore, she has become instrumental in organising visits to LauraLynn in order to assess the value of a short visit to such a facility.
'We ask the medical students to put themselves in the shoes of a parent bringing home one of these children — how they would need to adapt their homes and their lives and how this would impact on the whole family' — Dr Joanne Balfe
The visits feature a short didactic lecture to introduce the service and a discussion on PPC and neurodisability, as well as two clinical sessions, including a bedside tutorial and tour of the hospice. Dr Balfe says she is heartened by the students' willingness to learn and ability to grasp the concept of PPC so readily. "It's very interesting," she tells MI. "The medical students are really enthusiastic and get really fired-up about the needs of children with life-limiting conditions."
She conducted a study whereby 120 fourth-year medical students completed a pre- and post-visit questionnaire on the themes of 'expectations' and 'understanding'. Among the results, it was shown that there was a 99 per cent satisfaction rate with the students' three-hour attachment to a children's hospice. Some 97 per cent said they would recommend the visit to other students and 97 per cent also agreed that the visit was relevant to learning in paediatrics and child health.
Ethical dilemmas
Among the conclusions was that there is a wide variation in medical students' understanding of children with life-limiting conditions and the responses showed that there is a significant knowledge gap in PPC and disability among these students. However, the results will help to allow the further development of an education programme for undergraduate medical students.
"The students ask me really intelligent questions around very complex ethical and moral dilemmas," says Dr Balfe.
Explaining the clinical needs of her patients, Dr Balfe explains that the majority of them are fed via gastrostomy and are often incontinent and totally dependent for most, if not all, of their needs. "One of the things we try to get the students to think about is the impact on a family of caring for a child with such needs," she tells MI.
"We ask them to put themselves in the shoes of a parent bringing home one of these children — how they would need to adapt their homes and their lives and how this would impact on the whole family. It's also important for them to understand the value of these children, and they do — the students were saying things like 'these children are no less valuable than any other child' and that's exactly the kind of thing I was hoping they would say."
However, Dr Balfe does not underestimate the emotional difficulties faced by these students. "Sometimes they can become really upset," she says. "In some of the responses we got, some of the students said they found it very emotionally draining and hard to cope with. They also wished they had done a little more preparation for it. I try to address this in the introductory lecture but it's very important that medical students learn about complex disability, severe illness and death and dying.
"The job of being a doctor often involves caring for people right up until their last day of life, and the Medical Council guidelines reference this. I believe it's really important that medical students are exposed to paediatric palliative care."
In terms of the challenges at LauraLynn, which would be mirrored in other children's hospices, Dr Balfe cited staffing as one of the main issues. "PPC is very specialised, so it's challenging to find staff with the appropriate experience and training," she explains. "Within nursing, there are more clear pathways in paediatric palliative training."
More support
As for the future, Dr Balfe says she would like to see more support readily available for these special patients and their families. "When a child is identified as having a life-limiting illness and there is a recognition that the child has very exceptional healthcare needs, I'd like to see the parents fully supported practically and emotionally in providing care for those children," she says, "and I would like to think that parents wouldn't have to fight for the provision of respite care in places like LauraLynn and wouldn't have to fight for medical cards or domiciliary care allowances.
"These parents shouldn't have to battle for supports like these. In our work with the students, we would hope that future doctors will be more aware of the needs of these children and their families and hopefully some of them will be inspired to specialise in paediatric palliative care in the future."
Exhausting
For parents caring for children with life-limiting conditions and complex medical needs, the experience can be both emotionally and physically exhausting. The LauraLynn Children's Hospice has a psychologist on staff who can provide emotional support for the families of these children. "When they are going to have a child, parents have visions of their child being perfect, going to college and so on, but when they have a child with a life-limiting condition, all those dreams they held are shattered," says Dr Balfe. "So we need a psychologist on staff to help provide some support."
European survey
Head of Research and Strategy at LauraLynn, Dr Julie Ling, also presented at the Rome conference under the theme 'Mapping of Paediatric Palliative Care Services in Europe: Results of the European Association for Palliative Care Survey'. Dr Ling was one of the authors of the survey, which showed that in most European countries, there is limited precise epidemiological data on the number of children requiring PPC. It also showed that in Europe overall, at least 125,000 children are in need of PPC. Countries were grouped in categories ranging from 'No known PPC activity' up to 'Generalised integration' of PPC, the latter category applying to Ireland, the UK, Belgium and the Netherlands, but representing only 8 per cent of the total number of countries surveyed.

Dr Julie Ling
In Europe, it was found that 48 per cent of countries showed evidence of PPC legislation/policy, with 40 per cent conducting research and 33 per cent integrating some educational activity. The findings also suggest that national wealth is "not a factor" in the provision and development of services and while some countries have reasonably well-developed PPC services, access to PPC for children and their families is limited in Europe.
The summary of findings includes the statement: "Our findings suggest that across Europe, the current focus on the provision of PPC is in hospitals and other healthcare institutions and yet evidence suggests not only is the majority of care to children with PPC needs provided by parents, their preference is for care in the family home." Dr Ling's presentation also called for greater consideration to be given to providing better support in this regard.
Dr Ling, who was on the Steering Committee of the European Children's Palliative Care Working Group for the Rome conference, tells this newspaper: "Children's palliative care is a really small specialty, newly developed and very different to its adult counterpart." She adds that very often, the children who need palliative care services are children who have been born with congenital abnormalities, birth injuries and cardiac problems. The majority of children who do not survive their condition die in the days or weeks after birth. For those that survive, palliative care is essential.
In 2005, a needs assessment was conducted of the number of children living with a life-limiting condition in Ireland, with 1,369 children being the conclusion. However when using the figure of 12 children per 10,000, results were thought to be low but new data from the UK — which Dr Ling suggests may provide a good indication of the situation in Ireland — has surfaced, suggesting that the figure could be closer to 32 children per 10,000, almost three-fold the original. This means the figure is closer to approximately 4,000 children in this country.
Partnership
In Dr Ling's opinion, children's palliative care in Ireland has developed primarily because of the partnership between statutory and voluntary, with the latter providing the money.
"In Ireland, there are a few people who could be described as pioneers in PPC," explains Dr Ling. "That's also what has happened in Europe, where people have very little money — the principles of palliative care are obviously centered on providing the best possible palliative care for children. That includes medical care, nursing care, attention to detail — all of those things. These are areas where money is not necessarily needed. That's about adapting practice and education and that applies, regardless of whether a country is rich or poor. It all comes back to education and evidence to support best practice."
As an example of a pioneer in PPC, Dr Ling cites Anna Gorchakova, who has greatly advanced PPC in Belarus.
'If a person has a child with a life-limiting condition it becomes all-consuming and impacts across every strata — school, home and every other aspect of life' — Dr Julie Ling
"She has really pulled and dragged Belarus to a point where they have a children's palliative care service," she tells MI. "At the conference, there were people there from all over the world, including South Africa. There is an organisation there called the International Children's Palliative Care Network and they regularly come up with a range of innovations in Africa, where money is so scarce and so many children are dying from AIDS, but people like that shine as beacons of light because of the quality and level of practise they provide.
"There is obviously always a cost element but I think it's a combination of knowing what is best practice; having the evidence to support that; and having a pioneer who has a real drive and passion for children's palliative care. If you can get that, and get people to listen to you, that really does help to bring about change."
Duration of care
One of the key differences noted by Dr Ling in children's palliative care compared to adult palliative care is the duration. "The parents become the primary carer for an unknown duration of time that could go on for many months and years, whereas quite often in adult palliative care where people are older — we have a lot more experience caring for people with cancer, for example — you might be able to predict the disease trajectory, whereas in children's palliative care, you can't."
Another aspect that should be noted when comparing child and adult palliative care is genetics, where there are cases of parents having more than one child with the same condition, she adds.
When comparing adult and child palliative care, it must be taken into account that the huge range of life-limiting conditions means there is not as much experience caring for each of those conditions in palliative care, says Dr Ling. New advances in technology mean that some children who would have died at birth may now live longer and with very complex care needs.
When asked about future aspirations for paediatric palliative care in Ireland, Dr Ling explains that community services are vastly important because when parents are asked where they would like to care for their child, the majority want to be at home. However they do require community support. In the UK, there are children's nurses working for the community and over here we do not have that, she notes, "and very well developed community services are vital for the future of the specialty".
Group 1 countries:

No known activity

Andorra, Azerbaijan, Croatia, Kyrgyzstan, Monaco, Montenegro,

San Marino, Serbia, Tajikistan, Turkmenistan, Uzbekistan

11 (21%)

Group 2 countries:

Capacity building

Bosnia-Herzegovina, Cyprus, Finland, Slovenia
4 (8%)

Group 3a countries:

Isolated provision

Albania, Armenia, Bulgaria, Czech Republic, Denmark, Estonia,

Hungary, Iceland, Israel, Kazakhstan, Latvia, Lithuania, Moldova,

Russia, Slovakia, Sweden

16 (30%)

Group 3b countries:

Generalised provision

Belarus, Georgia, Norway, Poland, Portugal, Turkey
6 (11%)

Group 4a countries:

Preliminary integration

Austria, France, Germany, Greece, Italy, Luxembourg, Malta,

Macedonia, Romania, Spain, Switzerland, Ukraine

12 (23%)

Group 4b countries:

Generalised integration

Belgium, Ireland, United Kingdom, Netherlands
4 (8%)
Reported levels of paediatric palliative care services across the european region
Education
Dr Ling goes on to describe how there should be many more paediatric palliative care consultants in Ireland and ideally wherever there are children's units. A strong focus on staff education is also vital, she explains.
The third member of the LauraLynn team, palliative care nurse Ms Claire Quinn, Head of Clinical Education and Research, presented on the topic: 'Seeking Excellence: A Baseline Study of the Clinical Learning Requirements of Staff within Laura Lynn, Ireland's First Children's Hospice'. Ms Quinn received a standing ovation for her presentation in Rome and is involved at a national level in the development of education in children's palliative care.
"Claire is a really innovative person," says Dr Ling. "She runs a wide range of courses here and she also conducted a needs assessment of all the staff to establish what they need and tailored our education programmes accordingly."
While Dr Ling acknowledges that PPC is a small speciality, she knows too that it is important because of the huge and positive impact it has on so many people.
"If a person has a child with a life-limiting condition, it becomes all-consuming and impacts across every strata — school, home and every other aspect of life," she says.
"It may be a small specialty but it has huge knock-on effects."