You are reading 1 of 2 free-access articles allowed for 30 days
Searching for gremlins in the PH system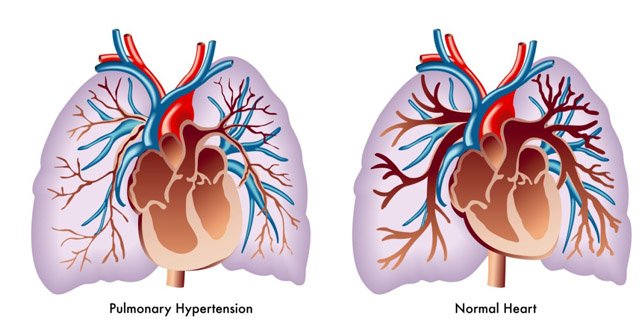 Pulmonary hypertension (PH) is a disease with many forms. It is the result of blood vessels in the lung becoming diseased and making it harder to pump blood through the lung. This causes a problem for the right side of the heart, which will eventually fail without treatment.
The disease causes disability, limits the ability of people to engage in their normal daily activities and shortens lives. But researchers based at the Conway Institute, University College Dublin (UCD) have found a molecule called Gremlin 1 in people with rare but very aggressive forms of the disease that might open up new treatment options that don't involve lung transplant.
Professor of Physiology Prof Paul McLoughlin, who is based at UCD School of Medicine and the Conway Institute, has been conducting research into the causes of pulmonary hypertension, working closely with his Mater Hospital colleagues Prof Seán Gaine and Prof Karen Redmond.
There are five main forms of PH, which are categorised according to the cause, said Prof McLoughlin. Pulmonary arterial hypertension is a very aggressive form of PH that requires specialist care and frequently results in lung transplantation. PH can also be a consequence of heart failure and this is a common form.
Prof Paul McLoughlin
Another common type of PH is associated with lung diseases like emphysema, COPD, cystic fibrosis and pulmonary fibrosis. Meanwhile, a further form of PH results from recurrent blood clots on the lung, while there is also a rare inherited type that does not fall into one of the previous four categories.
Arterial and blood clot PH
Prof McLoughlin and his colleagues at the Mater are focused on the arterial and blood clot forms of pulmonary hypertension. He said these forms have shared treatments and often require sophisticated surgery — either lung transplantation or the removal of the clots. While lung transplantation is available in Ireland (at the Mater), surgery to remove clots from the lungs is not, and these patients are referred to the UK when this is required.
People with PH due to lung disease can be put on home oxygen therapy, said Prof McLoughlin. Oxygen therapy is not suitable for those with pulmonary arterial hypertension and PH due to clots on the lung, however. Prof McLoughlin said these forms are rare but aggressive and without specialist treatment, will cause death within two-to-five years.
Research
Prof McLoughlin is interested in the underlying mechanisms that drive all forms of PH. He wants to understand what is going wrong, and what features might be shared across all PH types. He is investigating what precisely is changing in terms of the molecules and signalling in the lung during PH, that isn't altering simultaneously in other bodily organs.
It is relatively simple to recreate PH, as researchers know that subjecting the lung to hypoxic conditions will create a response in the lung that leads to PH. Prof McLoughlin and his team created hypoxic conditions in the lung and then looked for anything that had changed in the cells of blood vessels in the hypoxic lung and compared them to cells from blood vessels in other organs.
One molecule that was present in the hypoxic blood vessels of the lung captured their attention immediately, said Prof McLoughlin. The molecule was Gremlin 1, which is a protein.
It was of interest because of the known link between Gremlin 1 and a rare form of inherited pulmonary arterial hypertension, he explained.
In 2000, outlined Prof McLoughlin, two research groups, working independently, identified a receptor called the bone morphogenetic protein receptor, which was mutated and not working in families that had inherited a mutation for this rare PH.
The presence of Gremlin 1 in hypoxic blood vessels in the lung suggested the molecule might be linked with other forms of PH too.
Gremlin 1 is a normal molecule that occurs in the body and is associated with the bone morphogenetic protein (BMP) pathway. "When we saw this molecule, Gremlin 1, being indicated as changing in lung cells in response to low oxygen, which is a known cause of pulmonary hypertension, and not responding in any other organ in the same way, we thought, 'aha, this could be linked', particularly because it blocks BMP," said Prof McLoughlin. Further investigation confirmed the link and also revealed that Gremlin 1 was elevated in the aggressive and rare forms of PH, and perhaps other types of PH too.
Prof McLoughlin said he has a long-standing relationship with clinician colleagues at the Mater, in particular with Prof Gaine, Director of the National Pulmonary Hypertension Unit, who has helped to secure patient consent to provide samples for research.
Cell culture
"Our typical approach would be to work in cell culture, get some clues, move to animal models, usually mice because we can mutate their genes in a very targeted way, and then get human samples and see if we can confirm the findings in human samples," said Prof McLoughlin. "Human samples are very precious and quite rare and we are very grateful to the patients, because they often go to a lot of trouble to provide them," he added.
Further investigation
Prof McLoughlin said that since his team confirmed that Gremlin 1 is elevated in humans with PH, others have been investigating whether — based on this work — a diagnostic marker for PH could be developed. Furthermore, the finding could be used to develop a measure of treatment response for PH.
The way it might work is as follows, according to Prof McLoughlin: Blood samples would be taken, DNA would be recovered from the white cells and the genes would be sequenced to find the BMPR (bone morphogenetic protein receptor) 2 gene. That gene could be examined to see whether mutations that are known to cause the disease were actually present.
A blood test like this would not work to measure the effect of PH treatment because BMPR 2 is a receptor that gets stuck on cells and, therefore, cannot be detected in a blood sample, said Prof McLoughlin. However, in the longer term, the more exciting prospect would be to develop a blocker for Gremlin 1 which would, thus, target a molecule known to be a cause of PH, he outlined.
This approach has been successful for treating rheumatoid arthritis, where specific antibodies — monoclonal antibodies — have been developed that are directed against the TNF-alpha signalling protein that causes arthritis in the joints. The antibody binds to the TNF-alpha and stops it acting. Gremlin 1 would be amenable to similar targeting, commented Prof McLoughlin.
Prof McLoughlin said he was aware that pharmaceutical companies were working on antibodies for targeting Gremlin 1.
Gremlin 1 has also been found to be up-regulated in pulmonary fibrosis, said Prof McLoughlin, and researchers are looking at developing antibodies for the treatment of this disease.
Treatments
The hope for the future is that the antibodies under development for PH and pulmonary fibrosis will work. Prof McLoughlin underlined that this will involve a long road and unfortunately, it is not the case that any new treatment is imminent.
The current outlook for people with rare and aggressive forms of PH is not positive, said Prof McLoughlin. It is also not yet possible to predict, with the inherited forms, which members of the family with the mutation will get PH and which will be unaffected.
People can start to develop PH in their 60s and 70s, explained Prof McLoughlin, but more commonly it begins to appear in childhood or the early 20s. In the first instance, PH is treated with oral medications and these are effective for a time. He said the patient might then progress to long-term intravenous infusion, over 24 hours per day in a home environment. Yet a great number of people with PH eventually progress to the point where they need a lung transplant.
"There is either a lung transplant or there isn't," said Prof McLoughlin. "If there isn't, it can be fatal. If there is, then you have got the outlook of someone who has had a lung transplant, which isn't great — 50 per cent mortality at five years."
Research goals
Prof McLoughlin said one of his research goals over the next number of years is to achieve a more complete understanding of what Gremlin 1 does and how it acts. He said it is known that it is produced by a number of different cells in the lung and the goal is to understand what its role is in these different cells. This is work that has been funded by Science Foundation Ireland.
Prof McLoughlin is also interested in pulmonary diseases associated with PH, such as pulmonary fibrosis. The funding for these investigations, which will be conducted with Prof Michael Keane, Consultant Respiratory Physician at the Pulmonary Fibrosis unit in St Vincent's University Hospital, Dublin, is from the Health Research Board.
As well as Prof Gaine, Prof McLoughlin said his research is made possible with the support of Prof Jim Egan, Consultant Respiratory Physician at the Mater and Director of HSE Organ Donation and Transplant Ireland; and Prof Karen Redmond, Cardiothoracic Surgeon at the Mater, who conducts lung transplant surgery.