You are reading 1 of 2 free-access articles allowed for 30 days
Reviewing the evidence on adalimumab treatment for ulcerative colitis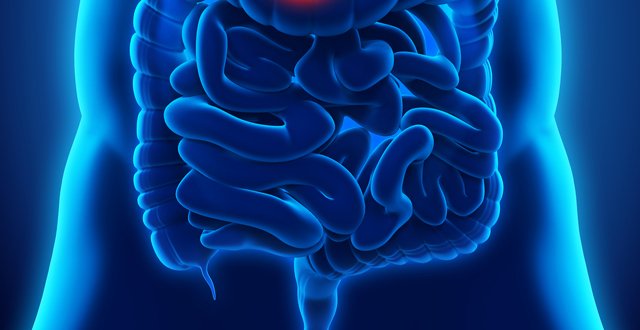 Ulcerative colitis (UC) is one of two main type of inflammatory bowel disease, the other being Crohn's disease, both of which are characterised by chronic gut inflammation. UC involves unpredictable periods of disease remission and symptomatic flare up, with symptoms including bloody diarrhoea, abdominal cramps, faecal urgency and incontinence, which vary greatly between individuals. Consequently, health-related quality-of-life (HRQL) is lower among patients with UC than in the general population. The therapeutic goal in UC is to achieve and maintain remission, as well as improve patient quality-of-life and avoid disease and treatment complications. The total economic burden of UC has been estimated around €12.5-29.1 billion in Europe. In the past, hospitalisation accounted for 41-55 per cent of medical cost in UC, but more recently costs of biologic therapy (31 per cent) now appears to exceed those of hospitalisation (23 per cent).
Conventional medical therapies for UC include 5-aminosalicylate, corticosteroids and oral immunosuppressants, but for many patients these agents do not adequately control the disease and may lead to adverse events.
The first anti-TNF-alpha agent approved for the treatment of UC was infliximab, which has been shown in randomised controlled trials (RCTs) to be safe and effective for UC and to significantly reduce colectomy risk at one year. However other studies have shown that infliximab is associated with secondary loss of response to treatment due to the development of antibodies directed against the drug. Coupled with an estimated 30 per cent of patients who experience primary loss of response and those who have to discontinue due to adverse events, there is clearly an unmet need for alternative biological therapies.
Adalimumab, another TNF-alpha inhibitor, is a fully human monoclonal antibody that is approved in Europe, North America and other countries for the treatment of moderate to severely active UC in adults who have had an inadequate response to conventional therapy, including corticosteroids and/or thiopurines, or who are intolerant to, or at risk of, medical contraindications to these therapies. RCTs have demonstrated that treatment with adalimumab results in higher rates of clinical remission and mucosal healing and improvement in HRQL than observed in patients who received placebo. Adalimumab is also associated with reduced risk of hospitalisation in patient with UC. However, there is limited data available regarding the effects of adalimumab on clinical outcomes, HRQL, treatment satisfaction, healthcare utilisation and healthcare cost in the usual clinical practice. InspirADA, was a multi-centre, prospective study, which evaluated the effect of adalimumab in patients with moderate to severe UC, treated according to usual clinical practice, and provided data on the effect of adalimumab on clinical outcomes, HRQL, treatment satisfaction, healthcare utilisation, and costs. ('Effect of Adalimumab on clinical outcomes and health-related quality-of-life among patients with ulcerative colitis in a clinical practice setting: Results from InspirADA', Journal of Crohn's and Colitis, 17 July 2017, https://doi.org/10.1093/ecco-jcc/jjx093)
Materials and methods
This was a phase 3b, prospective, multicentre, multinational, open-label, 26-week study to evaluate clinical outcomes, HRQL, treatment satisfaction, healthcare utilisation and healthcare cost among UC patients treated with adalimumab. The ranked primary effectiveness endpoints of the InspirADA study were: (1) change from baseline in the Short Inflammatory Bowel Disease Questionnaire (SIBDQ) at week 26; and (2) change (six months after initiating adalimumab vs six months before initiating adalimumab) in the cost of UC-related medical care excluding adalimumab costs. Secondary outcomes included assessment of the Simple Clinical Colitis Activity Index (SCCAI) response and remission, change in HRQL measures, change in healthcare use and change in healthcare costs.
Patients with UC were enrolled at 92 sites, a total of 463 study participants, including four from Ireland. Patients ranging from 18 to 75 years old with moderate to severely active UC (defined as a Physician's Global Assessment [PGA] ≥2) and SIBDQ ≤ 45 at baseline, who had experienced rectal bleeding within seven days of baseline, were enrolled in the study, which was conducted between May 2012 and April 2015.
Of the 463 study participants, 72 (16 per cent) received a TNF-antagonist before enrolment in the study. A total of 66 (14 per cent) patients discontinued adalimumab at week eight because of lack of efficacy as defined by the protocol; 397 (86 per cent) continued into the maintenance phase. Of the 461 patients who comprised the intent-to-treat population, 129 (28 per cent) patients moved to adalimumab weekly. The average age of the study population was 41.8 years. Among patients who did not use immunosuppressant drugs at baseline (n= 278), only 14 (5 per cent) added immunosuppressants during the follow-up. Of those who were free from corticosteroids at baseline (n= 201), 47 (23 per cent) initiated corticosteroid during the follow-up.
SCCAI response and remission
Improvement in clinical outcomes as assessed by SCCAI were as early as week two. At week eight, most patients had a clinical response and almost half achieved SCCAI remission (rates (95 per cent); 79 per cent (75 per cent, 82 per cent) for response; 49 per cent (44 per cent, 54 per cent) for remission). Clinical response and SCCAI remission were sustained at week 26 (67 per cent (62 per cent, 71 per cent) response; 48 per cent (44 per cent, 53 per cent) remission).
Extraintestinal manifestations
At baseline, 88 (19 per cent) patients reported an extraintestinal manifestation (EIM). The most common reported EIM was arthritis (84/88 patients), which included arthralgia. The overall percentage of patients with any EIM decreased significantly from baseline over time: 13 per cent, 12 per cent, and 11 per cent at weeks two, eight and 26, respectively. Among those with any EIM at baseline, resolution of EIMs increased over time – 40 per cent, 52 per cent and 64 per cent at weeks two, eight, and 26, respectively.
HRQL and work productivity
HRQL is an important treatment consideration for chronic disease and this is particularly true for UC, which has been shown to have a negative impact on health-related quality-of-life. Significant and clinically meaningful changes in quality-of-life were demonstrated in this study with treatment. A statically significant improvement in SIBDQ total score was seen as early as week two after initiating adalimumab therapy and was maintained through week 26; 55 per cent (253/457), 68 per cent (310/459) and 69 per cent (316/460) of patients exceeded minimal clinically important difference (MCID) for SIBQD at weeks two, eight and 26, respectively. This study also showed improvement in work productivity, with significant improvement in the ability to perform daily activity with adalimumab therapy. Significant reductions (all p< 0.001) were seen from baseline to week 26 in absenteeism (an absolute decrease of 11 per cent), impairment while working (absolute decrease of 25 per cent) and overall work impairment (an absolute decrease of 29 per cent).
Health-related resource use and costs
Biologics therapy comes at a cost, and there is a need to determine the cost effectiveness of such therapies. In this study a significant decrease in healthcare resource use was observed six months after initiating adalimumab compared with six months before the onset of adalimumab therapy. Reduction in resource use (mean +- SD) included a decrease of 4.6 +- 6.3 UC-related outpatient visits/procedures, a decrease of 0.3 +- 0.8 hospitalisations for any reason, as well as a decrease of 3.3 +- 10 days hospitalisations for any reason. All-cause medical costs were significantly reduced and all-cause pharmacy and direct costs were significantly reduced.
Discussion
The InspirADA study, which was a prospective, multicentre, multinational, open-label study, showed following initiation of adalimumab in patients with moderate to severely active UC, significant improvement in clinical symptoms as early as week two and by week 26 most patients had responded, with nearly half achieving SCCAI remission. Significant and clinically meaningful changes in HRQL were also observed as early as week two and were maintained through week 26. Also, the reduced time missed from work and impairment while working, as well as improvement in ability to perform daily activities, were also observed as a result of treatment with adalimumab. Not only was rapid and sustained effectiveness of adalimumab seen for all parameters, but all-cause medical costs were halved and UC-related medical costs were reduced by three-quarters. Although the UC-related direct and indirect medical costs reported in this study do not offset the estimated costs of adalimumab therapy, the benefits to the patient are substantial, with nearly half of the patients in remission and almost 70 per cent achieving a response by six months.
Consistent with data obtained in RCTs, data from InspirADA demonstrated that adalimumab is an effective treatment for UC patients. However, higher rates of clinical response and remission reported in the InspirADA study compared with ULTRA trials might well be explained by the fact that patients in the InspirADA study could continue treatment in the face of temporary flare, as opposed to RCTs where failure rules are strictly enforced, concomitant medications are generally inhibited and patients whose doses escalate are considered non-responders.
The strength of this study is that the data was obtained in the context of the clinical practice setting, which may provide results that are more generalised to a broader patient population than data obtained in a more restrictive, controlled clinical trial setting. Limitations from this study include the open-label, single treatment arm design; the short-term (26 weeks) nature of the study; absence of endoscopy and pharmacokinetics data; and the retrospective collection of data about previous medications.
Due to the lack of many head-to-head comparison studies, comparative effectiveness and safety of different TNF-alpha inhibitors, such as infliximab and adalimumab, are not known.