You are reading 1 of 2 free-access articles allowed for 30 days
Response to neoadjuvant chemotherapy in triple-negative breast cancer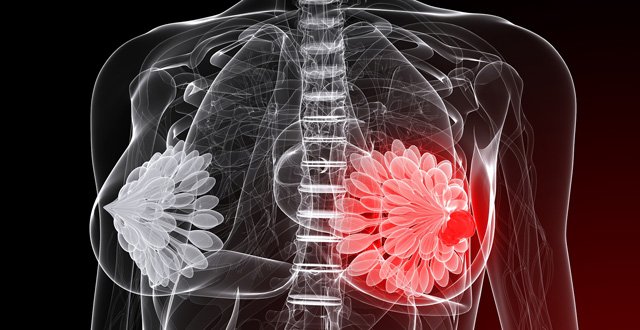 These subtypes have been characterised by differential gene expression patterns in microarray studies (Sorlie et al, PNAS, 2001). Hormone receptors and HER2 status are both prognostic and predictive biomarkers, offering information on disease biology and natural history, as well as allowing effective selection of targeted therapies.
Triple-negative breast cancer (TNBC) is characterised by lack of expression of oestrogen receptor and progesterone receptor and does not overexpress HER2.
Population-based studies showed that 10.3 per cent of breast cancers are classified as TNBC (Howlader et al, JNCI 2014). Patients with TNBC are more likely to be young at diagnosis, have high-grade disease and despite being chemosensitive, have increased tendency for distant metastases.
Its natural history differs considerably from the more common hormone-sensitive breast cancer. TNBC tends to have a higher risk for early relapse, with an early peak at one-to-four years after diagnosis, with the risk of recurrence declining thereafter (Dent et al, CCR 2007).
Recent studies have shown that TNBC is a highly-diverse group of cancers. In a study of 587 TNBC cases, six subtypes were identified from cluster analyses of gene expression data. Nevertheless, of greater clinical relevance was the observation that the majority of TNBCs are of the basal-like subtype. BRCA1 mutation is one of the most common inherited breast cancer genes and the majority of BRCA1-related cancers were triple-negative and expressed basaloid genetic features. Basal-like TNBCs express a unique cluster of genes, which include basal cytokeratins and epidermal growth factor receptor.
They are often P53-mutant and have evidence of genomic instability. Cells with BRCA1 mutation are deficient in the DNA repair mechanism and therefore demonstrate increased sensitivity to platinum agents.
Neoadjuvant chemotherapy in TNBC
The role of NACT in breast cancer has evolved significantly over the years. It was reserved initially for locally-advanced disease, to reduce primary tumour size and facilitate breast conservation surgery. Patients with breast cancer who experience a pathologic, complete response (PCR, defined as non-invasive or in situ disease in breast or axillary nodes) with NACT have significant improvements in both disease-free survival (HR 0.48, 95 per cent CI: 0.37-0.63) and overall survival (HR 0.48, 95 per cent CI: 0.33-0.69) compared to patients with residual, invasive disease.
In patients with TNBC who experience PCR, the prognosis is excellent, with less than 10 per cent developing a distant recurrence at five years, and equivalent to that for patients with other breast cancer subtypes who experience a PCR. However, those patients with TNBC who do not experience a PCR with the same chemotherapy have a much poorer prognosis – an observation that has sometimes been referred to as the 'triple-negative paradox'.
In a German study with more than 6,000 patients treated in a series of seven prospectively-conducted clinical trials of NACT, TNBC showed one of the highest rates of pathologic complete response rates of 31 per cent, compared to hormone-sensitive breast cancers of 6-to-22 per cent (von Minckwitz et al, JCO 2012).
Dose-dense vs standard chemotherapy regimens
Although there is no standard NACT regimen for TNBC, anthracyclines and taxanes, given either concurrently or sequentially, are the most commonly-used regimens in TNBC and result in a PCR rate of 30-to-40 per cent. These include dose-dense doxorubicin at 60mg/m2, cyclophosphamide at 600mg/m2 or epirubicin at 90mg/m2 every two weeks, in combination with paclitaxel, either weekly at 80mg/m2 for 12 weeks or twice-weekly at 175mg/m2 for four cycles. Weekly paclitaxel has demonstrated better efficacy and low toxicity in comparison to the three-weekly regimen. Docetaxel, on the other hand, is more effective and better tolerated when used every three weeks (docetaxel, doxorubicin and cyclophosphamide).
Platinum agents
The role of platinum agents in the management in TNBC is of particular interest. Sporadic triple-negative breast cancers share as many morphologic and molecular features as BRCA1-related breast cancers, the latter of which have been shown in clinical and pre-clinical studies to harbour increased susceptibility to cross-linking agents, including platinum-based cytotoxic agents. In an initial study investigating cisplatin in 23 patients with TNBC, 64 per cent of patients had complete or partial clinical response, 50 per cent showed good pathologic response, and 22 per cent showed pathologic complete response (Silver et al, JCO 2010).
To date, at least three randomised studies have demonstrated the activity of the addition of carboplatin to neoadjuvant chemotherapy regimens for TNBC. The choice of carboplatin over cisplatin might have been driven by a more tolerable toxicity profile.
GeparSixto, a large, randomised, phase II study, recruited a total of 296 patients to receive paclitaxel and non-pegylated liposomal doxorubicin, with or without carboplatin. Of note, 158 patients in this study had stage II to III TNBC and all received concomitant bevacizumab, while the remaining patients had HER2+ disease and received concomitant trastuzumab. For the intention-to-treat population, an increase in pathologic complete response rate was observed (43.7 per cent vs 36.9 per cent), although this did not reach statistical significance (p=0.107). However, when examined by disease subgroup, a significant increase in rate of pathologic complete response was observed (53.2 per cent vs 36.9 per cent, p=0.005) in the TNBC cohort (von Minckwitz et al, Lancet Oncol 2014).
In the I-SPY2 trial, which utilised an adaptive, randomised design with high-risk breast cancer, patients were randomised to standard neoadjuvant chemotherapy +/– carboplatin and veliparib, the latter being a PARP inhibitor. Amongst the 71 patients randomised to the experimental arm, 38 patients had TNBC. The estimated pathologic complete response rate was 52 per cent, compared to 26 per cent in the control arm (Rugo et al, SABCS 2013, Abstr S5-02).
In the pre-operative setting, the CALGB 40603 trial examined the addition of carboplatin to dose-dense paclitaxel, doxorubicin and cyclophosphamide in 443 patients with stage II or III TNBC, as one of the primary aims. The study showed that the addition of carboplatin increased the rate of pathologic complete response from 44 per cent to 60 per cent (p=0.0018) (Sikov et al, JCO 2015).
So far, these studies have consistently demonstrated a significant increase in pathologic response rate, although recurrence-free and overall survival benefits have not yet been observed, largely due to short follow-up and lack of statistical power.
The addition of carboplatin, however, also increased toxicities and might reduce the likelihood of completing a scheduled course of chemotherapy.
Anti-angiogenic agents
Bevacizumab is an anti-angiogenic monoclonal antibody against vascular endothelial growth factor. In the metastatic setting, three studies have demonstrated improved response rate and progression-free survival but no improvement in overall survival. It was postulated that administration of an anti-angiogenic agent at an earlier stage of disease might be of greater benefit due to the upregulation of parallel and alternative pathways in advanced disease, as demonstrated in three large, randomised studies.
GeparQuinto was a large phase III study examining neoadjuvant chemotherapy, with or without bevacizumab or everolimus, for HER2-negative LABC. All patients received four cycles of epirubicin plus cyclophosphamide, followed by docetaxel with or without bevacizumab. Non-responders after four cycles of epirubicin plus cyclophosphamide were randomised to paclitaxel, with or without everolimus. Nearly 2,000 patients were recruited into the study and 34 per cent of the patients had TNBC. Pathologic complete response rate was increased for the entire study cohort (18.4 per cent vs 14.9 per cent, p=0.04) although the effect was largely driven by an observed increase in pathologic complete response in TNBC (39.3 per cent vs 27.9 per cent, p=0.003) (von Minckwitz et al, NEJM 2012).
In CALGB 40603, the addition of bevacizumab increased the pathologic complete response rate significantly (59 per cent vs 48 per cent, p=0.0089). As the CALGB 40603 was a 2×2 multifactorial study, a quarter of patients received both carboplatin and bevacizumab and these patients experienced the highest rate of pathologic complete response rate in recent large, randomised studies (67 per cent).
NSABP B-40, another phase III study of 1,200 HER2-negative breast cancer patients, examined the addition of bevacizumab and anti-metabolites (capecitabine or gemcitabine) to docetaxel followed by doxorubicin and cyclophosphamide (Bear et al, NEJM 2012).
Approximately 40 per cent of the patients had TNBC. For the entire study cohort, the addition of bevacizumab improved pathologic complete response rate (34.5 per cent vs 28.2 per cent, p=0.02). Contrary to the GeparQuinto and CALGB trials, the effect was less pronounced in the triple-negative cohort (51.5 per cent vs 47.1 per cent, p=0.34) compared to patients with hormone-sensitive disease (23.2 per cent vs 15.1 per cent, p=0.007).
Other agents of interest
PARP inhibitors, epothilones and EGFR inhibitors are some of the novel agents being investigated in the management of TNBC. Inhibition of PARP enzyme (poly-ADP ribose polymerase) compromises DNA repair, making PARP inhibition an attractive target for TNBCs that are BRCA-deficient. The SOLTI NeoPARP study failed to show improved PCR by adding iniparib to neoadjuvant weekly paclitaxel (Llombart A, J Clin Oncol 2012; 30).
Epothilones are microtubule-targeting agents which interfere with tubulin and prevent cell division. Ixabepilone has shown improved PCR in ER-negative tumours in comparison to ER-positive tumours in NAT. Ixabepilone is being evaluated in NAT in TNBC in combination with EGFR monoclonal antibody cetuximab (NCT01097642).
Conclusion
TNBC is an aggressive histological subtype with limited treatment options and poor prognosis following progression after a standard chemotherapeutic regimen. Neoadjuvant chemotherapy has been favoured in this disease subtype, as pathologic complete response confers a survival advantage. The addition of carboplatin to standard chemotherapy has improved outcomes, as discussed above, and is likely to redefine the standard of care for TNBC amenable to curative surgery. Improved treatment of TNBC may be facilitated by biomarker-led understanding of molecular targets and incorporation of new agents and targeted therapy into current regimens.
Case report
A 40-year-old lady presented to her general practitioner complaining of a left-sided breast lump. The patient had no significant medical comorbidities and was not on any regular medications. She denied any focal or constitutional symptoms. Reviews were unremarkable. Physical examination revealed a upper-outer quadrant mass measuring 11x10cm, with clinically-palpable axillary lymphadenopathy.
The patient was referred to symptomatic breast clinic. Core biopsy of the breast mass and fine-needle aspirate of the axillary node confirmed a diagnosis of invasive ductal carcinoma, grade 3, oestrogen receptor-negative, progesterone receptor-negative and HER2 was 1+ on immunohistochemistry, in keeping with the diagnosis of locally-advanced, triple-negative breast cancer (TNBC).
Neoadjuvant chemotherapy comprising dose-dense doxorubicin and cyclophosphamide for four cycles every two weeks, followed by 12 cycles of weekly paclitaxel with pegfilgrastim support, was commenced. The patient tolerated chemotherapy with minimal toxicity. There were no treatment interruptions or dose reductions. She had excellent clinical and radiological response. She underwent breast conservation surgery with sentinel node biopsy. Final histology confirmed pathologic complete response, with no histologic evidence of invasive cancer or DCIS in the breast tissue or axillary lymph nodes. The patient remains well and free of recurrence to date, with three-and-a-half years of clinical follow-up.