You are reading 1 of 2 free-access articles allowed for 30 days
Rattling the cages on drug use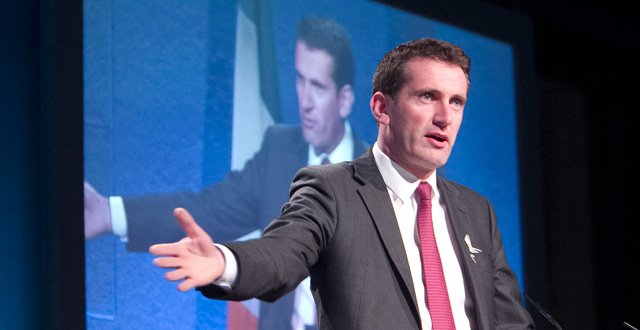 "Having a dedicated Minister of State looking after a drugs strategy gives the issue a higher profile, and I will try to rattle some cages and start having some conversations."
Ministers normally stick relatively tightly to policy positions agreed at the top of Government. However when the Medical Independent (MI) spoke to the Minister of State for Drugs Strategy Aodhán Ó Ríordáin at his Marino constituency office, we found a Minister who was 'thinking out loud' about drugs policy — its failures, successes, hypocrisies and future.
Many of those involved in addiction services welcomed his appointment in April to the Drugs Strategy portfolio. His new responsibility is in addition to his existing workload in 'Equality, New Communities and Culture'. The two primary items on his agenda are the Misuse of Drugs Act, expected to be finalised later this year, and the creation of a new national drugs strategy.
"I see my role as highlighting the issue more, connecting the pieces and listening to everyone who wants to talk to me," he tells MI.
"I know my time is short. The drugs problem is constantly changing; our strategy needs to adapt to that. The situation in 2009 was very different to the situation now."
The fact that the Minister feels able to publicly discuss some potentially radical changes to Irish drug policy may be down to a number of global and local developments.
On an international level, we are witnessing an unprecedented debate and experimentation within the addiction and drug policy area. In the US, a number of states have decriminalised cannabis. Outside America, more than 25 countries have introduced decriminalisation models, including European countries such as Portugal. Increasingly, policy-makers are looking at drug addiction as principally a health, rather than law and order, challenge.
On a local level, the National Drug Strategy 2009-2016 expires next year, and Minister Ó Ríordáin will lead the development of a new policy over the next 12 months. Also, if opinion polls are to be believed, the length of time that any Labour Party Minister will remain in their post may not be very long. With a background in teaching and political representation on Dublin's north inner city, all these factors may have fed into the candour that he expresses when he addresses drugs policy.
"I am interested in the whole area of decriminalisation and discussing the drug issue in a completely different way and do perhaps what they did in Portugal," the Minister tells MI.
"Now, that would necessitate doing more than just a legislative change; it would require a whole lot of different things. It does not mean there are not sanctions — there are just different types of sanctions.
"We don't say that someone who parks illegally is a criminal; you just say 'stop parking illegally, please'. I don't think someone who is shooting-up heroin should be viewed fundamentally as a criminal; that person is someone who has a [medical] need and needs to be treated with respect.
"Also, if you're a parent and you think your child has a drug problem, are you readily going to engage with services that may be available if you think your child is going to be caught and criminal sanctions are going to be used against them?"
The Minister views the core principle of any new policy as being focused on harm reduction. Only a few weeks into his new position, he has already identified a couple of "dangerous gaps" in the current services.
"My analysis of it is that when someone comes to a moment in their life when they can't take their addiction anymore, from that moment to the moment that drug treatment begins, there seems to be a gap, because they have to sort themselves out before they can get into mainstream drug treatment," he notes.
"That is a dangerous gap and some people don't make it through.
"And the other gap is in the aftercare area. This may be when people are coming down off their methadone and trying to get readjusted to their life, but of course their life might have been the problem in the first place."
The Minister voices a number of concerns with the current methadone treatment system.
While agreeing that some experts point to the benefits that methadone treatment can bring to the lives of drug addicts and society in general, he obviously does not see this as the ultimate solution.
"Too many people on methadone programmes have been effectively put into cold storage for years on end," says the Minister.
"Someone in an after-care situation said to me that he knows of a doctor who said to him that no child of a GP would ever be put on a methadone programme.
"I don't know if that is true or not. I know that methadone in and of itself is not a solution… What we did I believe, with people on methadone, is put people on it without necessarily having the care package to go along with it."
Perspective
The Minister acknowledges the unique role and perspective that GPs and other doctors have in the area of drug addiction.
"I am willing to listen to what GPs have to say and to see where they are coming from. I haven't met any yet," he says.
"I am quite anxious to listen to anybody who has an opinion on how best to approach this issue."
A number of addiction experts, including Dublin GP Dr Cathal Ó Suilleabháin, have recently raised concern about the lack of adequate and accessible methadone maintenance programmes in some parts of the country.
'I am willing to listen to what GPs have to say… I am quite anxious to listen to anybody who has an opinion on how best to approach this'
The Minister agrees that services have been affected by budget cuts in recent years.
"Naturally, of course if you want to tackle the issue, you want to have funding. Funding is part of the issue but it is not necessarily all the issue; sometimes a change of mindset, direction and attitudes [is important].
"Everything has been hit, but it's not so simple anymore. There is this polydrug use problem, there is a generational issue as well, people of an older vintage are presenting with drug problems.
"The challenge I have is to keep policy up to date with an ever-changing problem. There were people who would have advocated for the legalisation of cannabis 10 years ago who would not do so now because the nature of the cannabis available has changed — [it is now] much more potent and dangerous."
Looking back over the decades, does the Minister believe Irish drug policies have been a success or failure?
"It's very difficult to use words like success and failure. Certainly there have been successes.
"We can do our very best to try to keep the supply of drugs under control, it's very difficult and some might say practically impossible, because the demand will always be there."
Controversial
The Minister adds that he does not believe wider Irish society acknowledges the link "between the line of coke or the spliff at the weekend" and the drug-related murders on the streets.
The Minister is in favour of the introduction of medically supervised injection rooms. He told MI that he would be making the "argument internally in the Government" in favour of these rooms during the development of the new Misuse of Drugs Act in the coming months.
He notes that there need to be some legal changes made to allow such rooms and he is aware of voices against the measures.
"The logical jump from needle exchange is to allow people some dignity and compassion and medical supervision when they are injecting. It is a controversial thing to say, but I don't think what we are doing makes any sense.
"Does it not make sense, imperfect as it may be, to allow just that small cohort of people who are outside mainstream drug programmes? Because their lives are so dysfunctional or unregulated, this is what they do," the Minister contends.
"This is how they feel normal, that they can do it in a caring and compassionate and medically-supervised environment as a first step to maybe a treatment plan — I don't think that is a big ask. I don't think it's much of a leap from giving someone a clean needle to giving them clean heroin.
"My belief is they [injection rooms] are successful. Obviously, there are issues like what happens if someone brings in their own heroin or what happens if someone overdoses and dies in the centre? Who is responsible for that?
"It is something worth pursuing but it is a sad reflection of our society that this is a measure that we have to think of introducing."
Battleground
Given these significant changes may now form part of the new drugs strategy, is the Irish government still involved in a 'war on drugs'? Or is there a ceasefire in the hostilities?
"What are you battling against?" asks the Minister.
"You are battling against those who made an awful lot of money off the drug use of those whose lives have been destroyed by it. Have we started a war on alcohol? War on gambling? We have to fight that battle against high-ranking drug lords. But if we are going to fight a war, we have to know who we are fighting for and who we are fighting against. But the problem of this issue is that some of those who are victims are also perpetrating it at the lowest level — those who have heroin addiction, who are involved in petty crime in order to feed their addiction.
"I am not sure that sort of phraseology is helpful — it's like we are all in this war together against some faceless enemy, but it is not as simple as that," continues the Minister.
"In my cosseted, middle-class upbringing, I never came across any illicit substances until I went to UCD — is that where we are going to start a war on drugs? On every campus in the country?
"That is where many people have their first introduction to it. Or maybe that is too tough a question — we prefer the idea of people kicking in doors in working-class areas."
It may be cheeky to mention, but there are 28 words in the Minister's full working title — Minister of State at the Department of Justice and Equality and Arts, Heritage and the Gaeltacht with special responsibility for Equality, New Communities and Culture and Drugs Strategy. Quite a mouthful.
What would he say to a person who would claim the Government has just tagged the 'drugs strategy' part of his title on to cover themselves from criticism just months before an election?
"That person would just have to assess the work I'm doing," he retorts.
"If you list all the responsibilities of any other Minister of State, they would probably be quite long as well."
But the Minister sees plenty of overlap with other aspects of his brief — 'Equality, New Communities and Culture'.
"These are not separate discussions between people; a lot of these things overlap. Effectively, what I have is equality," he explains.
"A lot of these things in my mind overlap. If you believe in equality, you believe in equality for those who have drug addiction."
Still on a high from the strong 'Yes' vote in the recent Marriage Equality Referendum, the Minister feels that historic occasion has changed much in Ireland.
"Following the referendum, there is a new dispensation for what kind of country we want to live in," he says.
"There is a feeling of energy and electricity around the country that I have not felt in a long time that maybe people on the edge of society can get their issues on the table."
A chance to talk — the IMO and the Minister
Last month at the union's launch of its new IMO Position Paper on Addiction and Dependency, the Medical Independent (MI) asked IMO President Ray Walley did he have a direct message for the recently-appointed Minister for Drugs Strategy?
"It is welcome that he was appointed. [His role] is advocating on behalf of this voiceless group of people. Obviously, he does not have a very long length of time, but I would hope he knows we need resourcing, we need replacement of the monies that were taken out, we need new money coming in, " Dr Walley said.

Minister Aodhán Ó Ríordáin
"His job is to advocate on behalf of the voiceless rather than on behalf of the Government because this group of people haven't had [a spokesperson]. I point out we have a Minister for the Diaspora, but I'm afraid we haven't had a minister for this group of people for some time. So yes, he has an uphill battle but he certainly has a greenfield site to work with. There is no point appointing him there unless he comes with a budget because we all have a wish list, but we need a budget to go with it. But certainly we will look for engagement with him on the basis of the document we have provided."
'I point out we have a Minister for the Diaspora but I'm afraid we haven't had a minister for this group of people for some time. So yes, he has an uphill battle but he certainly has a greenfield site to work with'
During his interview with MI, we asked Minister Ó Ríordáin to reply directly to Dr Walley's comments.
"I agree with Ray on that one. You have 10,000 people on methadone programmes, you have their families around them whose lives are affected by it — their loved ones and communities. But they tend to be politically powerless and people tend to have nicknames for them. They are almost viewed as some sort of sub-species that need to be moved on. I don't think society has much expectation for those in drug treatment programmes. So yes, I want to be an advocate for them and see life from where they're coming from, so I can bring some practical changes.
"That is why I focus on bringing the drug issue from [the Department of] Justice and treating it as a medical issue. I think someone who has an addiction problem is not a criminal, they are someone with a medical need or problem or condition."

Dr Ray Walley, IMO President
What do you think of the Minister's comments on drugs policy in Ireland? What do you think should be in the new drugs strategy?
Have your say on www.mindo.ie,
Twitter @med_indonews or write a letter to the Editor at priscilla@mindo.ie.