You are reading 1 of 2 free-access articles allowed for 30 days
Rare diseases – assessing the current Irish context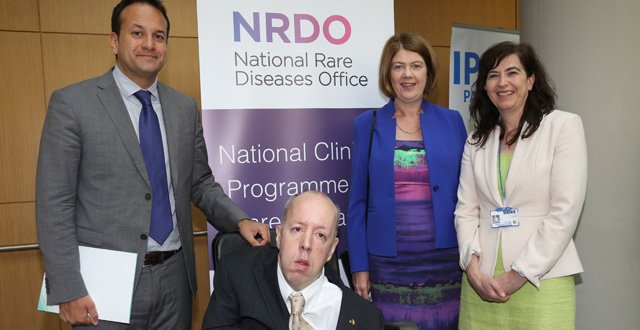 A rare disease is defined in Europe as a disease that affects less than five in 10,000 individuals. However, collectively, rare diseases affect an estimated 6 per cent of the population, with approximately 260,000 people at a minimum affected in Ireland over their life span. There are at least 6,000 rare disorders currently identified, however only 350 conditions account for 85 per cent of the number of people suffering from rare diseases.
These diseases are also significant as a cause of sensory, physical and intellectual disabilities for patients, as well as a contributor to the general population health burden of chronic disease. The burden of disease for affected patients varies greatly, which can prove to be challenging when formulating policy that effectively addresses the needs of this patient group as a whole. For rare diseases that affect a very small number of patients, the development of expertise specific to each condition in every European country is not feasible. This is even more pronounced in lightly-populated countries such as Ireland, in comparison to our larger neighbours, such as Germany and France.
In recognition of the challenges relating to the diagnosis and management of those affected with rare diseases, the European Council made several recommendations to its member states in 2009. These recommendations outlined progression that needed to be fostered within the field of rare diseases, including the development of a rare disease plan at national level in each member state by the end of 2013.
It also recommended for concerted action to be taken in specific areas, including:
Structuring adequate codification and classification of rare diseases;
Enhancing research in the field of rare diseases;
Supporting the pooling of expertise at European level;
Identifying centres of expertise;
Fostering participation in European Reference Networks; and
Sharing assessments on the clinical added value of orphan drugs.
Patients with rare diseases, however diverse their diseases may be, still share common challenges with regard to accessing healthcare. These include gaining access to specialist care, difficulty in attaining supports to alleviate the burden of disease they face and accessing the most up-to-date and informed research and care pathways.
In response to the proposals put forth by the European Council, Ireland's first National Rare Disease Plan (2014-2018) was launched in July 2014 by the then Minister for Health Dr James Reilly. This Plan outlines a vision for Ireland, which aims that "the needs and experiences of people with rare disease are recognised, understood and addressed within all aspects of the Irish health system, including policy, services and research/information systems" (Department of Health, 2014).
National Rare Diseases Office
The establishment of a National Rare Diseases Office is one of the key recommendations of the National Rare Diseases Plan in Ireland. The National Rare Diseases Office, currently situated at the Mater Hospital, Dublin, was officially launched on 4 June, 2015, by Minister for Health Leo Varadkar. The function of this Office is to act as a centre of information for both professionals and patients throughout Ireland. The office will focus on collecting information regarding services and projects related to rare diseases that exist in Ireland. Although in its first stage of development at this time, by the end of 2015 the office staff will include a genetic counsellor, an information scientist and administrative support. It is planned to have a helpline in place by Autumn 2015, which can accessed by patients and professionals seeking relevant and recent information regarding rare diseases. Currently, the office can be contacted by email at rare.disease@mater.ie and orphanet.ireland@mater.ie and by phone at (01) 809 7475. In time, the National Rare Diseases Office is planned to move to the National Children's Hospital, upon its completion.
The Mater Hospital also hosts a Rare Diseases Information Booth, located near the Eccles Street entrance. This holds patient information leaflets regarding specific rare diseases, as well as a dedicated computer terminal with further information contained in national and international rare diseases links.
An important central function of the National Rare Diseases Office is hosting Orphanet Ireland. Orphanet is an international information portal for rare disease activity that holds information on approximately 6,000 rare diseases and their variants. Thirty-nine countries participate in rare diseases data collection, with over 41,000 daily site hits to www.orpha.net from over 200 countries. Two-thirds of these hits come from healthcare professionals and one-third come from patients and their families (Rath et al, 2014).
Disease summaries are written by experts from around the globe, with further links to more detailed information. Data collected by Orphanet includes information on clinical expert centres, medical laboratories, patient organisations, research projects, registries, clinical trials and biobanks, as well as reports on rare disease prevalence and orphan drugs. Orphanet's international data promotes contact between patients and professionals and interaction among professionals themselves, which has particular importance for ultra-rare conditions where sufficient numbers are lacking in each country to develop widespread national expertise.

Prof Eileen Treacy addresses the audience
Orphanet Ireland is funded by the EC 3rd Joint Action on Rare Diseases and the HSE. Its short-term goal is to ensure the accuracy of the existing Irish data, then to create a comprehensive rare disease resource database within the next two years. Data on all rare disease activity can be self-declared by clinicians, researchers and patient organisations but is verified and validated by Orphanet Ireland to ensure it meets quality and inclusion criteria. Data will also be collected from departmental and professional websites, regulatory and funding bodies, as well as direct contact with professionals.
Orphanet Ireland will serve as the unifying platform for rare disease activity for designation of centres of expertise, which is ongoing, and of laboratories and researchers participating in European reference networks (ERNs), from 2016. Article 12 of Directive 2011/24/EU, on the application of patients' rights in cross-border healthcare, provides that the European Commission is to support the member states in the development of ERNs between healthcare providers and centres of expertise in the member states, in particular in the area of rare diseases. The European reference network allows these patients to benefit from the most advanced patient healthcare, as there is a pooling of knowledge, care pathways and research between all states (Plate and Tilburgs, 2014). The networks should improve access to diagnosis, treatment and the provision of high-quality healthcare.
A number of European groups are now planning new reference networks in thematic groups based on existing networks, such as cystic fibrosis, genodermatosis, rare arrhythmias and rare haematological disease. The first European call for development of ERNs will be at the end of December 2015, with implementation planned for 2016.
Care pathways
Emphasis has also been placed on the development of common care pathways for rare diseases between European countries. Care pathways have been shown to improve patient outcomes and are an important component of any health system (Cavlan et al, 2011). They provide a standardised protocol to ensure that all patients are receiving similar interventions and multidisciplinary team care that is required by their rare disease. The development of common care pathways is particularly important in rare diseases, where a standardised protocol regarding patient management may previously have been absent.
Patient registries have long been used as a reliable basis for research in and development of treatments and patient care. They provide long-term and sustainable sources of information regarding disease trajectories and outcomes (EURODIS 2013).
At present, there is a paucity of sustained and funded patient registries for rare diseases in Ireland compared to neighbouring countries. Subsequently, many Irish patients have enrolled in UK-based registries and further afield. Two challenges that face patient registries in Ireland are the lack of specific detailed rare disease coding (ICD coding currently captures about 10 per cent of rare disease activity), and deficient access to standardised, uniform, registry software. Silos of patient information have developed across institutions and, specifically with data protection issues and information sharing restrictions, these pockets of information are isolated and underutilised.
There is also an issue with the sustainability of certain registries put in place for a research project or clinical trial which, upon completion of projects, are not sustained. Ideally, in the long-term, a single national rare disease registry encompassing all rare disease in Ireland may be required, as recommended in the National Plan, but this would require an improved rare diseases coding system (such as the use of 'Orphacodes', pending implementation of the ICD11 coding systems).
The future for Ireland with regard to rare diseases is exciting and full of opportunity. While Ireland is a small country, we have begun to shown our potential as an example of how a nation can come together and deliver on a promise. This is only the beginning, however, of what will be a long journey and emphasis should be placed now on mobilising resources to bring Ireland to the standard of care that has been envisaged.
References on request