You are reading 1 of 2 free-access articles allowed for 30 days
Rallying call for NCHDs to support colleagues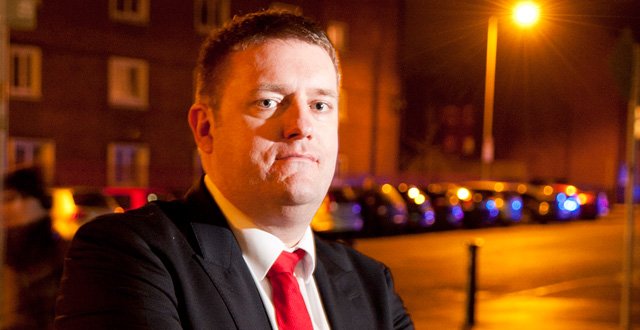 A Corkonian almost as famous as Gurranabraher's Dr Anthony O'Connor memorably once said: "Fail to prepare, prepare to fail."
But Dr O'Connor, keynote speaker at the National Intern Conference in UCC on 18 April, said he was suggesting a different approach: That of 'prepare to fail'.
The consultant gastroenterologist and Medical Independent columnist remarked: "When you are not afraid of failing anymore, you have won. You go for things when you are not afraid of failing. So, prepare to fail."
In his talk titled 'Ithaca and Beyond: The NCHD Odyssey', Dr O'Connor shared reflections on his experiences as an NCHD.
"The reason I chose [the title] is because life as an NCHD really is sort of like an odyssey, with everything that an odyssey brings with it — there is humour, there is tragedy, there is pathos and hubris," he told the gathering of mainly interns, SHOs and medical students.
Dr O'Connor said that today, a registrar may observe him managing a gastrointestinal bleed in the early hours of the morning and think they will never reach that standard. But there were occasions as a registrar when he tried and failed to deal with situations and had to get in the consultant.
"The only way you can really succeed is by failing over and over again, until you get it right," he said. "So don't be afraid of failing — actually prepare to fail and embrace failure… particularly when you are starting off on your career, when you are interns, SHOs, first-year registrars. I am not saying to go out and make loads of mistakes, I am just saying, back yourself a little bit and if you fail you fail, just be able to recognise it."
I thought, "hang on a minute, I didn't cause this economic crash"… I felt I wasn't going to take it lying down
A 2004 graduate of UCC, Dr O'Connor interned in the Bon Secours Cork and Kerry General Hospital. It was in the Bons, working under Dr Billy Stack, where his interest in gastroenterology began to form.
He subsequently worked as an SHO in Limerick from 2005 to 2007, which he regarded as another hugely formative time. "Without a shadow of a doubt, they were two of the best years of my life. I was on a one-in-four as a medical SHO, in one of the busiest hospitals in the country, and I absolutely loved it."
It was an enjoyable period, surrounded by solid physicians from whom he learned not only clinical skills, but values.
Dr O'Connor continued: "How does this tally with what I have said in the past, and have gone on record as saying about limiting shifts for junior doctors? I do think there is possibly some role for a limited period of long shifts — I think anything beyond 24 hours is ridiculous, cruel, unnecessary and unsafe. But I do think there is a certain benefit of seeing somebody at 10 o'clock in the morning, checking them at 6 o'clock in the afternoon and then seeing how they are at 3 o'clock in the morning."
Dr O'Connor strongly qualified these remarks by outlining that it was not sustainable practice.
At the end of his SHO years, after considering joining the Army Medical Corps, a position as a registrar in gastroenterology arose at Tallaght, after the first-chosen applicant took a role elsewhere.
There he worked with Prof Colm O'Morain, the eminent gastroenterologist, who was a key mentor in the development of Dr O'Connor's career.
Dr O'Connor said that, in reality, there was some pain in the process of becoming a senior doctor. But on this sometimes arduous journey, he had a simple but important piece of advice — do not give up your hobbies.
Currently based at St James's University Hospital in Leeds, Dr O'Connor said many of the consultants in England had hobbies, of which they were rightly protective. Doctors should guard their hobbies because "that is what makes you human and patients want a human doctor — they want someone they can relate to."
Dr O'Connor, who has a special interest in IBD, said one could better relate to patients by knowing about their hobbies and how their condition might affect their pastimes.
A core message from Dr O'Connor was the need for NCHDs to take ownership of issues that affected them — and participate in efforts to mould a better working environment.
"If you choose not to be the people who change things, you are signing your life away to people, who may be your inferior, to change things for you," he warned.
"Don't be a 'chicken hawk', sitting on the fence and then disappearing… sitting in the Res bitching and moaning about how everything is and disappearing at the first sign of trouble or a disapproving look from your consultant. Get involved and support yourself and your colleagues and make a good system for your patients."
Dr O'Connor began to get involved in medical politics during his time at Tallaght Hospital, when junior doctors' pay came under attack in the wake of the economic crash.
"The HSE were asked to shave €300 million off their budget and they decided they would take €155 million of that from junior doctors… I had been in my 20s, working my butt off, doing 56-hour shifts every third or fourth weekend, working 70-, 80-, 90-hour weeks. I thought, 'hang on a minute, I didn't cause this economic crash'… I felt I wasn't going to take it lying down. I set up an NCHD Committee within the hospital I was working in, and picked several fights with various people about various things. I got sort of drawn into the IMO structure and met a lot of very interesting people through that."
He recalled his role in ensuring a deal in the Labour Court, whereby NCHDs got due overtime paid. Some NCHDs took the time to personally thank Dr O'Connor, but he warned that not everyone would always acknowledge someone's best efforts.
Dr O'Connor also recalled the tragic events that led him to write his ground-breaking column 'Going forward, looking back' in the Medical Independent, published on 17 January, 2013.
It followed the deaths by suicide of two doctors with whom Dr O'Connor had worked.
In the column, Dr O'Connor referred to his own experience with depression. Working at St James's Hospital in Dublin during this experience, Dr O'Connor told the conference that NCHDs were under intolerable pressure and he recalled driving to work one day, unable to get out of the car.
In the column, Dr O'Connor underlined that in evaluating depression in young doctors, factors such as long hours, burnout, work and financial pressures could not be avoided.
The powerful piece, which Dr O'Connor said was born from unspeakable tragedy, ignited huge reaction from NCHDs and is considered a major turning point in the journey towards the NCHD strike later that year.
Subsequently, hundreds of NCHDs and medical students met at a Dublin hotel to discuss their working conditions and fears for patient safety, resolving to use whatever means necessary to achieve the required changes.
Dr O'Connor commented: "I know things haven't changed at the pace people would like, but I think things are changing and if I could leave you one bit of advice, and this is far and away the best piece of advice I have ever been given: Work hard, do the best you can, don't ever lose faith in yourself, and take no notice of what other people say about you. Well, not no notice, but choose very carefully."
Meanwhile, also speaking at the National Intern Conference was medical entrepreneur Dr Johnny Walker, the WHO's chief of foreign medical teams Dr Ian Norton, and GP Dr Diarmuid Quinlan, a clinical risk expert with the MPS, who spoke on medical error.
Talking money — the pay issues affecting NCHDs
A panel discussion on NCHD and intern issues at the National Intern Conference included contributions from conference founder Dr Alan Corbett, currently working as a Hospital Medical Officer in Melbourne; Ms Anne Pardy of the HSE's National Doctors Training and Planning (NDTP); Senator Colm Burke, Fine Gael's Seanad spokesperson on health; Dr Tony Lynch, NCHD Co-Lead at Cork University Hospital; and Mr Eric Young, Assistant Director of Industrial Relations, IMO.
Dr Lynch commented that while positive steps had been made over the past 12 months, the message he was receiving from NCHDs is that they were not earning enough and not getting enough training.
He also referred to bureaucratic and unworkable arrangements for sanctioning of overtime payments. Financial pressures were further exacerbated by the level of fees associated with Medical Council registration and IMO membership, he further remarked.
Mr Young of the IMO said the union recognised that NCHD pay was an issue. "Before EWTD was implemented, your pay was maybe 60 per cent basic pay and 40 per cent of overtime — that has now shifted because the amount of overtime has dropped. That will be addressed and the IMO has a very clear agenda of going in to renegotiate the pay for the NCHD contract."
Ms Pardy of the NDTP acknowledged that the move to restrict shifts to 24 hours had been "driven in at a very fast pace". She said the "quality behind that" is now being examined, including the impact on teaching.
She also said "a very strong message" had gone out from the HSE national HR Director that if an hour is authorised as having been worked, it must be paid.
Elsewhere, some interns at the conference spoke about "not always being treated as an equal member of the team". Dr Corbett encouraged interns to consider raising these issues with their SHOs and Registrars, as a first port of call.