You are reading 1 of 2 free-access articles allowed for 30 days
Putting neurology in the spotlight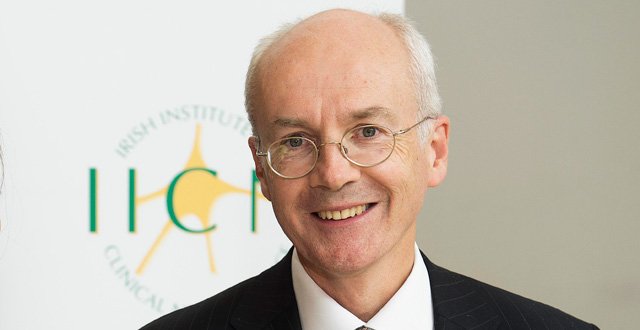 The 51st meeting of the INA took place at NUI Galway on May 28-29. It saw neuroscience clinicians and researchers from Ireland and abroad come together to share research ideas and improve the care of patients with neurological disorders.
INA President and Consultant Neurologist with Galway University Hospitals, Dr Timothy Counihan, said the venue was particularly fitting, as the university is home to the only stem cell manufacturing facility in Ireland and is also the location of a state-of-the-art clinical research facility.
The meeting was held under the auspices of the Irish Institute of Clinical Neuroscience (IICN), an all-Ireland charity and limited company that promotes research and education in clinical neuroscience in Ireland.
"It is the largest neuroscience meeting of its kind in Ireland that I am aware of," said Dr Counihan. "It covers not only the clinical end but also neuroscience and neurosurgical presentations. The meeting has always had a broad remit and we've always been anxious to include neurosurgery and neurology, and indeed neuropathology, as part of the meeting, as we don't think they should necessarily be segregated artificially."
The meeting featured oral presentations and case reports across a range of diverse topics, from multiple sclerosis to jellyfish-induced autonomic neuropathy; the latest treatment for trigeminal neuralgia; a population-based study of myasthenia gravis; clues on the cause of progressive spastic paraparesis; natalizumab prescribing for MS in Northern Ireland; predicting prognosis in patients with amyotrophic lateral scleroses; how to recognise Harlequin syndrome; and an audit of paediatric brain surgery, just to highlight a selection.
TIAs
Dr Counihan also drew attention to a poster presentation from researchers in the Mater Hospital, Dublin, which examined why patients who experience transient ischemic attacks (TIAs) have a higher risk of recurrent stroke than those who have had a prior full stroke. This study may have important public health educational implications, he pointed out.
"It should help to educate people on this. While there has been a lot of awareness about larger strokes — the symptoms and [the need] to act fast — when patients have a TIA they sometimes do not take much notice of it, despite it being a higher predictor of subsequent completed stroke than a previous completed stroke," he commented.
Access to inpatient care remains the elephant in the room and access to MRI is becoming increasingly difficult
Dr Counihan also expressed interest in an ongoing Irish study on familial Parkinson's disease, which was presented at the meeting by researchers from the Mater Hospital. About 10 per cent of these patients have a family history of Parkinson's. The Irish study has now expanded from the original 98 cases to encompass a further 124 familial cases. The culture of large families, the relatively small population and Ireland's island status increases the likelihood of identifying new causative gene mutations for the disease.
"[Parkinson's disease] patients often ask: what are the chances of my children or other family members getting this? And while there is some good data from other parts of the world in relation to the percentage of Parkinson's disease that is genetic or familial, we don't have much good, cohesive data from Ireland," Dr Counihan said. "Different countries will have slightly different genetic profiles… whether you have a genetic or non-genetic type of Parkinson's disease has implications in terms of prognosis and treatment."
Multiple sclerosis
The key theme of this year's meeting was MS, with two dedicated sessions on the disease. There was also an interesting oral presentation, selected from the submitted research abstracts, on the use of sensors in MS patient-monitoring that can detect very early changes in patient gait and mobility.
The keynote speaker was Prof Peter Calabresi, Professor of Neurology, Johns Hopkins Medical School, Baltimore, US, who delivered the Callaghan Guest Lecture. His presentation addressed mechanisms underlying disease progression in MS and strategies for tissue protection and repair.
"He is a world leader in MS research and therapeutics so we were very excited to get him," noted Dr Counihan. "We took advantage of his presence and a number of other MS experts around Ireland to hold a special panel session on MS issues around treatment, management and where we go from here.
"We now have 11 medications on the market for treating MS and it has become challenging for clinicians to decide which patients need treatments. Treatments are increasingly associated with the potential for side-effects, so there are issues with balancing risk with benefit. One of the tasks of the meeting was inviting the experts and audience to discuss treatment algorithms, treatment plans for patients. While it is exciting to have all the new treatments, we have learned to our cost, to patients' cost, over time that treatments can be dangerous. So we can't just fire them out without some sort of careful thought-processing, and they are also expensive," Dr Counihan said.
He added that disease-modifying treatments have been around for 20 years and are generally safe, but there have been some serious setbacks. For example, he pointed out that when natalizumab arrived 10 years ago it had a hugely positive impact on disease progression. However, shortly after its release, there were a number of very severe infections with progressive multifocal leukoencephalopathy (PML) and it was subsequently withdrawn, but then returned to the market after review.
"We have learned over time… to be able to tailor the treatment in a different way, and the same is going to be true for all these newer treatments — not exposing patients to unnecessary risks, but at the same time not withholding treatments that might be beneficial. So all of this we are learning month-by-month," Dr Counihan said.
While there have been significant improvements in the development of therapies for relapsing-remitting MS, there is still a dearth of successful treatment for, and lack of understanding of, the disease mechanisms of secondary progressive MS (SPMS) and primary progressive MS (PPMS), he acknowledged.
As a medical student, one would have seen MS patients devastated by the condition, he said.
"We still unfortunately see patients who have a very malignant disease course and who are devastated by their condition but most of my colleagues and I would agree that the proportion of patients with MS who end up with that horrible end-stage disease has dropped considerably," said Dr Counihan.
"Even as a reflection of the treatments available 10-to-15 years ago, which would be considered milder and more modest in their ability to influence disease progression, with the newer treatments one would be hopeful. And it is already becoming apparent that there would be fewer and fewer, and hopefully no patients, who would progress," Dr Counihan said.
Challenge
The decision to treat patients in the earlier stages of the disease, who are still ostensibly quite healthy, remains a key challenge. It requires an appraisal of whether to expose them to potentially toxic treatments in order to prevent what may or may not happen.
"If we do not treat and they progress, we have no treatment to reverse that," said Dr Counihan. "It really is about trying to stratify patients into those who look like they are going to be in trouble if they are not treated, versus those who might have a more benign disease course, even without treatment. That is the real 'trick' and we are still learning about that. But the availability of these treatments [biologics, etc] is very exciting and I think it has certainly changed the landscape."
There has also been some progress in identifying biomarkers in MS, and MRI scans are now an established part of disease monitoring. "In addition, there is increasing use of optical coherence tomography (OCT). It allows us to look at the optic nerve, which is very vulnerable in MS and you can see early damage," he added.
Dr Counihan maintained that Irish neurology services and staffing have improved significantly over the past two decades, and he expressed optimism about the HSE's forthcoming new strategy of care for neurology services.
It is now recognised that the successful delivery of neurology services, like other specialties, is greatly enhanced by a multidisciplinary teamwork approach, he noted. The first two advanced nurse practitioners in Ireland have been appointed in Galway, "and they have already made a big impact in delivery of neurology services in outpatients".
Dr Counihan remarked: "I think it will be recognised that we have more neurologists than we ever had before. Our numbers are getting closer to what would be considered a reasonable number of neurologists per unit of population in Europe. The waiting lists are still too long but they are getting better, and there have been improvements in outpatients.
"The difficulty that still prevails is access to inpatient care. In my own region, it is extremely difficult. The number of patients that need to be admitted for investigation and treatment for complex neurological disorders is unacceptably long. It is nowhere near the standard we should be aiming for. So access to inpatient care remains the elephant in the room and access to MRI is becoming increasingly difficult… "
Patients will need surveillance imaging on an annual basis, sometimes more frequently, he said. "On the basis of international guidelines, patients should be scanned at least every two years, even those who are apparently stable, so this has changed the landscape entirely. It is a big challenge."