You are reading 1 of 2 free-access articles allowed for 30 days
Practising with precision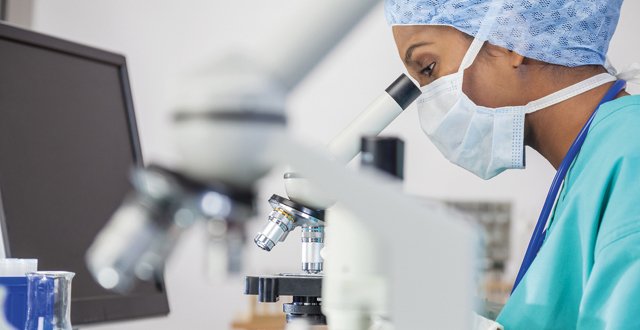 The inter-related family of precision medicine, personalised medicine and systems medicine is opening up new frontiers across the medical world by matching the right treatment to the right patient at the right time. Experts say it is triggering a revolution in the way doctors and patients think about medicine.
"Progress in genome sequencing and other modern technologies, where we can look at individual patients at molecular level, are driving this development that can treat diseases on a personal level and overcome limitations," Prof Walter Kolch, Director of Systems Biology Ireland and the Conway Institute of Biomolecular and Biomedical Research at University College Dublin, tells the Medical Independent (MI).
"Broadly speaking, systems medicine, personalised medicine and precision medicine are different names for the same thing. They are also used more or less synonymously. If one wants to differentiate, I would say personalised medicine is the aim, while systems medicine refers more to the method of how to achieve this aim.
"Systems medicine uses modern data analytics and computational methods to refine the diagnosis and make predictions about the risk, course and therapy of a disease. The aim is to arrive at a personalised way of diagnosing and treating a disease. Precision medicine shares these goals, but is less ambitious than personalised medicine.
"Precision medicine aims to improve diagnosis and therapy by selecting the right group of patients and once these groups become very small, then precision and personalised medicine will be one and the same. For now, precision medicine is the more realistic approach and it may well be that it will stay that way, as we simply do not have enough different drugs to treat everybody differently," Prof Kolch explained.

Prof Walter Kolch
Most medicines only help 20-to-40 per cent of all patients who receive them, Prof Kolch points out. "The response rate is fairly low and the biggest part of the reason is that each individual is different, so precision medicine is about trying to tailor medication not only to the disease, but to the individual patient. I believe it is going to trigger a revolution in the way we think about medicine and what patients expect of medicine and how healthcare systems deal with medical problems."
Prof Kolch, who has also worked in Germany, the United States and the UK, is from Austria and came to Ireland in 2009 to head-up Systems Biology Ireland (SBI). Before his appointment as SBI Director, he was a Senior Group Leader at Scotland's Beatson Institute for Cancer Research, and Professor for Molecular Cell Biology at the University of Glasgow, UK.
He is leading a European Union initiative called CASyM (Co-ordinating Action Systems Medicine) to implement systems medicine across Europe. CASyM is a multidisciplinary European consortium that joined forces to develop a road map for implementing systems medicine. "The CASyM road map is driven by clinical needs. It aims to identify areas where a systems approach will address clinical questions and solve clinical problems," he told MI.
"We also do a lot of research in our institute on improving cancer therapies and trying to tailor cancer therapies more to the individual needs of patients. We work a lot on personalising treatments for cancer patients."
Lagging behind
Given his extensive international experience in the field, Prof Kolch is well positioned to compare our progress in embracing precision medicine with other countries. "I would say Ireland is about in the middle field," he commented.
"The most advanced countries in Europe are the Netherlands, Germany and the Scandinavian countries. Germany and the Netherlands have already implemented, on a broad basis, genome sequencing treatment for cancer patients, which is not done in Ireland currently. But then there are many other countries that also are farther away from doing this. Ireland is in a position where there is a good basis for this but has still a lot of catching up to do."
So, what would he like to see happening in Ireland to help us catch up? "An improvement in molecular diagnostics would be the most decisive and most feasible step; basically, the genome sequencing of patients. The biggest barrier at the moment is cost," Prof Kolch maintained. But at the same time he emphasised that these techniques can yield substantial savings. It costs roughly €2,000 to sequence 20,000 genes, he said. "If you do a single gene test, it's about €300 to €400, so basically for the price of four or five single gene tests you can sequence all 20,000 genes."
Despite slow progress to date, he expects to see precision medicine expanding in Ireland. "It is expanding everywhere and with the increasing financial pressure on the healthcare systems, precision medicine is not only beneficial for the patient but it can also help the healthcare system in reducing costs. At present, very expensive treatments are being applied to patients without any benefit for the patient. So if you can avoid giving drugs to patients who don't benefit from them, you've not only helped the patient but you've saved the costs of the drugs and that can be substantial. It's definitely cheaper, for instance, to do a €2,000 test than applying a €60,000 drug [in vain]."
'Precision medicine is not only beneficial for the patient, but it can also help the healthcare system in reducing costs. At present, very expensive treatments are being applied to patients without any benefit for the patient'
One of the main obstacles to expansion, according to Prof Kolch, is that these new technologies require a completely new way of analysis. "With gene sequencing, you need to do a lot of bioinformatics in computing, which is something a clinical laboratory is currently not equipped for, so you need to introduce new procedures and new methods into the clinical laboratory and also new types of skills and this is something from a logistical point of view that is difficult."
There are also ethical concerns. "The gene sequence very often tells you the risk for other diseases, so if you sequence a cancer patient for his or her tumour, you may discover the patient is also at risk for other diseases and it then becomes an issue of whether you should inform the patient or what to do with this data. So there are still a lot of things that need to be sorted out but I think the train has been set in motion and it's difficult to see how this could be stopped. In the UK they are sequencing 100,000 individuals, in Germany they are sequencing 300,000 and the US wants to sequence a million people."
He pointed out that in the US, there are initiatives not only about gene sequencing but also about determining metabolism and lifestyle. "The difficulty is if you know, for instance, that there is diabetes in the family there is a high risk that you will get diabetes but you don't know when this will happen and what the complications are and you don't know the best way to prevent it.
"But if you could do a comprehensive monitoring of the population, where you could look at the genome sequence at a really comprehensive level, then you could predict when these risks could manifest themselves.
"You can also monitor the effectiveness of interventions, for instance changing diet or doing more exercise and so forth, and this shift to prevention will be of great interest to many people."
Precision medicine also requires additional medical training, he says, focusing more on molecular genetics and bioinformatics. "So this will need to be increased in training the new generation of clinicians who need to have a good understanding of all these modern technologies that are being applied to precision medicine."
In addition to more training and facilities, he stressed that there needs to be more funding. "It's too little [in Ireland] compared to the investment in other European countries, for instance the UK or Germany or the Netherlands. But the knowledge and skills and expertise are here. It's really about funding it properly."
Innovation
In an ideal world, opined Prof Kolch, there would be a research centre which takes all these new methods and looks at their implications and works out how all the different data can be integrated; because at the moment, all the data is analysed separately.
"You want one comprehensive analysis that gives you a complete picture of the patient. Then you would need clinically-oriented implementation groups to bring technologies to the patients and this would be happening in hospitals in close collaboration with clinicians where these methods are being applied to the patient. So I see it as a two-step infrastructure — one part being the basic research that drives the new knowledge and the new implications, and the second would be the clinical interface, where you actually implement it in the clinic."
It is now a quarter of a century since the Human Genome Project, one of the greatest feats of exploration in human history, was launched in 1990.
It has yielded so much information so quickly that it is easy to forget the enormity of this international research effort to sequence and map all human genes. The Project was completed 13 years later in 2003 at a cost of some $3 billion (€2.76 billion). Seven years later, an Irish person's genetic code was also sequenced for first time.
"Now you can do the same thing in one afternoon for about $10,000 (€9,220)," Prof Kolch pointed out. "So the progress has been enormous and this is also true for the technologies which can be used in precision medicine. We now have technologies in our hands that we never had before and, secondly, the awareness among patients about medical problems has vastly increased, with patients taking more and more responsibility and in more charge of their own treatment.
"The patient is now becoming an active participant. I think this is also one of the implications of this revolution brought about by precision medicine — the patient plays a much more active role and participates in the planning and monitoring of the treatment. This will also change the face of healthcare because instead of a consumer relationship, it will become a partnership, where patient and healthcare systems and doctors see themselves as partners in a common enterprise."
Revolutionary
Another expert in the field, Prof Mark Lawler, Chair of Translational Cancer Genomics at Queen's University Belfast's Centre for Cancer Research and Cell Biology (CCRCB), tells MI he too believes that precision medicine has the potential to revolutionise how disease is treated.
Prof Lawler is the lead at Queen's on a personalised treatment programme to help improve bowel cancer survival rates. The £5 million (€7 million) initiative, funded by the UK Medical Research Council and Cancer Research UK, aims to change how bowel cancer patients are treated by personalising their care and ensuring that each patient gets access to the most effective therapies.
State-of-the-art techniques are being used to define the genetic make-up of bowel cancer cells, collected from over 2,000 patients from large clinical trials, and the information is being used to develop personalised treatment plans for individual cancer patients. Each year, almost 2,500 people in Ireland are diagnosed with bowel cancer, with 1,000 dying from it, making bowel cancer the second-most common cause of cancer death in Ireland.

Prof Mark Lawler, Centre for Cancer Research and Cell Biology, Queen's University Belfast
"This precision medicine approach, where we match the right patient to the right treatment, has the potential to revolutionise how we treat this deadly disease. It will also allow us to spare patients the often debilitating side-effects of ineffective therapies, thus improving their quality of life," said Prof Lawler, who graduated from the Genetics Department at Trinity College Dublin in 1985.
"Precision medicine changes the way we think about treating patients. It is looking to understand much more [about] the biology of cancer and using that information. What we do at the moment is very much a one-size-fits-all approach. We see patients with a particular type of cancer and we give them essentially very similar treatment, chemotherapy, radiotherapy, surgery. And what we find is that some patients do very well in how they respond but others don't. What we've started to understand, as we probe the biology of the disease, is the reason why they don't respond. This is because even within one particular cancer, colorectal cancer for example, it's not actually one disease.
"When you drill down at the genetic or molecular level, what you find is there may be six or seven or eight different types of colorectal cancer, there may be 10 different types of breast cancer, there may be as many as 20 different types of prostate cancer and what we're starting to realise is the reason that patients don't respond to particular therapeutic intervention is that they actually have different forms of the disease. So in order to really improve our way of treating patients — and this is where the precision medicine approach comes in — we treat them based on the biology of their disease.
"We select patients who have a similar biology and we give them all the same treatment and then what we happen to see is that in that setting, those patients respond to that treatment. So it's sometimes called 'giving the right treatment to the right patients at the right time'. I would change that slightly and say we should be trying to get the right treatment to the right patients the first time.
"We also sometimes call it the molecular stratification approach, where we take samples from patients and see what their molecular profile is and we stratify the patients based on that information. That is allowing us to treat that particular group or segment of patients and be much more successful."
Precision medicine is also yielding fresh information on the reason why certain cancer drugs have not been effective for some patients. "We're finding that some drugs that we thought didn't work at all in cancer probably didn't work because they were employed to treat all-comers. But if you select for a particular characteristic and then use this treatment, it does actually work. Some call that drug re-purposing and we are starting to see different programmes that are finding that there is a subgroup of patients who will show good responses and may even be cured."
Blueprint
Prof Lawler has played a major role in the promotion of precision medicine, with the launch in Brussels last year of the Roadmap for Personalised Medicine in Europe, an initiative he pioneered involving patients, doctors and scientists, as well as the pharmaceutical and biotech industries. It is aiming to make personalised medicine available to all European patients.
The blueprint called for the development of a European translational research platform to ensure the efficient conversion of research discoveries into new diagnostics and therapies and the creation of a new regulatory framework that ensures a more rapid take-up of personalised medicine for the benefit of patients.
"This personalised medicine approach holds great promise and has already shown benefit in many diseases, including cancer, heart disease, diabetes and respiratory disease. However, the real challenge is how to make sure that it becomes part of the standard of care for Europe's citizens," Prof Lawler said.
Queen's University notched-up another achievement in October, when it was named one of six locations for a major initiative by the UK's Precision Medicine Catapult, which was established in April to develop innovative technologies and solutions for broader use across the healthcare sector.
Belfast is one of six initial locations for its regional centres of excellence network, alongside Cardiff, Glasgow, Leeds, Manchester and Oxford. Each centre will act as a hub for research and development in precision medicine through the use of diagnostic tests and database insights to understand a patient's illness more precisely and select treatments with more predictable, safer and cost-effective outcomes.
This came after a £4 million (€5.5 million) injection of funds in August, when the CCRCB received the CRUK (Cancer Research UK) Accelerator Award to continue its work identifying faulty genes and molecules in tumours. The team, led by Prof David Waugh, Director of the centre, is working on a programme to expand the application and use of digital pathology to quantify specific tumour markers.
By all accounts, the cancer research centre has ambitious plans to promote precision medicine. Prof Lawler told MI that Prof Waugh is aiming to see the establishment of a type of precision cancer medicine pipeline that he hopes to develop from the discovery phase, right through to delivering new therapeutic approaches to the patient. The cancers being focused on are bowel cancer, prostate cancer and ovarian cancer. "They would be the main specialties that we focus on. Because we can't be good at everything, we try to concentrate on these."
A lot of work is being done in partnership with other academics and with industry, Prof Lawler said. He cited as an example the Almac Diagnostics company, based in Craigavon outside Belfast, and a programme led by Prof Richard Kennedy at Queen's University.
"The idea is to understand and identify a particular protein that can stop blood vessels from feeding cancer cells. The work has gone all the way from discovering this protein and developing a particular targeted approach to a stage one clinical trial in ovarian cancer and it has very much been a partnership between academia and industry. We have 25 scientists from Almac working within our centre so that means there's very close interaction."
This intersect between academia and industry is an important part of the process, Prof Lawler concluded. "We are good at the discovery end but we don't develop drugs, so that partnership allows us to work together for the benefit of patients."
'New era of life-saving discoveries'
Cancer patients are already seeing the benefits of precision medicine but there is much more potential to be unlocked by expanding its reach and the US is leading the way, with President Barack Obama's Precision Medicine Initiative.
The initiative aims to generate the scientific evidence needed to move the concept of precision medicine into everyday clinical practice.
To do this, genetic information from more than one million volunteers, to be enrolled over the next three-to-four years, will be analysed to help understand human disease.
It is also aimed at developing medicines targeted to an individual's genetic make-up.
The pool of people — healthy and ill, men and women, old and young — will be studied to learn how genetic variants affect health and disease. It is hoped that genetic data from several hundred thousand participants in ongoing genetic studies would be used and other volunteers recruited to reach the one million total.
"Precision medicine gives us one of the greatest opportunities for new medical breakthroughs we've ever seen," President Obama said, promising the initiative would "lay a foundation for a new era of life-saving discoveries".
The near-term goal is to create more and better treatments for cancer, according to Dr Francis Collins, Director of the National Institutes of Health (NIH) in the US. Longer term, he said, the project would provide information on how to individualise treatment for a range of diseases.
The US President proposed $215 million (€202 million) in his 2016 budget for the initiative. Of that, $130 million will go to the NIH to fund the research cohort and $70 million to NIH's National Cancer Institute to intensify efforts to identify molecular drivers of cancer and apply that knowledge to drug development.
A further $10 million will go to the US Food and Drug Administration (FDA) to develop databases on which to build an appropriate regulatory structure; $5 million will go to the Office of the National Coordinator for Health Information Technology to develop privacy standards and ensure the secure exchange of data.
The study will also draw from a wealth of information gathered from digital devices, such as smartphones and fitness trackers like Fitbit and Jawbone, which would provide data on lifestyle habits and environmental exposures.
Although the study intends eventually to include whole genome sequencing, initial genetic tests will likely only include genotyping tests that collect information on a limited set of common disease genes.
Dr Collins estimates that based on current prices, it would cost up to $2 billion to do whole genome sequencing on one million individuals now, compared with $30 to $40 each for genotyping.
Initiatives by private companies may also become part of the project. In 2013, for example, the California-based company Human Longevity Inc launched a project to sequence one million genomes by 2020.

(Sources: White House, Reuters, NIH)