You are reading 1 of 2 free-access articles allowed for 30 days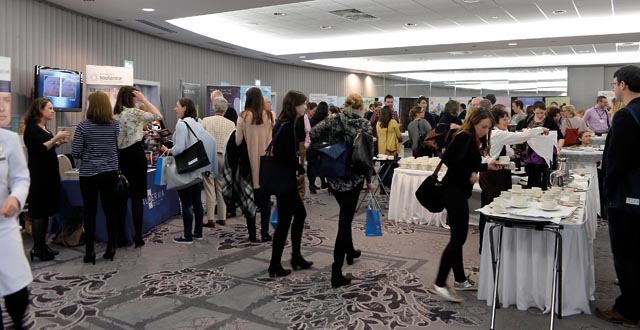 PCDSI celebrates 20-year anniversary in Killarney
The Primary Care Dermatology Society of Ireland (PCDSI) celebrated its 20th anniversary at its annual scientific meeting in Killarney earlier this month
More than 200 GPs attended the two-day meeting, which took place from 8 to 9 April, while over 100 GPs attended the dermatology and venereology course on Thursday, 7 April.
The meeting is one of the biggest GP events in Ireland in terms of attendance and this year saw presentations from dozens of leading national and international speakers.
Founding member of the PCDSI, GP Dr David Buckley, recalled that he organised the Society's first official meeting in the Royal Hospital Kilmainham in 1996 along with GPs Dr Johnny Loughnane and Dr Hilda Fennell O'Shea.
The first meeting was on cryosurgery and international speakers from Germany, England, and Ireland were in attendance along with more than 100 delegates.
The Society was established to facilitate a group of doctors with an interest in dermatology in primary care.
There was a UK association at the time and it was felt an Irish association should be established.
"In fact it started off as an Irish branch of the English association but now it's a stand-alone association," Dr Buckley explained.
"It's grown exponentially since then. Now, obviously, we have all the areas of primary care dermatology covered. Now you can see we have meetings with 200-plus delegates."
Speaking to the Medical Independent (MI), PCDSI Chairperson Dr Finbar Fitzpatrick, explained the Society is an educational body interested in providing education for GPs to update their knowledge on dermatology and also for GPs who wish to develop or have an interest in dermatology as part of their GP workload.
Established as a charity, the Society has five main objectives. It seeks to improve postgraduate education in dermatology for GPs and to enhance their knowledge and skills in the area.
The Society also aims to provide high-quality meetings in dermatology, to create a body of GPs with an interest in skin problems whose skill levels in dermatology would be above average and to provide bursaries for GPs to pursue further education and qualifications in dermatology.
The Society believe that by enhancing skills in primary care GPs can share the burden of skin disease with secondary care and, therefore, shorten hospital waiting times.
GP Dr George Roberts, PCDSI Treasurer, went on to explain that the better educated GPs are, the more they can handle at general practice level, thereby taking some pressure off the hospital system.
"The better educated GPs are, the more appropriate the referrals should be and really that's what the whole Society is all about," he added.
Following the Society's AGM, Dr Fitzpatrick paid tribute to honorary member Dr Hilda Fennell O'Shea, who retired from the PCDSI Committee after 20 years. He also highlighted the work of Dr Loughnane in putting together this year's programme.
Dingle GP Dr Conor Brosnan was elected onto the Committee at the AGM.
Next year's PCDSI annual scientific meeting will take place on Thursday, 30 March, to Saturday, 1 April, at the Killashee Hotel, Naas, Co Kildare. The 2017 event will see the return of Prof Harald Kittler to continue his dermoscopy course from 2015.
DQLI a useful tool in diagnosing skin conditions
A dermatology quality-of-life index (DQLI) can be an extremely useful tool in the treatment of skin conditions like psoriasis, the PCDSI annual scientific meeting heard.
According to Galway GP Dr Karen Reidy, who is also working as a dermatology registrar at University Hospital Galway (UHG), a DQLI should be given to patients to help determine the impact a person's skin condition is having on their life.
First developed in 1994 at Cardiff University, the tool poses 10 questions to patients who are then scored out of 30 to indicate the seriousness of the condition.
The tool has been validated for use in several skin conditions, including psoriasis, and is available in over 90 languages.
"Once you go over 10, it has a very significant effect on their quality-of-life," Dr Reidy told delegates during her presentation entitled: 'Psoriasis: Tips, tricks and cases in general practice.'
Another tool in assessing psoriasis is the completion of a body surface area examination, which indicates how much psoriasis a patient has on their skin. If it is less than 10 per cent it is considered mild, but over 10 per cent is usually considered moderate to severe.
Outlining a number of ways to diagnosis psoriasis, Dr Reidy stated that half of patients with psoriasis have nail changes.
Pitting is most common but often difficult to spot. Six or more pits usually indicates a diagnosis of psoriatic nails, Dr Reidy said.
The scalp, umbilicus, and genital area should also be examined before a diagnosis is made and treatment initiated.
Information on support groups for patients is helpful and should be provided during consultations, Dr Reidy advised.
Between 10 and 30 per cent of patients with psoriasis develop psoriatic arthritis (PsA). The guidelines state annual screens for PsA should be undertaken, Dr Reidy noted.
Studies show there are multiple comorbidities associated with psoriasis, and that the most common cause of death in patients with psoriasis is cardiovascular disease.
Some of the comorbidities include obesity, diabetes, metabolic syndrome, insulin resistance, and hypertension.
Furthermore, patients with severe psoriasis have a reduced life expectancy, Dr Reidy said.
'If in doubt, cut it out' advises melanoma expert
Any skin lesion that cannot be diagnosed with absolute certainty should be excised, a leading specialist in melanoma has argued.
Prof Chris Bunker, Consultant Dermatologist at University College London Hospitals (UCLH), UK, told delegates at the PCDSI annual scientific meeting to avoid biopsies and to instead excise any lesion that cannot be definitively diagnosed.
In a lengthy presentation on the diagnosis of melanoma, Prof Bunker highlighted how melanoma is becoming more common and that it is a significant cause of litigation.
Early diagnosis and treatment of melanoma is curative, he told the conference, however, diagnosing melanoma at an early stage can be difficult.
Early or atypical melanoma is difficult to diagnose and delayed diagnosis is often fatal because there is no cure for advanced disease, Prof Bunker remarked.
One of the difficulties is that melanoma is a "great imitator of other things", he stated, adding that in Britain the most common problem is the failure of GP suspicion and referral by a factor of about 10-to-one.
The second most common problem regarding melanoma is poor communication, Prof Bunker outlined.
There are around 14,000 cases of melanoma in the UK annually and 2,500 deaths every year. It is the second most common cause of cancer in young adults aged between 15-34 years.
Yet the increase in mortality is less alarming than the increase in incidence in the UK, Prof Bunker maintained.
"If you cannot diagnose something with absolute certainty as a named benign lesion then cut it out," he stated.
"Melanoma is getting more and more common. One of the problems with melanoma is that it's sometimes difficult to diagnose at an early stage when you can make the most difference."
Prof Bunker outlined the many causes of melanoma, including sunlight exposure and genetic background.
"You could say one of the main reasons why there's a problem with melanoma in the world… is entirely due to mass emigration out of northern Europe over the last 200 years, but there's also the controversial issue of climate change."
He added that it is seen as a "posh person's disease"; and also warned of the dangers of sunbeds.
Prof Bunker advised delegates to be wary of small size and large size melanomas and highlighted the importance of taking a patient's history, examination, and having a high index of suspicion.
Areas of the body such as the foot, scalp, ear, eyelid, neck, and nails, where melanoma can sometimes prove more difficult to spot, were also highlighted.
Following the presentation, PCDSI Chairperson Dr Finbar Fitzpatrick outlined the Society's interest in promoting the use of dermoscopy in general practice. A dermatoscope can aid a physician in the early diagnosis of melanoma and the Society has provided training in dermoscopy in previous years.
Calls for greater GP training in dermatology
Undergraduate medical training in dermatology is practically non-existent, according to a GP with a special interest in the area.
Kerry GP Dr David Buckley, a founding member of the PCDSI and founder of the Solas Dermatology and Laser Clinic, Tralee, says there should be greater training for undergraduate doctors and GP trainees in the area of dermatology.
Dermatology issues make up between 15 to 20 per cent of GP consultations, Dr Buckley told the Medical Independent (MI), yet the level of education provided does not reflect this statistic.
The majority of dermatology concerns are dealt with in primary care, he added, while incidents of skin cancer and ageing skin-related diseases are increasing.
"Every GP is going to be faced with skin problems. The undergraduate training is practically non-existent. You would be lucky to get a week or two's placement in a dermatology department," Dr Buckley remarked.
"In postgraduate, there's precious little, almost nothing. There's hardly any specific training in primary care dermatology within GP training despite the fact that it makes up 15-20 per cent of what doctors are going to be seeing.
"There's a great hunger for knowledge, hence the big attendance here, because GPs know that this is an integral, very important, and common part of their work but they haven't been educated."
Dr Buckley, who works almost exclusively in dermatology, added that GPs have the skills within general practice to teach dermatology to undergraduates.
"There's lots of skills within general practice for teaching undergraduates. It's not that difficult to teach undergraduates basic skin care and skin diseases. There needs to be more emphasis in GP training schemes and a more structured curriculum on skincare."
Dr Buckley highlighted that GPs are seeing "more and more" dermatology-related problems in practice, with only a small percentage of cases referred to secondary care.
"There's more and more demands now. People expect to get their skin problems sorted, whether it's acne, eczema or psoriasis. Maybe 20 years ago they learned to live with it. Now they don't and that's fair enough, so there's more and more work," he noted.
"Also, there's an ageing population. There's more skin cancer and ageing skin-related disease, so there's never going to be enough dermatologists to meet the demand and actually the vast bulk of dermatology is taken care of in primary care. Only a very small percentage ends up in secondary care. The dermatologists believe they're looking after all the skin care but in fact they're not, it's the GPs that do the bulk of the skin care. An average GP might only refer five per cent of what they see and they're seeing lots of skin problems."
Meanwhile, Prof Frank Powell, Consultant Dermatologist at the Mater Private, Dublin, said it is important for dermatologists and GPs with a special interest in dermatology to work together to care for dermatology patients.
"Particularly now, since our health service is under such pressure and it's so difficult to get patients access to public services, I think we need to work closer and closer together and use the expertise that you have and we have to complement each other rather than to in some ways compete," Prof Powell remarked.
Propranolol success an 'evolving story'
More information is required on the use of beta-blocker propranolol in serious cases of infantile haemangioma (IH), according to a UK-based paediatric dermatology expert.
Dr Cameron Kennedy, Consultant Dermatologist, Bristol Royal Hospital for Children and Chairman of the British Society for Paediatric Dermatology, believes that while propranolol is the best choice of treatment at present, it was a chance discovery and other treatments may yet prove more effective.
The benefits of propranolol in IH were first discovered eight years ago when it was used in patients not responding to conventional treatment.
Since that time there have been more than 650 publications on propranolol and other beta-blockers, Dr Kennedy revealed.
Most cases of IH do not require treatment but in some serious cases action is required.
"There are the significant ones… they can be significant from pressure effects, ulceration, distortion of normal anatomy in an individual that's growing, and ultimately poor consequences of resolution when the thing does resolve," Dr Kennedy remarked.
Despite its obvious and proven success based on clinical studies, propranolol does not always work and does have some short-term side effects, including sleep disturbance (one of the most common side effects), GI upset, cold hands and feet, hypotension, bradycardia, and hypoglycaemia, Dr Kennedy stated.
Details of possible longer-term side effects of the drug are also not yet known in the "evolving story" of propranolol, he noted.
In summary, Dr Kennedy, who is also President of the Dermatology Section at the Royal Society of Medicine, UK, said it is best that propranolol is only used for cases that really need treatment. While it is certainly the best choice at the moment, he maintained that more information is needed.
He added that topical beta-blockers like timolol are a reasonable choice for less serious cases of IH.
Dr Michelle Murphy, Consultant Dermatologist at South Infirmary Victoria University Hospital, Cork, also looked at the use of propranolol in IH during her presentation on skin infections.
Dr Murphy has used the drug in the past and found the treatment to be "simple and safe".
She supported early referral and diagnosis in children with the condition and called for treatment to be provided much earlier.
"It's [propranolol] very effective and really works better when children are younger. The ones that need to be treated are, anything on the face needs an opinion, but particularly anything around the nose, mouth, eyelids, and airways. It's less effective if children are older," Dr Murphy said.
Eczema is a skin condition 'not a food disease'
Beyond infancy, foods rarely cause flares of atopic dermatitis (AD) and blankly restricting diet without evidence of a specific flare is to be discouraged, the PCDSI annual scientific meeting heard.
Dr Sinead Collins, Consultant Dermatologist at Our Lady of Lourdes Hospital, Drogheda, highlighted this approach during her presentation on the role of food allergy in AD.
"The reality is foods rarely flare atopic dermatitis, other than perhaps in very young infants. What they tend to do is cause urticaria and itch, which may coincide with atopic dermatitis but atopic dermatitis needs to be treated in its own right," Dr Collins noted.
The incidence of eczema in Ireland is about 15 per cent and most children present with the condition in their first year of life, with onset most commonly occurring between three and six months of age, she said.
Most patients have mild disease but some will develop severe eczema. Around two to three per cent of adults have AD.
Dr Collins outlined that a diagnosis of eczema is a clinical one and does not require blood tests, swabs or laboratory investigation.
The primary symptom is itch, while family history and a history of dry skin are also important considerations.
"Skin barrier integrity plays a crucial role in the development of atopic dermatitis, allergic sensitisation and food allergy and repair of skin barrier integrity by directed skin therapy may help prevent atopic dermatitis; it certainly reduces atopic dermatitis flares," Dr Collins remarked.
Commenting on the skin barrier protein filaggrin, Dr Collins advised that filaggrin mutations increase the risk of a child developing more severe and early onset eczema.
High-risk individuals for concomitant allergy include those with severe AD where there is a demonstrated skin integrity defect, Dr Collins outlined, adding that she looks forward to further studies to see if they will show that repair of skin barrier from earliest life will alter the development of food allergy as well as that of AD.
Prof Jonathan Hourihane, Professor of Paediatrics and Child Health at University College Cork (UCC), addressed delegates on the role of eczema in food allergy.
Prof Hourihane stressed that eczema is a skin condition and not a food disease and noted that eczema after 12 months is not usually associated with food allergy.
Commenting on a study by the Baseline Allergy Study Group, led by Prof Hourihane, which helped to predict the development of eczema at 12 months by measuring trans epidermal water loss (TEWL) in infants at two days and two months of age, he related that neonatal moisturisation from birth could decrease the development of eczema.
Another study from the Group has also found that a weakness in the neonatal skin barrier during the first few days of life can predict the development of food allergy using TEWL measurements.
… she looks forward to further studies to see if they will show that repair of skin barrier from earliest life will alter the development of food allergy as well as that of atopic dermatitis
Acne patients experience 'rejection factor'
GPs should offer a sympathetic approach to the problem of teenage acne as patients often experience the rejection factor.
According to Prof Frank Powell, Consultant Dermatologist at the Mater Private, Dublin, treatment can make a huge difference to a person with acne and how they are perceived socially.
Prof Powell advised delegates at the PCDSI meeting in Killarney of the huge need to sympathise with patients who can be viewed negatively by society because of their skin condition.
He cited one survey in which members of the general public were shown a picture of someone with acne.
"Some 85 per cent found it distasteful and 65 per cent said that person shouldn't be working and 50 per cent said if they were going out for a meal they wouldn't like to see that person sitting over at another table, 'it would put me off my dessert'," Prof Powell revealed.
"So there is a rejection factor for people with this condition because it's on their face and because the pustules give the impression that it's infective."
Prof Powell listed sympathy as one of 10 points to remember when dealing with teenage acne.
He advised GPs to remember the different types of acne and outlined that some patients have unusual acne.
A comprehensive history should be taken, pathogenic mechanisms explored, and a grade given on acne severity.
Specific therapies are then selected for patients and can include a range of treatments such as topical retinoids, antibiotics, and isotretinoin, which is used for severe acne.
Antibiotics are usually prescribed for a number of months and will not work instantly, Prof Powell pointed out.
Other treatments can include intralesional steroids, oral steroids, glycolic acid peels, fillers and surgical methods for scarring.
Patients should be guided on how to use and take their treatment and the "two-month rule" applied, he stressed.
Prof Powell reiterated that best practice is to review patient treatment within two months. "With a bit of luck it will be five out of 10 better, I say to patients, and if not we will change treatment," he stated.
Patients need to be reminded that when their acne is coming under control marks will persist on their face for a number of months, but the marks will be flat and smooth.
Possible side effects from treatment should also be anticipated, he added.
Isotretinoin is a "tricky drug" and care is advised when prescribing, as it can affect mood and have a drying effect on skin and lips, Prof Powell acknowledged.
Fluctuating evidence exists regarding diet in acne, but there is some evidence to suggest that refined carbohydrate and dairy intake can exacerbate the condition, he noted. Skincare practices should also be discussed with patients.
Prof Powell recommended spending at least 20 minutes on the first consultation to explain the pathogenesis of acne and treatment goals and a follow-up with patients in two months time to encourage compliance is advised.
GPs attend aesthetic medicine study day
A study day on aesthetic medicine was held for the first time at the PCDSI 2016 annual scientific meeting.
Held in response to feedback from members, who wished to see an aesthetic component to the conference, the course covered lasers, dermal fillers, botulinum toxin (botox), peels, and cosmeceuticals, among other areas of aesthetic medicine.
Dublin GP Dr George Roberts, PCDSI Treasurer, explained that there is a growing interest in aesthetic medicine among GPs, but maintained it is still a small minority interest area.
In his presentation on botox, Tralee GP Dr David Buckley highlighted the history of the procedure, which now makes up the vast bulk of the aesthetic industry.

Dr David Buckley, who presented on botox
He spoke about a study on botox and depression in 2014 involving 85 patients with depression. Half were injected with saline while the other half were given an injection of botox between the eyes.
It found 52 per cent of patients suffering from moderate to severe depression showed relief from depression after an injection of botox compared to just 15 per cent in the placebo patients.
Meanwhile, the dermatology and venereology course, attended by over 100 GPs, covered a range of conditions including candida, chlamydia, genital herpes, and syphilis, among other ailments.
Prof Simon Barton, Consultant Physician in HIV/GUM at Chelsea and Westminster Hospital, London, UK, gave a presentation on HIV and clues to early diagnosis in primary care and its many skin manifestations.
Prof Barton advised that HIV testing should be performed more routinely in primary care for anyone presenting with ongoing viral symptoms, rashes or other conditions.