You are reading 1 of 2 free-access articles allowed for 30 days
Otterbox Resurgence Power Case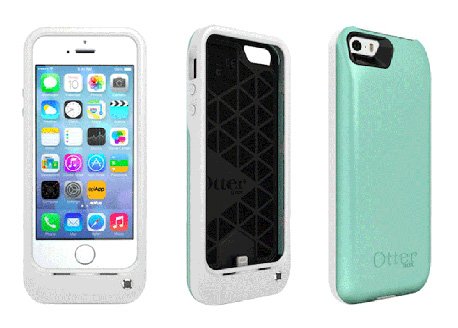 Resurgence packs two times your battery life into a super-slim, premium case. Designed with military-rated drop defence, it's so much more than a case with power and protection. With a built-in battery, the Resurgence Power Case features an innovative auto-stop charge technology that saves power for later, as well as a charge-status LED for quick-check power status and high-speed charging that gets your phone up and running in a flash.
High-density resurgence case
Resurgence features a two-piece, polycarbonate outer shell combined with a high-density foam inner core to protect your iPhone 6 from drops.
Installation instructions
Detailed, step-by-step instructions and links to videos are included for easy case installation and operation.
One-year warranty and 100% authentic
Rest assured with the Otterbox one-year warranty, which covers material and workmanship defects for one year from the original purchase date.
Both the Resurgence Power Case for iPhone 5
and Resurgence Power Case for iPhone 6
are available at Right-Click from €79.99 (RRP €99.99)
Eclipse Batman Light
Merchandise with the famous Batman logo easily outsells all the rest.
Now the Batman fans in your family can get their hands on the Batman light, which utilises both the dark and light.
The light behind the logo creates a wonderful effect on surrounding objects, especially when it is put up against a wall. The bat logo then stands out and makes a novel light for a bedroom, study or child's play room. The Batman Eclipse Light is USB powered and creates a stunning Batman logo silhouette.
We expect this item to be a big hit so order yours early to avoid disappointment.
€24.95 @ www.thegadgetstore.ie
Darth Vader 'Look-Alite'
With the movie arriving onto the big screen this year, there will be plenty of collectibles to be had. Star Wars has established itself as one of the most enduring movie phenomena and movie buffs of all ages are looking forward to the release of the new movie in the series later this year.
Darth Vader is one of the most enduring 'bad guys' of all time and the Star Wars fans in your family will love this officially-licensed product, the 'Look-Alite'. It's perfect as a night light or desktop light to give a soft glow from its built in LED lights. The light can run off batteries or a USB cable and of course as it is LED, the lights last for years.
€29.95 @ www.thegadgetstore.ie
Scrabble Light
Scrabble is still as popular as it ever was — it is one of those classic games that almost everyone has played at some time or another.
Now the Gadget Store stocks this novel light that is based on the game and is officially licensed.
The Scrabble Light includes a string of 10 lights shaped like large Scrabble tiles, with 60 reusable letter stickers to mix and match as you desire, enabling the creation of personalised words or short phrases. Each tile is 6cm x 6cm, and when displayed, the entire length of the string of 10 lights is approximately 180cm end-to-end. It makes a stylish light in a modern home, in the sitting room or as a decorative light in the bedroom.
The Scrabble Light is also great to decorate rooms for parties, barbecues and for family occasions.
€34.95 @ www.thegadgetstore.ie
Star Wars Millennium Falcon metal art
With the release of the new movie, gadget-lovers can also avail of all things Star Wars-related. Indeed, whether new movies in the franchise are on release or not, the merchandise never lose their popularity.
The Gadget Store now stocks these beautiful metal art pieces, based on famous spaceships and robots from the movies including the At-Ats from The Empire Strikes Back, R2D2, Darth Vader's Tie Fighter, Luke Skywalker's X-Wing and, of course, the Millennium Falcon.
These are beautifully-crafted, laser-cut collectibles that will look wonderful on any mantelpiece or study. But not only are they crafted from laser-cut technology, but you can make them yourself.
Once put together, the Millennium Falcon will sit about two-to-three inches high and makes a perfect gift for any Star Wars buff.
€17.99 @ www.thegadgetstore.ie