You are reading 1 of 2 free-access articles allowed for 30 days
Orbital pathology in focus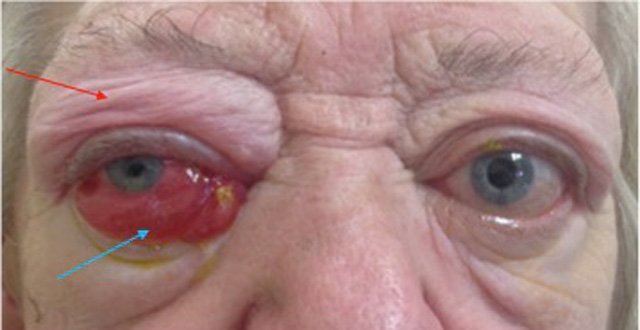 Case report
A 62-year-old Caucasian woman presented to the eye casualty department with a two-week history of a painful red right eye with increasing 'prominence' of the same.
She had a history of hypothyroidism, breast cancer treated with mastectomy and axillary clearance with subsequent further axillary surgery for recurrence, hypertension and depression, which had necessitated inpatient treatment on three prior occasions.
Her right visual acuity was 6/60, improving to 6/18 with pin-hole and from her left eye, 6/6 unaided. Her pupil reactions were normal. In particular there was no relative afferent pupillary defect.
As can be seen in Figure 1, there was thickening of the periorbital tissues bilaterally, with the right appearing erythematous additionally.

Figure 1a and 1b: Two coronal sections of CT imaging of the orbits. The red arrows indicate enlargement of all four rectus muscles on the right
The conjunctiva on the right was injected and chemosed. Exophthalmometry measured right and left proptosis of 26mm and 23mm, respectively. The conjunctival chemosis and proptosis prevented complete closure of this patient's right eyelid. All ocular movements on this side were limited. Her optic nerve head looked normal.
CT of brain and orbits with and without contrast were performed. Uniform enlargement of the extraocular muscles on the right, which spared the muscle tendons, was apparent. No abnormalities of the cavernous sinus were noted.
A diagnosis of asymmetric thyroid eye disease was made and the patient was treated with 1g methylprednisolone intravenously daily for three days, followed by oral prednisolone at a starting dose of 40mg daily and tapered slowly over three months. Her orbital inflammation resolved and she regained full eye movements.
Discussion
Patients with a diverse range of orbital pathologies present with a limited number of similar symptoms and signs. This can make their management interesting but challenging. Table 1 details a number of conditions, any one of which may have readily explained this woman's presentation.
As can be seen from Table 1, imaging with CT and/or MRI, which can be combined with angiography as necessary, is essential in determination of the underlying disease process.

Table 1: The acutely-inflamed orbit
With such a presentation, the main reasons for visual loss are given in Table 2.
Examination of optic nerve function is mandatory and involves what is shown in Table 3.
Similarly, an examination of lid function, and in particular lid closure and an examination of the cornea, are also necessary. If there is lagophthalmos and/or evidence of exposure, keratopathy attempts must be made to achieve eyelid closure adequate enough to protect the cornea while the underlying pathology is addressed. Ways in which this can be achieved are given in Table 4.
Orbital disease is a relatively uncommon ophthalmological presentation. Early diagnosis using clinical and radiological signs and, in some cases histopathological findings, allows for the prompt institution of appropriate management, which can benefit sight and in such cases as those of orbital cellulitis or cavernous sinus thrombosis, can even be life-saving.