You are reading 1 of 2 free-access articles allowed for 30 days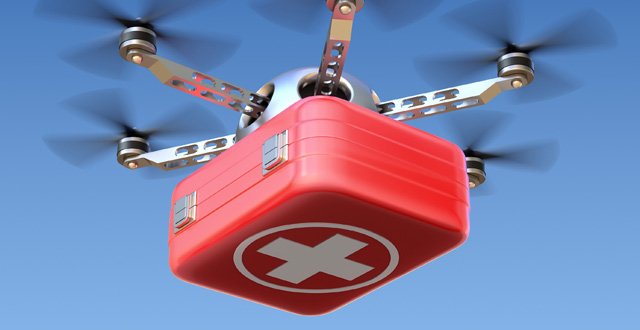 Drones are infamous killing tools in war zones. However, they could have a positive future in the medical field and save thousands of lives by delivering urgent supplies in natural disasters, at accident sites or in other life-threatening medical emergencies.
The Mayo Clinic in the US is already exploring the feasibility of using drones to deliver blood supplies, the Medical Independent (MI) has learned. Dr Donald Jenkins, Medical Director of the clinic's trauma centre in Rochester, Minnesota, cautions that such use would be "several years off at the earliest," but that it is vital for decision-makers to be aware of their potential utilisation in emergency medical situations.
Revolutionary
Dr Jenkins, who is also Chairman of the US National Trauma Institute, suggests that use of drones could be potentially revolutionary in transporting supplies in cases of trauma.
Firstly, he describes how medical assistance is currently delivered to trauma patients. He contrasts that with how drones could fundamentally change this time-consuming process, yielding positive results for patients and medical professionals in crisis situations. In some crises, drones could make the difference between life and death, he says.

Dr Donald Jenkins, Mayo Clinic
"In the US, 40 per cent of the population lives in rural areas, while 60 per cent of trauma deaths occur in rural areas. Time is life," says Dr Jenkins. "The number one cause of potentially preventable trauma death is haemorrhage. Increased time awaiting proper care during haemorrhage equates to worsening blood loss. Anything we can do to stop haemorrhage as early as possible after injury stands to make a difference between life and death.
"Being dependent on roads clear of traffic and other dangers, like ice, snow, downed trees and power lines, and dedicating a vehicle typically used for another purpose (a police car) and counting on individuals with a different primary role (police officer) is how just-in-time blood supply management is undertaken in much of rural America.
"A patient injured in a crash and too unstable for transport consumes all available blood resources and re-supply comes in the back of a police car from an hour away. The same ice storm that caused the original crash slows down the re-supply and the snarled traffic from the crash slows down the re-supply even further.
"Using a helicopter is not only dangerous to the crew but is a terrible waste of a resource and, again, the storm causing the accident likely has the aircraft grounded anyway. Until Scotty from Star Trek comes along to invent teleportation, we need a better answer."
That answer, Dr Jenkins suggests, is the drone. "This fills a void and puts fewer people and resources at risk and takes fewer people and resources away from their primary mission. Take this further, to an isolated area like Nepal, where resources are scarce and getting the items needed to the place where they are needed is exceptionally difficult."
He sketches a scenario for the future use of a medical drone delivery system to transport survival packs for those trapped in perilous situations. "A skier on a mountainside falls and breaks his leg, suffering a compound fracture and is in need of pain medication, antibiotics and a tourniquet. While first responders are being notified, being assembled and transported to the location, a drone with a survival pack could be nearly automatically sent and the package delivered to the location before the responders could even get to the scene."
Anything we can do to stop haemorrhage as early as possible after injury stands to make a difference between life and death
Dr Jenkins says delivery of vaccines, water purification supplies, medicines and antidotes such as snake anti-venom would be "immensely enhanced" with the use of a medical drone delivery system.
But the potential for drones in life-threatening situations should not necessarily be confined to their use over land, Dr Jenkins says. They could work equally well at sea. "How about delivering medications and supplies to ships at sea — several cruise liners have been adrift in recent years. Oil rigs? Arctic and Antarctic missions gone awry? How about ground- or water-borne drones instead of aerial drones?"
He cautions, however, that much work has still to be done to ensure safety and oversight on the use of drones, or unmanned airborne vehicles (UAVs), and the viability of the medical supplies they would carry.
"Maintaining suitable storage for medical goods and blood products to maintain their sterility, viability and utility would be paramount. Certain medications should not be exposed to direct sunlight; others must remain refrigerated.
"There are many regulatory hurdles to overcome, too, to make this a reality and the world is just starting to come to grips with an ever-burgeoning marketplace making use of unmanned aerial vehicles. Ground and underwater unmanned vehicles likely have less utility but would also potentially be overseen in a like fashion. Making elected and appointed officials aware of the potential good use for UAVs in emergency medical situations is paramount if they are to include provisions in any legislative initiatives regulating such use of UAVs," Dr Jenkins emphasises.
Advances in technology and decreasing costs have led to the increased use of drones in the military and civilian sectors. The Irish Defence Forces have been using them for at least eight years. Since 2007, four have been purchased at a cost of €3.35 million. They are unarmed and have been used in overseas peace-monitoring missions.
With an eye to advancing the use of drones for medical purposes, Cork Institute of Technology student Mr James King developed a drone that could bring blood and organs to the site of crashes. The device won him first prize last year at the Engineers Ireland Level 8 Innovative Student Engineer of the Year Awards.
Drones in Ireland
The Irish Aviation Authority issued permits to 22 operators to use drones last year, compared to 14 the previous year. Aviation regulations governing drones in Ireland mean that operators are restricted to flying no higher than 150 metres and no farther than 500 metres from the control station operator. The European Aviation Safety Agency is working on pan-European legislation to cover the operation of systems that weigh 150kg or more.
In the United States, the Federal Aviation Administration is drafting new regulations that are expected to expand commercial applications. At present, the transportation of medical goods in times of critical need is limited to motor vehicles and manned aircraft, options that Dr Jenkins emphasises can be both costly and slow in situations where time is of the essence.
Dr Jenkins and colleagues at the Department of Surgery, Mayo Clinic, recently published a paper on drone use for medical purposes in the Air Medical Journal. It examined the demand, feasibility and risks regarding the use of drones to transport blood and pharmaceutical products to hospitals, mass casualty scenes and offshore vessels in times of critical demand where distribution, as opposed to supply, can be the main problem.
It stated: "Regional blood banks that supply critical-access hospitals keep enough frozen blood on hand to meet regular demand. During times of high demand or possibly for only one patient with massive bleeding, the blood supply of a critical-access hospital may become depleted and require intensive support from the regional blood centre. Although many factors can complicate a disaster response, it is clear that distribution, not supply, remains a critical problem.
I have no wish to use drones anywhere that they are being used militarily. I do not wish to terrify people, nor do I wish to desensitise people
"In a review of recent disasters in the United States, in which mass appeals often resulted in increased blood donations, significant delays were found in the distribution of these time-sensitive donations. It is important to note that, because of screening and laboratory testing, blood is typically not usable on the date donated. Nevertheless, the ability to expeditiously shift blood products between centres to resolve shortages, without involving humans in the transport process, would improve patient care and reduce expenses."
Caution
But the study cautioned that, before drones are deployed to transport medical products, some risks need to be carefully assessed, including aviation concerns from the crowding effect of proliferating drones and the need to package blood products in a manner that ensures minimal risks of exposure and tampering during transit.
Nevertheless, if such concerns and risks are properly addressed, the study suggested that drones could have a promising future in the area of medical product transportation.
"We anticipate that unmanned airborne package delivery systems will be a financially and technically feasible mode of transport for the civilian sector in the near future…Our preliminary conclusions suggest that the use of UAVs could be a viable mode for the transport of medical products in times of critical shortage.
"The full potential, effects, and usefulness of UAVs regarding medical transport are still unknown but have promise. Although the exact cost of a commercial UAV programme is still largely unknown, it most likely would be significantly lower than that of conventional medical transport. The role of UAVs for medical transport is promising, but further research to assess the feasibility, demand, and safety of UAVs is warranted."
Médecins Sans Frontières (MSF) also sees potential in the role of drones in medicine. Mr Ivan Gayton, Emergency Co-ordinator and Chief Technology Adviser with MSF, tells MI that drones have major possibilities in the medical field and are already being used to map out areas in humanitarian operations. He cites the Nepal earthquake as a recent example.
The study cautions that, before drones are deployed to transport medical products, some risks need to be carefully assessed
Indeed, MSF sees particular promise in the role of drones, or 'quadcopters', in developing countries that lack proper roads and transportation, making access to patients in emergencies a major challenge. It has already tested use in Papua New Guinea, where it is working along with other global health organisations to combat the scourge of TB.
MSF carried out the tests last year in liaison with Matternet, a US company that manufactures drones and which has already tested them for transporting medicine and diagnostics in other challenging environments. In 2012, for example, the company carried out its first field trials throughout the Dominican Republic and Haiti. Two years before that, it successfully delivered small packages to a camp during Haiti's devastating earthquake.
Mr Gayton tells MI that the first trials of drone technology with Matternet in Papua New Guinea have yielded promising results. But he stressed that there is still a long way to go before such technology can be widely and safely used in transporting medical samples and supplies.
"The application of drones thus far has been very limited. It is something the MSF is interested in and is investigating. The drone we tested in Papua New Guinea was not transporting essential material. A drone can only carry a very small payload — half a kilo is a substantial payload for as small drone — so right now they can't transport large amounts of medical material; it's just not possible. But [they can work] when you've got a very small but critical payload and with difficult transport solutions, like in Papua New Guinea, to transport samples from TB patients.
"It takes an entire day for a team to drive back and forth to the lab. And during certain seasons it can't be done at all. The only way to do it is with a helicopter, which is prohibitively expensive. So little drones are the perfect application in such a time-critical situation and they can get the sample to the lab before it's no good anymore."
But he added a note of caution. "It's a perfect application — however, you have to be very careful flying biohazard material around. We had some discussions about using drones to transport Ebola samples. But any discussion of putting blood samples potentially containing Ebola into the air, I absolutely refused to even consider it — as valuable as it could potentially be and even as much as you could possibly protect a sample, if the drone for whatever reason comes down, some person might open it up and try to see what's in it and then you have a new outbreak — which is not at all what we want."
How can such problems be addressed? "When it comes to Ebola, I think you just don't do it. With tuberculosis, which is not exactly a safe thing but is not nearly contagious the way Ebola is, you would wrap up the samples really, really carefully, and document them and seal the vials and so forth and be very careful about tracking the drone. So if it does go down, you know where to go to try to find it.
Drones can be used to map-out areas in humanitarian operations
"In Papua New Guinea we didn't transport biological samples, it was just a feasibility trial using water. We still have to take that final plunge and actually transport live samples. The tests indicated it was possible, though we did in one instance have a drone go down in a jungle and fortunately the local people were co-operative and came back to us. So the drone, at least in the civilian range of equipment, is not yet robust enough."
Is transporting biohazard material safely somewhat down the road? "Very much so," says Mr Gayton. "I'm not aware of anybody who's not military who is, as yet, transporting things as an established programme. But maybe by the end of this year – if it is going to help us save lives. We and lots of other people are working on it and it's a very, very quickly evolving technology. I'm optimistic that by the end of 2015 we are going to be able to do this."
It will be done primarily in the developing world, he says. "There's no place else where it's so difficult to transport materials to. Most of the developed world has good roads." But the location is also going to be influenced by ethical concerns more than practical ones, Mr Gayton emphasises. "I have no wish to use drones anywhere that they are being used militarily. I do not wish to terrify people, nor do I wish to desensitise people. I don't want to be the one who tells people 'don't worry, these are safe and they won't harm you,' when in fact that might not be the case."
Mapping
From Mr Gayton's remarks, use of medical-purpose drones by MSF in conflict zones seems unlikely. "Well, I think that's a way down the road because we don't wish to terrify or desensitise people," he underlines. "We are a medical organisation and we subscribe to the fundamental medical tenet of 'do no harm'. So no matter what good we can do with the technology, we have to ensure that we first have a duty of care to do no harm. Frightening people and sending them running into the bush to save themselves and possibly losing their livestock or, worse still, teaching people not to fear drones when someone may use drones against them — that's harm that we must avoid at all costs.
"Mapping is probably the most important use of drones at this time and I am particularly interested in mapping using drones for medical and ecological purposes, which require aerial imagery and where satellite imagery is unavailable or is not licensed for humanitarian use but is needed in refugee crises or in natural disasters. So drones can be used to map out areas in humanitarian operations. Most of us share profound reservations about using them [for medical purposes] in conflict zones but we're getting there on the humanitarian side.
"But there will come a day, I am confident of that, that like so many military technologies, like the GPS system, like the Internet — so much of what we use originated as military technology — it will become sufficiently firmly civilian technology that we can safely use it for good in these areas for medical transport and disaster assistance."
He adds: "I'd like to see less military action involving drones in the first place. It's not for us to say how the military should conduct its affairs, other than to say that they should respect civilians and healthcare facilities and obey the basic rules of warfare. That, we can certainly call for as a medical organisation."
Mr Gayton suggests that the WHO and other similar global bodies could help by working on constructing protocols. "This is something these international agencies do have a mandate to do, which is to define those rules of engagement and differentiate military from humanitarian activity."
In summary, Mr Gayton concludes that he remains cautious, hopeful and optimistic about the use of drones for medical purposes.
Much optimism about the future of drones for medical purposes was also generated last year, when Delft University of Technology in the Netherlands announced that graduate student Mr Alec Momont had designed a drone that can quickly deliver a defibrillator to where it is needed.
This drone can speedily deliver a defibrillator to the emergency scene when emergency services receive a cardiac arrest call. With video and audio connection, the drone can also provide direct feedback to the emergency services, and a person on-site can be instructed how to treat the patient.
The drone finds the patient's location via the caller's mobile phone signal and navigates using GPS. The drone can fly at around 100km/h, weighs 4kg and can carry another 4kg. The university is backing Mr Momont's drone and the Amsterdam Ambulance Service is also interested in it.
"There are still a number of obstacles in the way of the development of the ambulance drone," said Mr Momont in a news release from the university last October. "The drone can fly autonomously. However, this is still not permitted by law.
"New Dutch legislation in this area is expected to be passed in 2015. Moreover, the drone has not yet been tested on 'real' patients, and the object avoidance system for avoiding obstacles in the drone's path needs improvement."
But Mr Momont considers that his drone could be in use within five years. The next steps towards the development and use of the prototype are being explored with Ghent University Hospital and Ghent University in Belgium.
All of this may yield promising developments for patients and the medical profession in the future. Yet if the full potential of drones in this area is to be unlocked successfully, it will be necessary to move cautiously and in a well-regulated environment. As interviewees underlined to MI, safety and oversight of medical-purpose drones must be paramount.